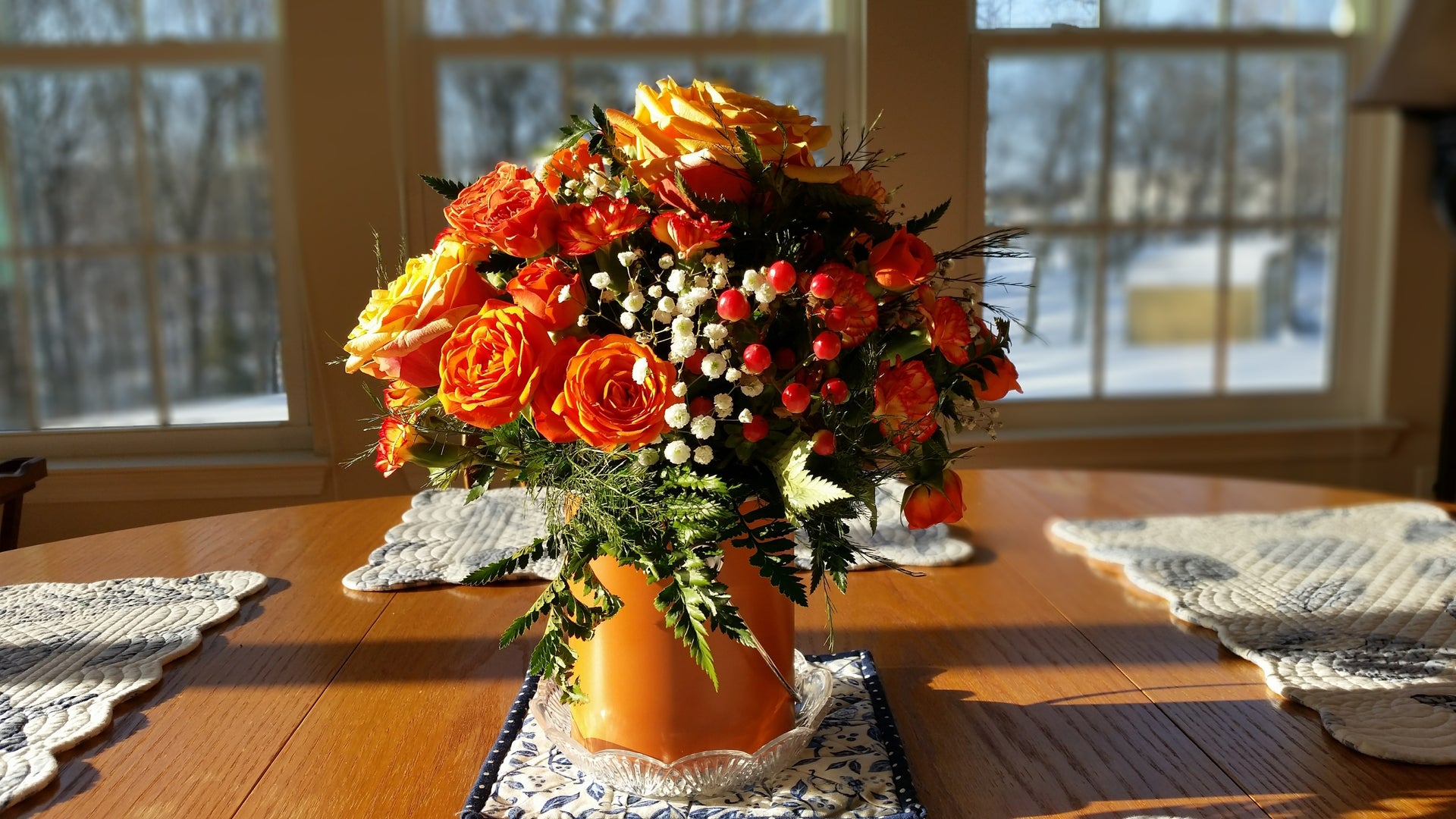 Lovely Centerpiece Ideas for a Winter Party
You still have many chilly days to come of you to spend at home, even after the Christmas decorations are taken down, so replace the holiday decorations with seasonal crafts that can serve as entertaining indoor activities or romantic date inspiration.
Craft dip-dyed paper bag stars, fake frosty pinecones, and simple whimsical candy canes to use as your table's centerpiece are perfect. Surround the edges with handmade berry ice lanterns if you're throwing a winter party.
To turn your table into a winter wonderland, we've found many good ideas that shine and dazzle in addition to many whites, blues, golds, and silvers. So slay this Hibernation season like a pro with these centerpieces.
Charcuterie
The first idea you should vouch for when it comes to having food as your centerpiece is creating a charcuterie. For that, you need decorative branches, a bowl of nuts, olives, wedges of cheese, two baguette boards, bay leaves, rosemary sprigs, fig and prosciutto flowers, and cheese straws. You can mix and match items to create one that fits your mood and your guests' personality the most. 
You may use fresh herbs, pomegranates, pistachios, almonds, and Halos mandarins for your centerpiece. It's possible to decorate a delicious centerpiece in various ways, and it's fun to be original and do it your way.
Edible Centerpieces
Use craft paper to cover the table's center. Based on the color of your tabletop and how effectively it withstands wear, you may either use wax paper, greaseproof paper or even leave it empty (while trying to ensure to wash it thoroughly just before styling).
Beginning with the more significant elements (mandarins and pomegranates), decorate your showpiece and add minor aspects until you are satisfied with the entire appearance. Finally, add a few dried basils on the same side to provide a little tonal variation.
Create an organic-feeling centerpiece that also reflects the other objects you are utilizing. But if you wish, you could design a more consistent style.
Frosty Treetops 
Frosted white trees reflect the tranquility of a blizzard in the morning hours, while lavender uplighting and moonlit sky projectors add to the ambiance.
You'll need crystal headlamps, vibrant, velvety ribbons for an ombré effect, and various ball decorations to create this contemporary look. Finally, add a soft white robe and a Beautiful star to complete the tree.
Another approach can be to get a beautiful confetti tree; you can add some extra sparkle and elegance to your holiday table. Use hot glue to stack disco balls of various sizes onto a 24" polystyrene cone or metal branch.
Here's another excellent idea if you're looking for a unique way to use your antique mason jar inventory. Consider setting up colorful pots to resemble a little Christmas tree. Then wrap them in seasonal beading. This décor is ideal for a fireplace in a living room, so if your table is near the fireplace, it's perfect for you. 
Lollipops never fail to amplify the holiday joy. First, use the traditional striped pattern to give life to small Christmas trees of various sizes. Then, use them to spruce up the table as centerpieces.
Candlelit Towers
Any ballroom is illuminated with a romantic winter light when towering glass candelabras are coupled with exquisite white flowers. Sparkling chandeliers enhance the breathtaking winter scene. The use of tapered black candles, scarlet pomegranates, and rose clusters demonstrates why "moody" is preferred. A background of continuous fires further illuminates this spectacular tablescape.
In the middle of deep cranberry tablescapes and gentle amber uplighting, glass candelabras provide islands of illumination. A sleek, contemporary centerpiece is created with white candles in patterned candleholders.
Mix and match several pillar candles to keep them fresh for a lengthy table centerpiece. For a night event, floating candles in simple glass jars look lovely. Red roses may be arranged as a charming centerpiece for nuptials with red accents or a Holiday party by burying them under floating candles.
Go Floral with Floating Greenery
You may still bring fresh blossoms into your house even when it's freezing outdoors. Dendrobiums, lilies, and tallow berries are arranged in an antique silver vase to create a lovely centerpiece. 
You may use the same seasonal blossom theme in a more compact arrangement if the larger one is too complicated for your taste. To keep the sense of the season, stick to wintry whites and deep, rich reds.
A lamp, a vase, some foliage, and some water are the only four elements needed to create floating vegetation, which is another fantastic concept. Even on the coldest winter days, you can quickly create a woodsy aesthetic that will give your house a feeling of freshness. Additionally, the appearance was affordable, even if it was a costly décor item.
Deliciosa Cake
Consider substituting a tasty cake for the traditional centerpiece if you're hosting a dinner. The concept may be employed at any time throughout the season—not only for the holidays—even if this centerpiece won't survive all winter long. Instead, use a cake with a sparkling gold pipe cleaner topping that uses metallics often used in holiday decorations.
Ideal Utensils 
Now that you know about all the elegant centerpieces, you can choose any that suits your theme. We suggest you use your elegant utensils and make a centerpiece with them. Why? Because having your cutlery in the middle of the table would be a blessing. 
Get yourself a mini partyware that will match the perfect frosty theme. To be budget-friendly, vouch for the disposable mini partyware, which is also durable. You can get many mini-party supplies for lesser money and mix and match throughout the season. 
Sticking to one idea might become boring for you, so have a mix of disposable mini bowls and plastic mini cups to have the time of your life. If you are looking for affordable options for your mini partyware, check out Smarty Had a Party, as it has unique and style mini cups and mini bowls. 
You can check out our elegant designs especially created for you to get all the frosty feel this winter. So elevate your winter vibes with our utensils and have fun.