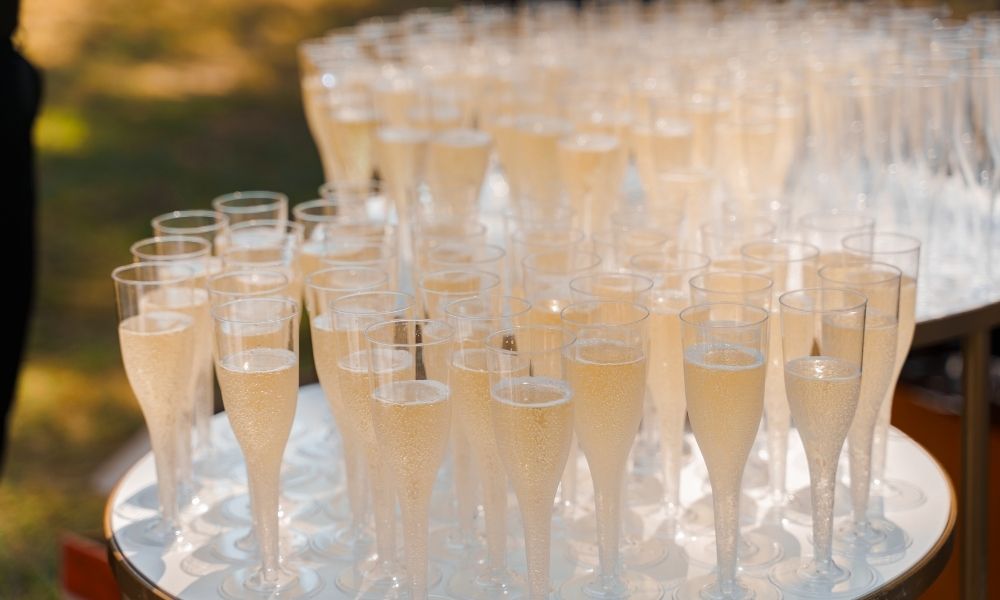 Let's Toast to the Advantages of Disposable Wine Glasses
Wine is more than a typical drink - it is an experience. At its heart, wine is a beverage best enjoyed in the company of others, at the dinner table, at parties, celebrations, feasts, and at casual reunions with friends and family. Does it come as any surprise to find that most people's lasting memories of wine aren't just the wine itself but the overall experience of drinking it? Of course, it doesn't! While good wine can spruce up any celebration, an inappropriate glass can spoil even the most exquisite beverage in the world. Some things matter more than the nuances of your Chardonnay. 
Whether it's for a wedding reception, birthday party, graduation, New Year's Eve, baby shower, bridal bash, or some other occasion, no event is complete without a delicious glass of wine. However, one thing you must consider is how many glasses you need to serve your party guests.
If you are looking for a simple solution to this problem, look no further than elegant disposable plastic wine glasses! So let's toast to the advantages of disposable wine glasses.
What are the benefits of disposable plastic wine glasses:
1. The main advantage of disposable plastic wine glasses is that they are light and not easy to break.
2. Plastic wine glasses can be reused, recycled, and reused, reducing pollution in society, and can be reused to save energy.
3. The process of making a plastic wine glass is to preheat the plastic sheet to a high temperature, stretch it and shape it, and blow out the air. In this process, the plastic glass is sterilized at a high temperature to kill harmful bacteria and reduce damage to human health! 
Disposable Wine Glasses Won't Take Forever to Wash
When you have a significant event for your family and want to make sure everyone enjoys themselves, drinks are necessary. Nonetheless, washing all the glasses afterward is not fun at all.
However, you don't have to worry if you use disposable wine glasses because you can throw them away after the party. So no more worrying about cleaning up during the party; just enjoy!
Perfect Choice for Outdoor Events
Although it is common to worry about breaking glassware outside, disposable wine glasses eliminate the hassle. Plastic is a strong material that can handle any rigid surface, fall, or inclement weather.
If a plastic glass falls on the ground, all it will do is bounce. These shatter-free glasses are the best way to avoid broken glass at your party.
Recycling Them Is a Breeze
Unfortunately, any disposable material is bound to make its way into a landfill if people are careless. However, if being environmentally friendly is one of your concerns, search for recyclable wine glasses.
Biodegradable options are rare, so don't count on finding them at your local party store. Instead, look for brands that make recyclable plastic glasses. If you want to go above and beyond the call of duty, call your local recycling organization and ensure they accept the plastic, you plan to purchase.
You Can Decorate Disposable Wine Glasses
If you want to organize a successful party, you should think about many things. Of course, one of the most important aspects is the matching of decorations, which should be well planned down to the most minor details. To show off style and refresh your guests, you can even decorate glasses of wine. This is very simple and is appreciated by your visitors.
Traditional wine glasses are timeless accessories for a classy affair. Consequently, their glass construction makes it harder to decorate them for one-time events like graduation ceremonies or football banquets.
Instead, you can use markers, paint, and confetti to decorate party wine glasses to fit the theme of your event. It adds a unique touch to your event that guests will adore.
Overall, the benefits of using disposable wine glasses outweigh the disadvantages. If you are planning an event soon, why not toast to the advantages of disposable wine glasses?
DIY Wine Glasses Ideas
Magic Glasses with Dots
You need:
Wine glasses

Gold permanent marker

Gold spray paint

Ribbon

Gloves

Roto-paper
Directions:
Step 1: First, ensure the wine glasses are clean; otherwise, the paint will not adhere well. Then, if necessary, rinse and allow to dry well.
Step 2: Now, you can start decorating. But, first, take the ribbon and wrap it around half a glass of wine.
Step 3: Put on gloves and cover the table with newspaper.
Step 4: Sprinkle the wine glass with gold spray paint and let it dry.
Step 5: Once the paint has dried well, remove the tape.
Step 6: Take a gold marker and draw dots on the unopened part of the wine glass.
Heart Wine Glasses
You need:
Wine glasses

Gloves

Glue

Sponge

Brush

Paper towels

Scissors

Vinyl adhesive film
Directions:
Step 1: Cut squares of vinyl adhesive film and cover the squares in the middle. Draw half a heart on it and cut it out. Make as many hearts as you want.
Step 2: Glue the hearts into the wineglass.
Step 3: Put on gloves.
Step 4: Use a sponge brush to cover the hearts.
Step 5: Place the wine glass on a piece of kitchen paper and let it dry for a few minutes.
Step 6: Now, rinse the glass with cold water and remove the sticky dough with a sponge.
Step 7: Remove the vinyl adhesive tape and wash the glass with soap before using it.
Wine Glasses with a Family Portrait
You need:
Wine glass

A photo of your choice

Scissors

White glue

Pencil

Brush
Directions:
Step 1: Put the photo on a piece of paper.
Step 2: Place the wine glass on the photo, draw a circle on the photo with a pencil around the bottom of the wine glass and cut it out.
Step 3: Paint the bottom of the wine glass with glue and put it in the photo.
Step 4: If necessary, cut out the excess paper and cover the photo again with glue.
Step 5: Allow the wine glass to dry before use.