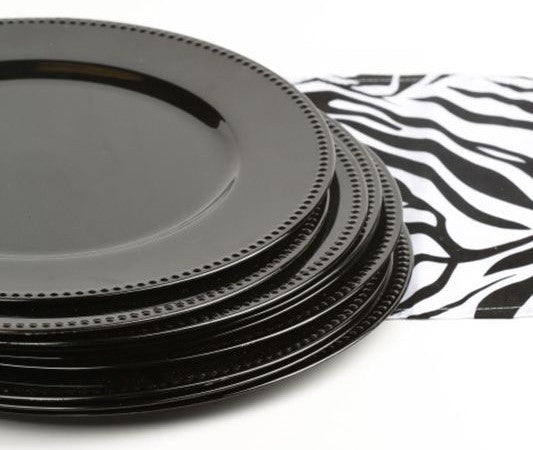 Creating Impressive Table Decor with Disposable Charger Plates
When throwing an epic party, you need to be careful that everything is cooperating until you don't love to mix and match your decorations intentionally. Even dinnerware sets should cooperate and correspond with the overall scene and tablescape. You can do a lot with your serving wares to give a jump to your table decor. Similarly, charger plates can be helpful in your table decor.
What are charger plates?

Chargers plates are the serving ware placed over the table cloths, and they are usually used to place the dinner plates on their top.
They are placed on the dining table and then removed after the first course. But why remove them when your charger plates are bigger and more elegant than normal ones? Take advantage of your charger's fantastic look and creatively place them, cooperating with the style of table decor.
If you arrange a formal dinner party for your guests, you shouldn't be missing the charger plate, as it will add lovely finishing touches to your table decor.
Chargers are a must-have item when setting an elegant table for a wedding reception, bridal bash, holiday feast, baby shower, birthday party, professionally catered event, or another special occasion. Still, the last thing you want to worry about is gathering them up and getting them clean when you're event is over! 
Not only will you be able to set a stylish table setting that includes all the essential details to help set it apart, but you'll also get a disposable paper product that can simply be thrown away when the party is over, leaving you with less time spent in cleanup and more time to spend with your guests.
Playing with Charger Plate's Colors
As on the top of the charger plates, other dinner plates and napkins are presented. The color contrast of the charger plates and dinner plates is a crucial point to consider to make a perfect combination.
Charger plates with grey edges and dinner plates with white ceramic color will make an epic combination, and it's one of the most used combinations in most formal events.
DIY Charger Plates
It can get a bit expensive when throwing a party, and looking forward to giving your table an elegant look. However, taking care of your table decor for every party can make your budget upset, and that's why we recommend dying them by yourself. Instead, unleash your creative instincts and DIY your charger plates - it is pretty easy to do.
You will need a fancy cloth of your choice that you want to cover your charger plates.
Measure the diameter of the charger plates and then start cutting the clothes so that they can be a good fit for the charger edges. Next, attach the fancy cloth to the edges of the charger plates, and they are good to go to add the finishing touches.
Moreover, you shouldn't wash the cloth as charger plates don't come in contact with the food, plus it would make the cloth look cheaper.
When you are planning to dye the charger plates, consider the disposable charger plates as they are affordable for any budget, and in case you make any mistakes your first time, you can grab the next one without worrying.
Our Charger Plates
We have a wide variety of elegant disposable chargers, whether you want to show your creativity on them or want to elevate your table decor with them. They are the perfect choice for any event, such as bash parties, anniversaries, and wedding receptions.
Moreover, we have charger plates in bulk, so look around and find the best one for your next formal event.
Disposable Tablecloth
The above-mentioned disposable utensils should be accompanied by disposable tablecloths on which these utensils will be served and come to the fore.
A disposable tablecloth does not need care. This advantage can be considered the most important because the spilled liquid on the material can be easily removed with an ordinary sponge. After the feast, it can be discarded entirely.
Manufacturers of this product offer customers a wide range of colors and sizes and product designs: it will not be difficult to find this product with a diverse pattern depending on the event. In addition, board-shaped wraps are also available.
Protects the table from various types of damage and pollution. Durable materials used in producing such tablecloths do not allow liquids or other substances of different temperatures to reach the table surface and damage the furniture.
It is important to note that disposable tablecloths come at a very affordable price.
Such a disposable coating carrier can decorate the coating based on the upcoming holiday. But, of course, you have to buy monophonic and let your imagination run wild.
Disposable tablecloths can be made of the following materials: paper, polyethylene, spun-bond, and others.
A type of disposable tablecloth is sold in rolls. This model has many advantages:
Due to the pleasantness of the material for the environment, such a tablecloth on a roll will be completely safe even for the most minor users;

Has high absorption because it consists of many layers of paper;

Do not create problems with disposal after use because they are simple enough to throw them away.

The texture of the paper product can be similar to linen fabric, but the great advantage of such a tablecloth is that it is cheap.

The main feature of a plastic tablecloth is that it can be tough to distinguish from the fabric: it can be decorated with patterns and cutouts. That is why most of the sales are in favor of this product.

In addition, it is worth paying attention to other advantages of such table decoration: plastic tablecloth is very difficult to damage because it has a high level of strength, and even the most aggressive substances can be washed on such products.

Disposable tablecloth made of spun-bond is also not inferior in popularity among customers due to: the highest strength among all types of non-woven coating on the table;

Lightweight; 

Wide selection of product colors.