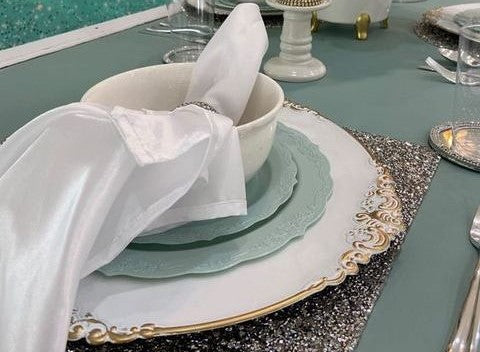 Inexpensive & Elegant Birthday Party Ideas
We all want our birthday parties to be extra special while keeping the costs low. However, perfect birthday party planning requires a lot of effort and time.
Inexpensive and elegant birthday party ideas can sometimes be tricky to find. Many types of parties and events, formal and casual, require different styles and themes of decorations, food menus, games, and entertainment. If you are planning a birthday party for your child or grandchild, this guide would be helpful to you in planning your event.
When it comes to party planning, you don't have to spend a fortune to ensure everything is perfect. These inexpensive and elegant party ideas will help you save money while still giving your guests the desired experience.
Begin With a Theme!
One of the first things you'll want to do is choose a theme for your birthday party. If there are any particular colors or themes that you like, try incorporating those into the decorations. You don't have to go overboard with this—just a little color will do!
The next thing you'll need is some good music. You can find someone who plays instruments or rent some CDs from a nearby store and play them during dinner or dessert.
Suppose none of these options appeal to you. In that case, there are many other ways to create an atmosphere without having anything loud around you while everyone is eating dinner together as a family unit!
Classic Yet Inexpensive Accessories For Your Birthday Party
1. For serving some delicious drinks to your guests, use disposable plastic drinkware glasses that are handy and inexpensive. You can find these on Smarty Had A Party website.
2. Use a wooden stand for serving food or drinks. It will suit the best if you're hosting an outdoor barbecue party. In addition, you can have some potted plants to be used as a beautiful centerpiece.
3. Create a buffet table using cedar planks and wooden boards available at many hardware stores.
4. Create a stunning centerpiece using beautiful flowers from your garden or local farmers' market!
5. Let your friends bring their wine bottles to personalize your birthday party with a unique bottle opener that each guest will receive as an invite!
Why Get Pretty Stemware For Your Birthday?
If you're looking for a way to make your next party fun, consider buying disposable stemware. This is the perfect way to add some flair and make your party look like it was put together by a pro.
It is an easy and affordable way to make your celebration more fun and memorable. There are many different disposable glasses available, so you can choose one that fits your needs perfectly.
Our party drinkware is made from high-quality plastic and designed to be used once only. So they are perfect for any occasion where you want something that looks good but doesn't cost much money or effort!
Drinkware That Is Must To Have!
Disposable plastic drinkware is much more inexpensive than ordinary glasses and doesn't break or chip like glass. Plus, they don't lose their shine as paper does. They're also easy to clean and reuse, which is always a bonus when you want to keep costs down. And if you're having a party for a friend or loved one who drinks alcohol, plastic drinking glasses are a must-have!
Our disposable plastic tumblers are perfect for your next party. They are designed with a wide mouth to accommodate ice and other drinks, and they have a sturdy base that prevents them from tipping over.
They are available in six different colors and can hold up to 20 ounces of liquid. These plastic tumblers are a great addition to having the best plastic wine glasses for your party rental or purchase because they are easy to use and will last for many parties!
Wine glasses are one of the most popular party supplies because they're cheap, durable, and easy to find. In addition, these glasses will make your table settings stand out! 
They're made of plastic so that they won't break easily. They also come in different colors to coordinate with your party theme (or just stick to white). You can also use them for other liquids like water or juice—just be sure to wash them as soon as you're done with them!
Other Simple Ways To Throw an Elegant Birthday Bash
You don't need to worry about throwing an elegant and memorable birthday party. Here are our top tips to follow:
- Short guest list: Invite your closest friends, family, or even just one other person. If you want to invite more people, consider setting up a Facebook event so you can easily let people know about it!
- Themes on a budget: Go with low-cost themes. A themed party involves choosing a color palette, themed music, dress code, and a good menu. So stick to the one that's basic and easier to opt for.
- Get creative: You'll find that there are many low-cost ways to decorate your space! For example, you could choose to get rid of all furniture in favor of putting up chairs around the perimeter of your space or play music at low volume so that everyone can have a good conversation without being too loud or distracting from a discussion with others nearby.
When planning a birthday party, you want to make sure that it's memorable. That's why we're here with our list of inexpensive yet elegant ideas for decorating your party venue so that your guests can remember every detail of the time they spent with you on your big day!
Tip: Consider your guests' preferences and needs when it comes to deciding on the menu. Plan and make sure that all kinds of food are available before guests arrive, so they won't worry about getting stuck eating something different than they were expecting!