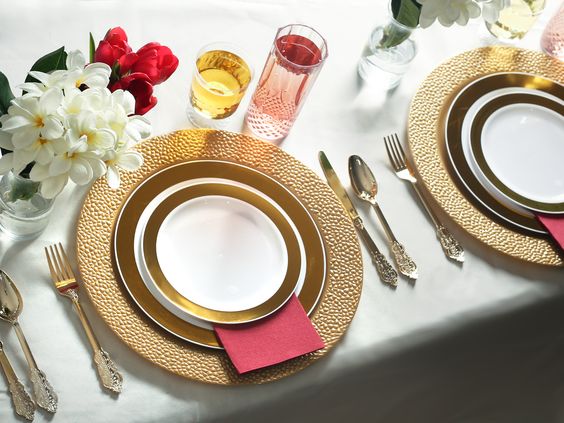 How Well Do You Know About Plastic Party Dinnerware?
You might think you know everything about party dinnerware but buying party dinnerware is not just like buying anything else. So, how well do you know about party dinnerware?
There's a lot to consider while looking for party dinnerware. We're here to give you a brief and complete dinnerware guide so that next time you think of buying party dinnerware, you have enough knowledge to work with.
Know Your Shelf Size
Knowing your shelf size is crucial because you don't want your cabinet doors to stay open by placing your newly-bought, fancy-looking dishes. Instead, they should fit perfectly in your cabinets. Specifically, the charger plates occupy a lot of space in your cabinet. Moreover, large-sized serving plates and trays also cover a lot of space. So, you need to ensure that you're buying perfectly stackable and break-resistant party tableware.
Also, you need to ensure your dishwasher can keep ceramic or porcelain dinnerware as well, which is less likely, especially if you organize an event with a long list of guests. However, plastic partyware is disposable and fully recyclable, eliminating any need for a long-lasting cleanup process when the party is over. These seem to be little things to keep in mind because they're pretty important.
Give Plasticware a Try
For parties, disposable party dinnerware sets are the most common and popular items to consider. Since they're disposable, plastic dinnerware sets have become must-to-have items at parties.
Teaching your kids not to bash the plates on the table takes quite a long time. To save your premium ceramic plates from getting shattered, we always recommend using plastic dinnerware sets for your parties.
Most of us don't like to do the dishes after a party, which is one of the most dominant reasons why choosing plastic dinnerware sets is preferred. Plastic dinnerware at the party makes it easier to wind things up after a party.
The disposable design of plastic dinnerware makes it relatively easy to manage the entire party and helps maintain the joy and excitement of the party since you don't have to invest your time doing the dishes.
What Plasticware Dinner Sets Offer?
Gone are the days when plastic dinnerware items had standard design and shape. Instead, you can find elegant plastic plates in gold, metallic, ivory, and many other colors, giving your table setting a premium look.
Moreover, the shapes and sizes of these plastic dinnerware sets are completely adorable because you can select from a list of different shapes and designs depending upon your customized party needs.
Having some disposable dinner plates can make your table setting look complete. These dinner plates also come in different designs, colors, and shapes. Keeping in mind the size of your party, you can also value set offers. These value set offers are pretty handy while making budget-friendly choices for your serving items.
Make Your Table Setting Look Complete
Along with elegant plastic plates and flatware, disposable charger plates also make your serving look complete. The disposable charger plates make it quite convenient to serve the food with style. It also makes your formal party settings look decent and professional.
What Are the Advantages of Disposable Plastic Tableware?
1. The main advantage of plastic tableware is that it is light, and plastic is not easy to break.
2. Plastic tableware can be reused, recycled, and reused, reducing pollution in society, and can be reused to save energy.
3. The process of making plastic tableware is to preheat the plastic sheet to a high temperature, stretch it and shape it, and blow out the air. In this process, the plastic tableware is sterilized at a high temperature to kill harmful bacteria and reduce damage to human health! And the plastic he uses can withstand high temperatures.
4. The cost of investing in plastic tableware is high and has specific scales and standards. Plastic tableware manufacturers are relatively standardized.
Types of Disposable Plastic Tableware 
Today, disposable utensils have entered people's lives. 'Disposable plastic tableware are items that we often use in everyday life. However, there are some unqualified disposable plastic cups on the market, and the use of this plastic tableware will impact our health. Therefore, it is necessary to understand the skills of healthy living when choosing disposable plastic tableware.
The issue of disposable plastic tableware has also received a lot of attention. According to national regulations, disposable plastic tableware cannot be made from recycled waste paper, nor can fluorescent bleaches be added. However, much plastic tableware use recycled paper, which violates regulations. Add a lot of fluorescent bleach to make the color white, and add a bit of industrial calcium carbonate and talc to increase the weight. In addition, to withstand high temperatures, the plastic tableware is covered with a layer of coated paper. Standard non-toxic polyethylene should be selected according to regulations, but some manufacturers use industrial polyethylene or medical waste and plastics for chemical packaging. 
There are three types of disposable plastic tableware: one is made of white cardboard, which is mainly used to hold dry food, such as french fries and popcorn, and does not contain water; the other is waxed plastic tableware, which is thick and waterproof, but cannot hold food. The charging temperature exceeds 40 ° C; The third type is paper-plastic tableware, i.e., the outer wall is lined with a layer of paper, and the inner is covered with a layer of coated paper to protect it from water and oil.
You should choose a product of full shape, without wrinkles, of a certain thickness, which cannot be easily deformed. Smarty Had A Party offers only the highest-quality tableware pieces that are BPA-free, extra-durable, elegant, and recyclable! 
Therefore, make a SMART choice with Smarty Had A Party!