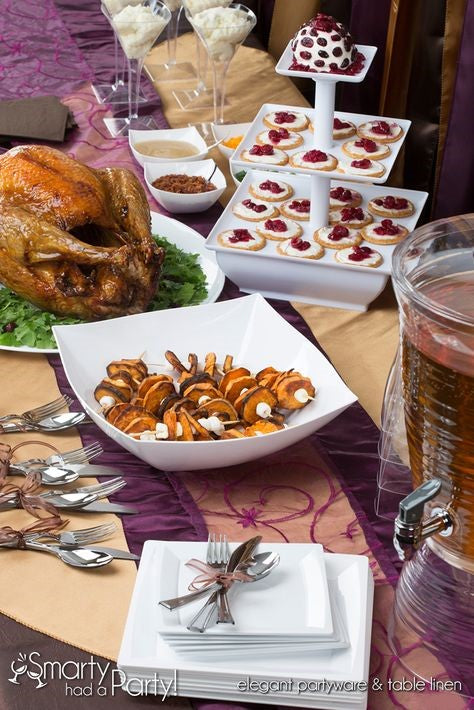 Inspiring Tablescape Look for Thanksgiving
Halloween just ended, and we are already looking forward to Thanksgiving - thanks to the winter season for giving us endless opportunities to celebrate. Thanksgiving is a beautiful occasion and helps us come closer to the people we love but don't get the chance to show affection to as much as they deserve.
Smarty helps you host an unforgettable Thanksgiving for your loved ones this year. With our elegant dinnerware sets, you can effortlessly pull off any look for a trailblazing Thanksgiving table. 
Here are some incredible ideas to decorate a one-of-a-kind Thanksgiving table:
Make Use of the Leftover Pumpkins
We know there is a pile of carved or painted pumpkins around your house after the Halloween celebrations. You should not throw those spooky cuties in the trash without using them for one last time. There are many genius ways you can use those pumpkins without making anyone realize they are leftovers.
Grab your spray paints and decorate your pumpkins by painting them in different colors. Then, match the pumpkins' colors with your disposable dinner plates to complete the overall look of your Thanksgiving table.
Who doesn't want a bit of sass on their tables? Make your pumpkins wear a big pair of sunglasses and do a little more detailing on the face. Then, place them on our disposable chargers for Thanksgiving, along with some embellishments. These excellent adornments are ready to wow everyone with their sass.
You can do a little something with the uncarved pumpkins as well. Cut them horizontally into half, and place a variety of fresh flowers in them. Much like a house planter, they will look elegant and give out a beautiful aroma to your Thanksgiving table.
You can also make a delicious soup out of your pumpkins or even bake a pumpkin pie that perfectly fits the Thanksgiving menu. Then, serve the pumpkin pie on our Thanksgiving plastic plates and enjoy every bite.
Modern and Chic Tablescape Look
When you think of a modern tablescape, there are many options. Of course, no one minds a rustic tablespace - everything looks robust and minimal, which everyone loves. But if you are a fan of bright colors, you can opt for that too; basically, go for the kind of tables you want. You can also give your Thanksgiving table a vintage touch by incorporating more black and white decor pieces and tableware.
Colorful Table Setting
Colors can level up the looks of a party table, be it any occasion. For example, your Thanksgiving party table needs a little warmth to give your family a feeling of being welcomed and loved. You can look for several color schemes for Thanksgiving and pick your favorite one. Then, visit our website, where you will find a whole different section called Shop By Color, where you can buy all your party tables' needs in all colors. You also have the freedom to mix and match different tableware items to complete your one-of-a-kind Thanksgiving table.
Minimalist Table Setting
A simple but stunning autumn table landscape that even minimalists will love.
Entering autumn, we like to complement our dishes with elements that add warmth and character, such as linen tablecloths and napkins in oat or gray and fresh or dried flowers in rich autumn tones. Replacing silver cutlery with something that adds a little more dimension, such as cutlery in matte black or matte gold, is also a great way to develop a more unique seasonal look.
But, of course, the details are up to you. For example, you can choose to include a small bouquet of dark red flowers. It is essential to choose only a few elements that represent the seasons. The rest can be as simple as possible so as not to turn the look into a maximalist situation.
No, you don't have to stick to the typical fall color palette. Instead, take it for a whimsical aesthetic that still seems appropriate for the seasons by including dark gray and deep shades of your favorite fruit. A little cream and blush will round out the unexpected look and add a soothing touch.
Simple Table Setting
Choosing a color palette is the first step in styling your Thanksgiving table. It may seem natural to reach for the seasonal shades: after all, oranges, browns, yellows, reds, and greens are often associated with Thanksgiving.
Use gray, silver, and green with a leaf theme for your Thanksgiving table. No one expects that color palette, but it is still warm and festive. Limit the palette to two to three colors, then work with different tones within each color. It is a strategy that creates depth and cohesion and keeps things modern. However, if you are ready to use more traditional autumn colors, in that case, choosing deeper, richer tones of gems - such as crimson or amber - will look sophisticated and reminiscent of beautiful autumn leaves.
When it comes to tablecloths, if you have a stunning table setting, they should not be covered. But if you still want some kind of fabric, you can opt for a pad in the middle. Festive coasters are another option that allows you to decorate without covering the table.
Don't Forget a Few Special Touches 
This refers to details such as a hand-tied piece of string as a napkin ring that gives your setting a thoughtful, personal touch. If you have dinner in the evening, light a few small, simple candles and arrange them around the table. Candles are needed for dinner! Tea lamps in lovely holders are a great way to achieve a beautiful look. A limited palette of colors and a few individual touches related to your theme will give a balance between modern and warm and attractive.
All we have to do is enjoy this wonderful holiday with our loved ones!
Happy Thanksgiving Smarties 🦃!