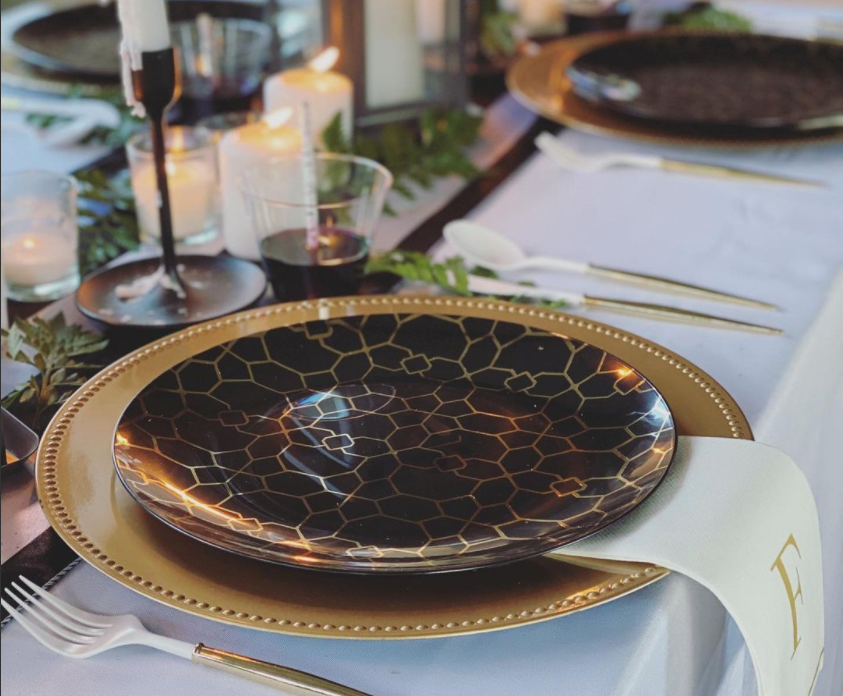 Genius Fall Party Ideas Everyone Will Love
Fall is almost coming to an end, and we still can't get over it. But, the oh-so-perfect autumn weather is what all of us love and want to get the best out of it. So, throw a party for your friends and family and give them a reason to smile in this beautiful weather while you can. We shall walk you through some incredible ideas for a fall party to make your party talk of the town.
Popcorn Station
Whether it's backyard camping or a movie with friends, popcorn never fails to satisfy everyone. They can be sweet or caramel or the classic salty ones. But, no matter how you make them, they will always be so addictive that you won't be able to take your eyes off them.
The most delicious ones include brown sugar and cinnamon popcorn, cheese popcorn, and caramel popcorn. These recipes are super tasty and take little to no effort to make.
To make a DIY popcorn station, you only need a beautiful charger plate and some disposable plastic bowls. Set the bowls on top of the charger and serve the delicious popcorn in them.
DIY Centerpiece with Plastic Bowls
Who knew you could turn your tableware into a chic centerpiece worth watching. Well, now you know - we have some of the most gorgeous decor ideas that can easily be made using our plastic party bowls.
Spray the bowls with colors that match your fall party theme and fill them with marbles and pearls. You can also use large bowls and place lights on them. These decorated bowls will add to the beauty of your fall party tables.
Our disposable plastic bowls are robust and come in beautiful colors and patterns to serve as a centerpiece on your party table. The best part about them is that they are customizable, so you can do a lot of crafting.
Fall Party Themes
The essence of a party lies in its theme. The process of decorating and choosing different items for the party becomes a cinch if you have already selected a suitable theme. Some common fall party themes include Pumpkin Patch, Ride to the Hill Side, Bonfire Party, Hot Air Balloon Adventure, A Spa Day Party, All Apple Party, and many more.
The perfect weather of Autumn calls for more outdoor events during the day. If you are a more outgoing person, you can go on a long drive with your friends to a hill area and have a picnic there. Bring enough supplies along so you can have a stress-free picnic.
Hosting a brunch for your friends would also be a fun thing to do. You can enjoy it at the perfect time of the day and have several options on the menu. You can make cinnamon rolls, cheese-filled potato balls, cheese-baked hash brown patties, french toast or scrambled eggs, vegetable rolls, chocolate muffins, and the list goes on and on. Serve them in our disposable serving bowls to do justice to the recipe.
DIY Fall Decorations Party
If you want to bring a touch of autumn atmosphere to your party, it is not difficult to find suitable materials in the nature around us or the market full of fruits of the golden season. Likewise, autumn decorations are not challenging to make, and we offer you some creative ideas as inspiration. You can, of course, let your imagination run wild and give each handicraft a personal touch.
Pumpkins – Candlesticks
Carve out colorful decorative pumpkins and insert candles to get unique candlesticks designed by Mother Nature.
A Bouquet of Autumn Roses
 Fallen leaves of gold and copper shades can be turned with skillful fingers into rose flowers that will not wither all fall. It's effortless, just take it leaf by leaf and wrap them around each other. You will see how you will quickly get the shape of a rose!
A Wreath of Corn
 Colorful corn is an ornament, and you can make an effective autumn wreath from its cobs. Simply connect the cobs in a circle in the shape of the sun, placing their leaves between them.
A Wreath of Autumn Fruits 
Cones and acorns can serve as a material for making a decorative autumn wreath. The more diverse the shapes and sizes of the fruit, the more influential the wreath. You can sprinkle acorns and cones on a linen tablecloth or put them in a transparent plastic container with candles!
Autumn Basket 
A basket full of cones, cranberries, and apples combined with lamps makes an unusual and striking decoration for your party.
A Candlestick of Leaves
 Colorful leaves, glass bells, and candles in the middle make the perfect combination that will look great on any table
A Candlestick Made of Twigs
Decorate the glass with glue with dry twigs, and you have a decorative candlestick that brings the atmosphere of the forest in Autumn to your table.
An Indian Candlestick
 Colorful Indian corn can be highly effective as a decoration for a larger candle, giving your table a unique warm charm. Place the candle on a tray, wrap the colorful corn with string around it and tie a bow tie.
There are a variety of styles that you can apply for fall decoration. Based on current trends, country-style decoration is a unique and attractive choice. Using neutral colors and natural materials will help you achieve the desired effect. White pumpkins, colored pumpkins, jute, colored plants, an old wicker basket, and rustic-looking furniture can all be part of a fall-style rustic decoration and a perfect fit for your themed party!
Happy Sunflowers!
Sunflowers are a real example of the transition from summer to Autumn. Due to their warm yellow color, they are ideal for cheering up slightly gloomy Autumn and conveying a ray of summer and sun to your guests.
In the home environment, sunflowers can be applied to almost everything, from wall decorations to plates and dishes with motifs of sunflowers, clocks, baskets, etc.