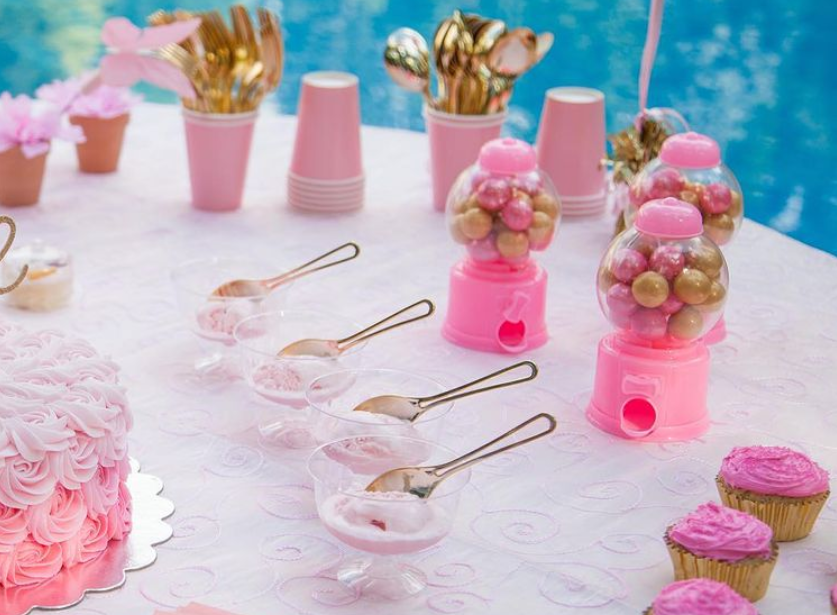 How to Use Mini Partyware to Make a Baby Shower Stand Out?
Your little one is coming soon, and you want to celebrate in the most cheerful way possible. So we are here to help you celebrate your baby's arrival exceptionally with our cutest mini partyware. They are perfectly made for events like these, which demand you to go all out with the theme. So let us get you into the details of how you can use these mini party cups and plates and make your baby shower stand out.
There are two options for the perfect moment. The ideal period is between the sixth month of pregnancy and about two months before the expected date of birth. Expectant mothers often feel most comfortable at this stage. Because they are already used to the new life situation, their freedom of movement is not too limited yet. So you can fully enjoy the celebration.
The event usually takes place in the house of the future mother. Alternatively, a friend's apartment is also an option. The most important thing is that the party takes place in a familiar atmosphere. If you are planning a surprise party, use some excuse to lure your future mother out of the house in advance. Maybe you can persuade her to go to the hairdresser or a minor wellness treatment together? Then you can relax at the party and have enough time to secretly provide snacks and baby decorations. Whether it's wreathed with a child's name, cards with cute motifs, balloons in soft pastel colors, confetti, or colorful hats - there are no limits to your imagination.
Mini Disposable Plates
Mini disposable plates will be the best item on your baby shower party tables because of their chic look and elegant design. You can match them with literally any baby shower theme, and they won't disappoint you. There are so many creative ways you can use our mini disposable plates to create alluring tablescapes.
Mini tableware makes up for a perfect decor that looks enticing on a table. Paired with our mini bowls and cups, these mini party plates will look too good on your party tables.
Apart from that, you can make cute wall hangings with mini plates. Grab some spray paint and paint the plates in your favorite colors. However, if you get our disposable mini plates, they are already available in a wide range of colors to make your baby shower decor a cinch. You can also use acrylic colors to write text on them.
You can write captivating texts like "I can't wait to see you, baby!" or "Let's Shower Mommy-to-be" on plates and hang them on the walls. Don't worry about the budget since they are super cheap and will stay within your budget.
Serving your party food well is one thing that can uplift the mood of your guests. For an event like a baby shower, we have given our mini disposable plates vibrant colors and captivating designs. Your guests will love the cuteness of these mini party plates and would love your serving style.
Disposable Mini Bowls
Next on the list are our disposable mini bowls that stand out because of their beautiful look. They have been made with 100% BPA-free plastic, just like our other disposable partyware keeps everyone's health in check.
Desserts served in these bowls look extra chic and will have your guests begging for more. There are so many options in these bowls that are easy on your pocket, so you are left with nothing to worry about.
Mini Party Cups
Speaking of serving the food, how can we forget about the drinks? Well, our mini party cups are here to make your drinks get served how they deserve to be served. They are robust and sturdy and will get you all the satisfaction from your guests.
You can play many games using our mini cups and make your baby shower more fun and thrilling, like cup stacking, catching the cup, cup racing, and a lot more.
Here are some ideas for decorating your baby shower party where you can use the mini partyware we discussed earlier. On each of them, you can use this mini partyware in the color of the decoration we suggested.  
Intimate Party
Decide for a slightly more neutral decor if the mother does not want to know the gender of the child to be born, or she has simply decided to keep the secret to herself until the birth of the child. Let it be decorated in cream and white. Place cream, white and gold balloons around the baby's table and above, decorate the table with a long cream tablecloth and hang golden candles on it. Set the mini baby dishes in cream and gold color. This creation is ideally accompanied by tiny giraffes as decoration.
Party for Boys 
The combination of sky blue and all shades of blue traditionally announce a boy's birth. Make sure that decorative items, drinking glasses, cakes, and napkins are in a similar tone. Put blue wallpaper on the wall with improvised clouds and the inscription Heaven sent, and arrange a cake on the table in that context and arrange it with white flowers! 
Party for Girls
A baby show intended for girls should announce the arrival of the princess. Let everything be romantic in gentle pastel and pink tones.
Rustic Party 
A rustic baby shower party is perfect if you have a backyard or are throwing a party in someone's backyard. Borrow, if you don't already have an antique chest of drawers or a table with drawers, cover it with a retro tablecloth or a mile, and here is the ideal atmosphere to enjoy. Of course, let everything be a bit vintage and rustic, including the cake, and hang giant balloons with the inscription BABY behind such a decorated table!
Vintage Party 
The vintage party is a ceremony intended for the mother of a future girl. Choose antique floral motifs, embroidery, and tablecloths with laces and lace. Let everything exude the glamorous style of the 20s or 30s of the last century. Hang a large antique metal picture above the table, where you will put the first letter of your name or baby's name instead of the picture if you already know what it will be called. Hang large and small paper rose flowers on the wall around the frame, and place dishes on that table in that color, mini bowls with candies in that color, and some antique candlesticks with candles in that color.