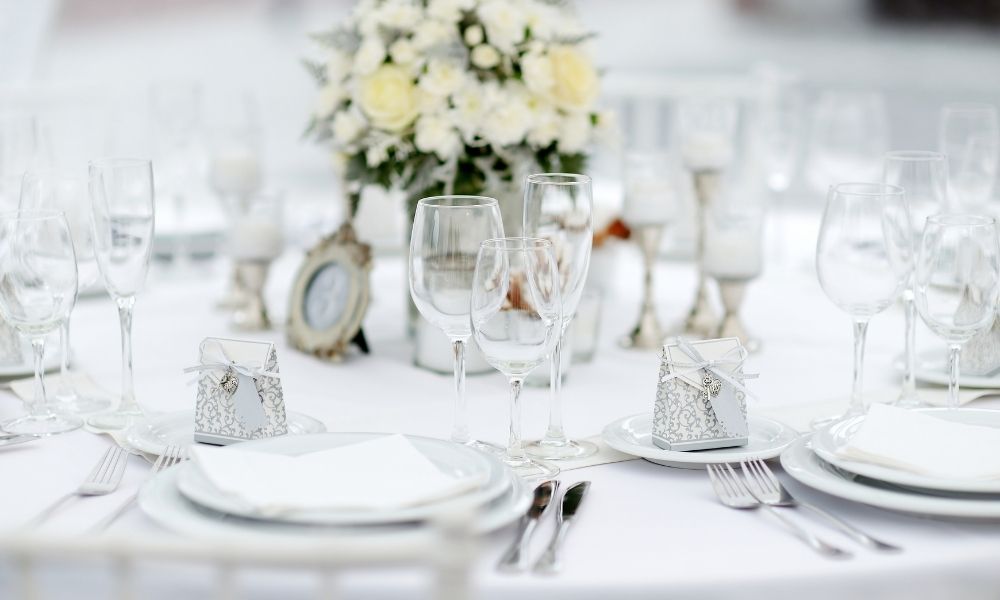 What To Include in a Winter Wedding Reception
A wedding in itself is a magical experience. So many couples spend time dreaming and planning about their special day. Fairytale weddings, rustic weddings, bohemian-themed weddings, garden weddings, and seasonal weddings are some popular wedding themes. Since December is approaching, we thought of speaking about winter weddings with you all today. Having a wedding during the winter can be both a romantic and magical experience, but naturally, there will be some issues to consider when the weather gets colder. So, if you're planning a winter wedding, don't worry; we have your back.
As long as you take the proper precautions, we promise this will be one of the most memorable days of your life. So let's go through what to include in a winter wedding reception together, shall we? 
Let's first battle the coldness that'll inevitably be there, alright? While a bit of cold doesn't do any harm to anyone, it's best to take necessary precautions. 
Have Winter Gear Available
Let's face it: it'll probably be cold outside. If you want to keep your guests comfortable during the reception, provide hats, gloves, or blankets upon request so that nobody freezes on your special day. You'll want your heaters to be at an appropriate level for the temperature, so you'll need to factor the energy bill into your budget if you're hosting the reception in a private setting.
Wedding Dress
The comfort of the bride and groom is also one of the top priorities. To not compromise on style and comfort, the couple can be advised to choose dresses with thick fabrics. The groom can dress up in a stylish blazer, preferably made with a material such as velvet. The bride's gown can be a long-sleeved one or include a veil, synthetic fur stole, a signature coat, etc., to provide warmth. And winter weddings are one of the chances you get to choose a bold lip color for a marriage ceremony; remember to take full advantage of that!
It is a good idea to ask your guests to wear warm, appropriate attire to ensure their comfort. You can mention that when letting them know of your event's dress code. 
Now, shall we talk about food and beverages? 
It's Important To Serve Warm Beverages
One simple solution for keeping everyone warm and comfortable is to serve warm drinks such as hot cocoa, rich coffee, or chai tea at your reception. The best part is that in addition to purchasing wholesale disposable wedding dinnerware, you can ditch the wine glasses and serve spiked hot chocolate with Styrofoam coffee cups. After all, the cheery, fun mood of the wedding depends on how comfortable you and your guests feel. So be it about the temperature or even feeling. 
You can also coordinate desserts with warm beverages. Although a wedding cake is standard, you can provide cookies, wafers, or s'mores to go with the hot drinks, so your guests have options.
Alcoholic Drinks for the Adults 
Below are a few of our alcoholic drink suggestions you can serve at your winter wedding. They are,
Mulled wine (of course)

Pink peppermint cocktail

Classic champagne cocktail (an obvious choice) 

Coco snowball

Salted caramel white Russian
Food Ideas
Here are some of the yummy food we served at one of our winter weddings. 
Mac' n cheese 

grilled veggies

cheese toast and creamy tomato soup

 creamy wild mushroom soup

 filet Mignon with yummy mashed potatoes 

Ravioli (we included both the vegan and non-vegan options) 
Desserts
As for desserts, we decided to serve something with figs as they were very much in season. So we had chocolate and fig cake and honeyed figs with ricotta cheese. We also decided on gingerbread cupcakes with cream cheese frosting (they have a hint of cinnamon), mini Berry pies, and macaroons.
Another point you need to keep in mind is that, 
Decoration Ideas 
This goes without a saying; fairy lights, also known as twinkle lights, are just right to make any occasion feel more enchanting. The places to incorporate these little lights are endless. You can use fairy lights in your centerpieces, wrap them around trees, use them in canopies and hang them from a height. 
Candles! They are lifesavers. They have such a beautiful glow that'll look amazing on tables or laid along the aisle. 
Dangling glass orbs with tea lights inside them is an idea you should surely give a try.
Dried flowers are another element you can successfully incorporate into your winter wedding. You can use these in wreaths, boutonnieres, table decor, and many more. 
What flowers can you use for your special day? Baby's breath, Amaryllis, Sweet peas, Tulips, Camellias, Gerbera Daisies, Carnations, Ranunculus, Roses, Hellebore, Orchids, and Gardenias are some blooms we think will look amazing on any of your special days, especially a winter wedding. We suggest incorporating fresh greenery into your decorations. You can use them partially in your centerpieces or replace the flowers in centerpieces with them. 
When choosing tables, try to go for a wooden look. For a dreamy setting, you can use modern chairs or benches with these wooden tables without hassle.
Coat Check Is A Must
When the weather is cold, everyone will wear a coat, but when it's time to start dancing at the reception, people will want to leave their bulky outerwear somewhere else. That is why you need to have a coat check at your reception.
Also, people should be able to leave their purses and bags with coat checks, so they don't have to carry them around. Or if people have a table where they can leave their belongings, they can enjoy the event much more.
Overall, just because you're hosting a winter wedding doesn't mean you have to relate it to a holiday. Your wedding can be whatever you want, but you must consider the temperature and weather. Now that you know what to include in a winter wedding reception, you should have no problem making your wedding a night to remember!