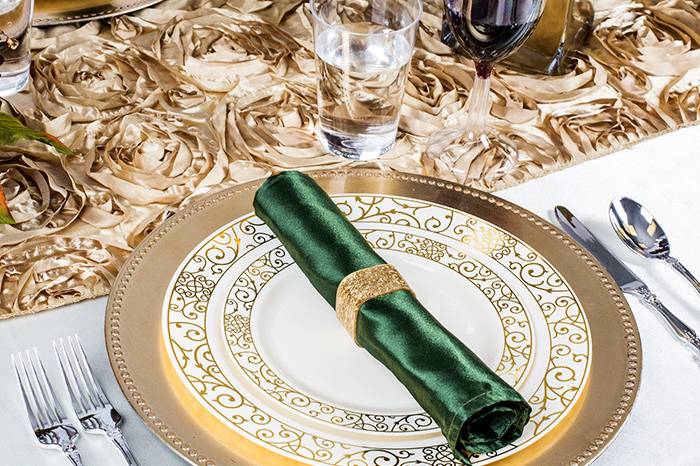 How to Set Up Party Plates for the Holidays?
Playing with party plate settings for a holiday meal can be a daunting task for any host. You have to take care of many other things simultaneously. In addition, your table will be the center of attention for everyone around - that's why you need to be conscious about it. We have come up with the best tips and tricks to ensure your party plate settings perfectly fit the overall decorations you have done in the scene. 
Formal Party Plates Settings
At formal events, setting the table is one of the primary responsibilities of the host. Sitting at a messy table suggests a host doesn't care about the guests and their comfort. If you want to make your guests feel at home and welcomed, you must pay heed to learn how to set plates and cutlery on the table. 
First, place a charger plate in the center of the cover. Charge plates are the most oversized plates on the table settings. They are also known as buffet, service, cover, and lay. It serves as an underplate for holding the first course.
Next comes the cutlery to be placed correctly on the table settings. Place the fork on the left side of the charger plate and then place the knife on the right side of the plate. Notice that the knife is turned towards the center of the plate - this is how formal plate settings are done on upscale events. Make sure you add the salad fork along with the dinner fork because you will serve the salad before the course. 
Moreover, if you are serving the soup, a spoon should be placed along with the knife on the right side of the table. 
Table Decor for Holidays
When you are throwing a party, plate settings on the table isn't enough as there's always room for decor that needs to be fulfilled. So make sure you aren't just focused on the plate settings on the table but also taking care of the table decor.
For decor tables, any idea would work as experts suggest forgetting about the traditional decor and unleashing your creative instinct to elevate your table decor. However, if you aren't getting many ideas, then the internet is the way to help you as there are plenty of modern and creative ideas for table decor.
Table Decor & Settings with Elegant Dinnerware
When you are focused on elevating your table decor, pay attention to your dinnerware, as it can bring a massive difference in the table's aesthetic and the scene. Elegant dinnerware with fancy plates matching the party's theme will get the job done for you.
However, we can recommend the best party supplies to elevate your table settings. Disposable holiday plates are the best choice when looking forward to adding aesthetics to your table decor.
Moreover, these are colored plastic plates, which makes them affordable for any budget, plus they aren't fragile and breakable like ceramics and china. If you love to mix and match the decor, then color plate combinations are for you.
Additional Table Decoration Ideas for Holidays
Bohemian Bold 
In this case, combine several different materials, textures, and styles. Pair wooden chairs with old cutlery, retro mugs, antique figurines, antique decorations, and various plants.
Floating Stars
Attach star-shaped ornaments to the chandelier or lamp above the table. It is even better, if you can, to hang one branch on the ceiling around which, in addition to hanging stars, you will also import light bulbs and hang branches and flowers. Place fruits, apples, pears, and tangerines on the table and star-shaped cookies on plates. The whole arrangement will look very retro!
Blue Dream
Red and green are typical holiday colors. But you can pass them and choose blue as the primary shade for decoration. Let it be found on the tablecloth, napkins, and other details. Next, decorate the table with Christmas tree branches, where you can put cones in silver and blue, with long silver candles in the middle of the table.
Unusual Circles
Tie spruce and mistletoe twigs around circles of different sizes made of flexible wire. Fix the circles to the square pieces of wood by gluing them, and tie a plush bow at the end. Place them in the middle of the holiday table on a green linen tablecloth and decorate the plates with white Christmas trees made of paper. The decoration of your holiday table will look elegant and unusual at the same time!
Dramatic Fruit 
For a more rustic look on the table, use pieces of bark and moss, and put a silver plate with a lot of fruit in the center. Let it contain pomegranate, mandarins, apples, and pears. Of course, this table decoration must be accompanied by disposable utensils that appear metal.
Attractive Cones
Cones are synonymous with the holiday season, so it is normal to find them as decorations on your table. You can arrange them over the entire surface of the table or, even better, expose the branch from which it will hang, and put the branch in a long transparent glass vase and fill the bottom with cones.
Big Candles
Instead of a classic candlestick or round candles, this year, allow large candles to be the main decorative element. Whites are lovely, especially if they are displayed in glass jars provided for them.
Exhibited Decorations 
Christmas tree decorations do not have to hang on them, but you can also place them on the table. Find an elegant bowl, plate, or tray, and arrange all the decorations you want on the dish of your choice. You can also decorate the plates on your table with ornaments in their color!
Holiday Plate
It is not necessary to serve only food on the plate because it can also serve as a place where you will place presents, written messages, and various decorative elements. It is even better if you have a plate on three floors intended for cakes because more things will fit on it. Decorate the multi-story plate with green twigs and arrange small gifts and letters as well as toys in the color of the table decoration.
A Miniature Christmas Tree 
If you do not want to decorate a giant Christmas tree, table decoration is an ideal opportunity to display a mini Christmas tree. It can be straight and planted in a pot, artificial, or a combination of branches that you will paint. Finally, hang a couple of your favorite ornaments and small lamps on them. Next to the white Christmas tree in a metal silver bucket, place white silver plates that you will decorate with a small white Christmas decoration.