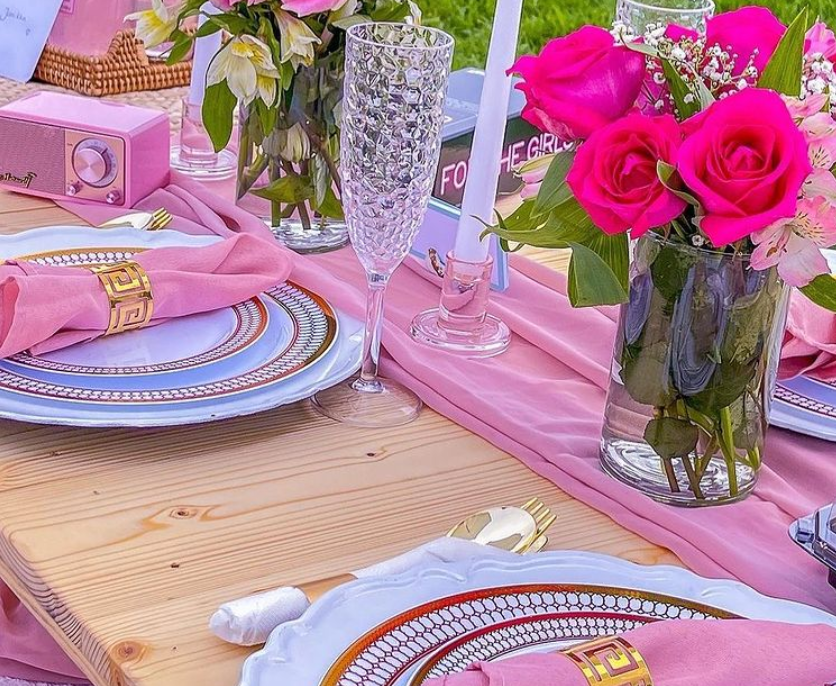 Genius Tips to Throw the Best Spring Party
Spring! The season of flowers has officially begun. With the delightful season of blooming flowers and emerging colorful petals, you have every reason to celebrate this change of the season. Why not throw a fun party for your family and friends.
Here are a few genius tips to help you throw the best effortless spring party.
Outdoor Events - The Liveliest Ones
Outdoor events in summers work the best. Picnics, parties, lunch, or outdoor dinners give us a sense of nostalgia. Outdoor parties are excellent for your physical as well as mental health. They will boost your immune system and gives us a refreshing feeling that causes a dopamine rush in the brain.
Decide on a few games like an icebreaker to keep your guests engaged. This game inspires the invitees to share a brief story about themselves. You can also provide the guests with markers and cards to write down the story.
Keep The Colors Light  
This season is all about jumping from the winter season to the spring love and life. The color scheme must be light as spring is all about subtle colors, including orange, yellow, lime, etc. Green and pastels also represent the new beginnings that spring comes up with. Light colors create a very refreshing feeling at the events, especially outdoors.
Have Ample Seats
Dining chairs with pouf or cushions are good to go. Seats must be comfortable for guests to sit because outdoor events can be sometimes a bit tiring too. If you want to do a picnic-style, you can also spread some light-colored quilts on the ground.
It's All About The Themes
Spring parties are known for their beautiful themes. You can make your party memorable by choosing a perfect theme. You can follow many ideas or choose a single specific theme, like a garden party, porch party, vintage-themed party, rainbow party, tropical party, floral spring brunch, and many others like these.
Spring Table Ideas
For tables and chairs set up, you can merge different ideas and follow a single theme. You can decorate the table sheets yourself or get these ready by the event organizers. You can make placemats for the table by using different fabricated materials.
Pay extra attention to the centerpiece because it attracts everyone's attention, and it must look catchy. Polka dot cups of spring color and butterflies placed around will give a magnificent look to the table.
Decoration-Lights and Lanterns
Lights and lanterns make the perfect setting at a spring party, especially when it's nighttime. Paper lanterns are unique and cost-effective to be used for this purpose. You can buy them from shops, and these are also available online. You can also craft personalized lanterns that go with the theme and decoration of your event.
Flowers- The Life of Every Spring Party
Spring is known for many refreshing things, including early blooming flowers. Spring parties must-have floral decorations and different colored flowers in pretty sleek vases. It will give your guests a spring spirit. You can also have a customized flower-shaped cake to serve at the party.
Keep Invitees Cool in Warm Weather
Mosquitoes can be very problematic for an outdoor event. To get rid of them, make sure to place box fans or wall fans near every table and seating area. You can also have a deck where products like "Bug Wipes" shall be placed.
Catering and Food
Whether it is some delicious light snacks or heavy meals: disposable serving platters would work best. You can visit our website for choosing the best plastic serving trays. The elegant design and delicate color patterns of the platters go well for an outdoor event.
You must include fresh fruits and veggies in your menu because they suit well as appetizers. For example, fruits are famous for the spring season like cherries, strawberries, oranges, grapefruit, blackberries, etc. Tacos and sandwiches are excellent for a light meal.
Drink That Goes With Spring Theme
Fruity cocktails and Mojito sound perfect for your spring-themed drink. Numerous recipes for a mojito and different flavored cocktails are available online. For a serving of 20 glasses, Kumquat mojito, all you need is your precious twenty minutes and:
48 Seeded kumquats

2 cups orange juice

½ simple syrup

3 cups of fresh mint leaves

A few mint sprigs for garnishing (or sparkling water can also be used)

2 bottles of club soda

6 slices of lime for garnishing

6 cups Ice cubes.
Choose drinks that are refreshing enough and must quench everyone's thirst on a warm sunny day.
Entertain Your Guests
No party is worth calling a party without entertainment. You can entertain your guests in several ways. Organize different hilarious spring activities in your backyard, like, art challenge, ladder golf, blindfolded puzzle scramble, spring-themed mummy wrap, etc.
Other than games and activities, make separate setups for music and photo booths. Make sure the speakers are not cranky because no matter how good your playlist is, no one would like to listen to the music if the speakers are blaring. Hosting an outdoor concert is also fantastic for entertaining your guests.
Kiting can also be enjoyable for teenagers as well as kids. Book reading should also be added to the list of activities.
Radiant Party Favors
Who wants to leave the party without a mini gift or a favor? No one!
Offer your invitees a gift bag before they leave. The mini gift bag can have a pamphlet with fun recipes, which the guests can try later on. You can buy party favors from any store or craft them yourself by being a bit creative.
Spring is here, and now you have enough reasons to throw your relatives and friends a bashing spring party. Enjoy your day with delicious food served in plastic serving platters. Flamboyant decorations, bright colors, lanterns, and flowers will add more liveliness and light-hearted fun to the day. Happy spring!