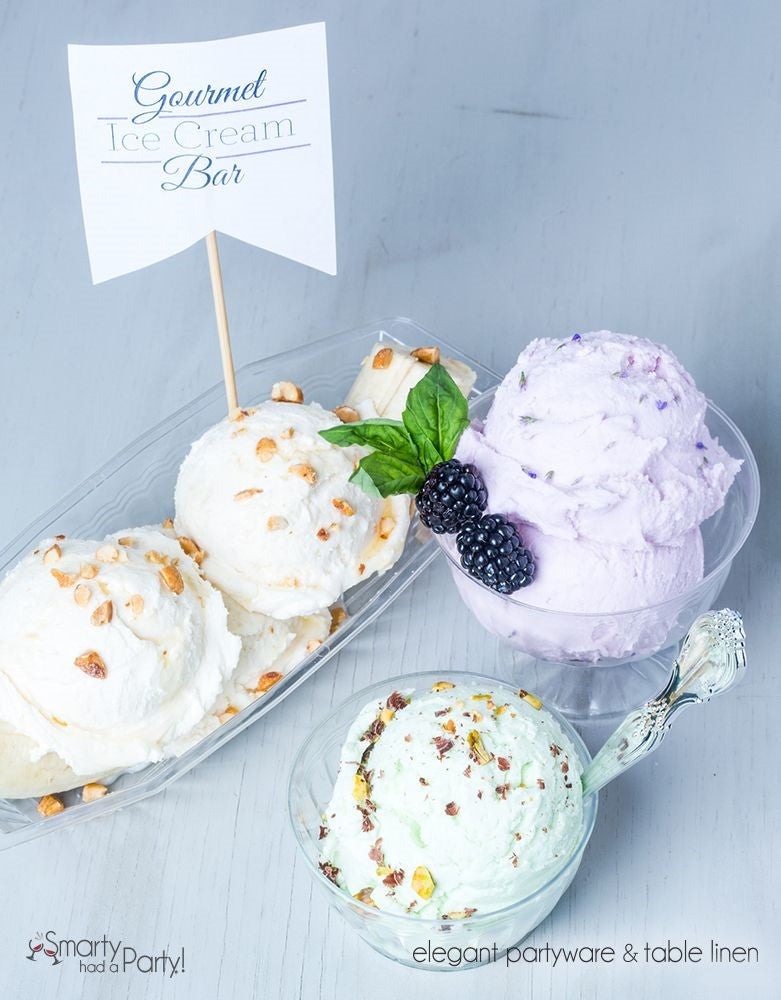 How to Set Up an Ice Cream Bar
Let's make it clear at the start, we all love ice cream! Ice cream is the best dessert ever, whether for a special occasion or a lonely night, because you can add lots of toppings, there are many flavors, and most of all, because it is refreshing and amazingly delicious. So setting up an ice cream bar for your guests might be a fantastic idea if you plan to throw an ice cream party. Whether it's an outdoor or indoor party, a fancy or a casual event, an ice cream bar set up is perfect for every occasion and almost every season, whether it's summer or winter.
We will give you some fantastic ideas for setting up your own ice cream party for your guests. With the choice of toppings and different flavors, what would fascinate children and elders alike, we're going to cover everything.
Choosing the Right Ice Cream
You should choose an ice cream that's an all-time favorite. You can go for simple ones like chocolate, vanilla, or a strawberry that looks amazing and tastes delicious. The rest of the job is of your toppings because they will shine on these flavors pretty well.
Have Fun with Toppings
Toppings are the items that need your attention. You can choose to use the most favorite and common sprinkles, chocolate chips, toasted coconuts, and Oreos.
Along with these common items, you can also have fun with brownie bites, roasted peanuts, shortbread cookies, melted marshmallows, and anything crispy yet tasty you can think of will do the work quite well. Blueberries, cherries, and bananas are just a few fruit items that you can include in the list as well.
Even some tiny pieces of Funfetti cake and some M&M's can make your ice cream party a little more special. You need to make sure that you offer various toppings so that your guests can choose whatever they want to make their ice cream more delicious.
If you're expecting some kids at the party, your ice cream bar should have toppings that fascinate them. You can also place some Gummy Bears with sprinkles and M&M's. It will let your kids have some fun with different colors and tastes.
Serve it Well
Ice cream parties are fun to attend but, believe it or not, create a lot of mess at the end of the day. So, you better prepare yourself with our disposable mini partyware collections. You can place different toppings in our fancy plastic bowls that you can dispose of at the end of the day.
Looking for some adorable dessert spoons - we've got you covered with that. Your kids will enjoy the ice cream with our mini disposable dessert spoons. We offer dessert spoons in gold and metallic silver color that gives your table setting a premium look.
Make sure that when you serve your guests their favorite ice cream, serve it with proper table manners. Your ice cream bowl must be placed on elegant serving ware. We also offer disposable plastic serving ware to make your servings look premium and well-mannered. Our serving ware collection is provided in different shapes and sizes. You can choose whatever suits your fantasy.
When you finish preparing the ice cream bar and other decorations, the last but most important thing is the ice cream! Since this story emphasizes ice cream, do something new and surprise your guests with your homemade ice cream. You can make several types of ice cream that you will combine, and it's not difficult! We will offer you some effortless recipes to delight you and your guests!
Greek Yogurt Ice Cream 
A treat you will enjoy
You need 3 -ingredients, and the taste will blow your mind.
Ingredients:
300 ml of Greek yogurt

300 ml of sweet cream

250 ml of condensed milk
Preparation:
Mix all the ingredients and beat with a mixer for a few minutes. Then pour it into a container and put it in the freezer for at least 4 hours. The trick to making the ice cream creamier is to stir it every hour with a spatula.
Homemade Cherry Ice Cream 
A refreshing treat that no one can resist
Summer is approaching, and ice cream is one of my favorite treats. That's why it's the right time to make homemade cherry ice cream that will be better than store-bought.
Ingredients:
300 g of frozen cherries

150 g of sugar

A bag of vanillin-sugar

Three dl of sour cream

Three dl of sweet cream

A few drops of cherry
Preparation:
Defrost the cherries. Set aside a third of the cherries.
Cook the rest of the fruit with sugar and vanillin sugar on high heat until you get jam consistency. Let it cool down.
Mix the prepared fruit with the sour cream. Beat the sweet cream, and add the cleaned cherries and the sour cream mixture. Mix gently until the mixture is combined.
Put the creamy mixture in a plastic container with a lid, then put it in the freezer. Serve the ice cream with biscuits.
Creamy Banana Ice Cream or "Quick Ice Cream"
Did you know homemade ice cream can be made from just one ingredient? The magic ingredient is bananas, and the number of bananas needed to make ice cream depends on how much you want.
Preparation:
Cut the bananas into rings and put them in a bowl. Keep the container in the freezer until the fruit is frozen. Then, mash the frozen bananas in a blender, mixer, or similar device. Since the bananas will stick together, you must stir them from time to time.
Put the resulting creamy mixture in the freezer for a while longer. When the mixture cools down enough, your ice cream is ready. If you wish, add another ingredient to the mix for a richer taste.