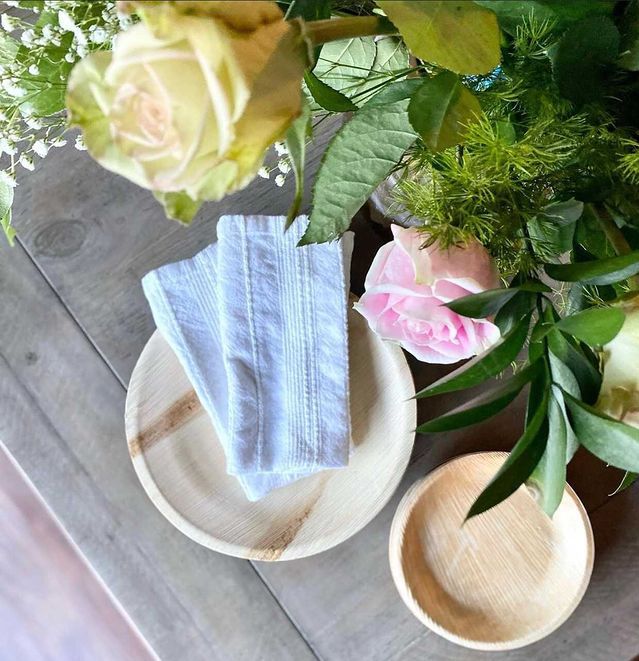 Top Tips for Camping in Your Back Garden
Back garden camping is one the most fun ways to delve into peace and calm in a technology-driven world where it can be difficult to escape our TV screens and LED devices. Yet, there is no need to travel far and wide to spend a night under the stars when you can experience the same in your backyard. Whether for the kids or a family night out, camping in your back garden is an incredible, stress-free, and low-cost way to beguile the kids with new and adventurous activities to perform. 
The most entertaining backyard camping does not require a whole lot of effort, and there is no need for you to be doing that. As long as you have a large patch of grass, your back garden can be the perfect place to practice camping. Simply put a tent for everyone and set the dining space enticingly with Smarty's rustic compostable tableware. It will be a responsible act to have sustainability invited to your camping. The disposable eco utensils and elegant biodegradable mini partyware set the vibe for a perfect camping night. Our list of incredibly fun and innovative garden camping ideas keeps everyone entertained.
Set up a Cozy Campsite
After you have the tent up, fill it with as many blankets and cushions as you like to make the inside super cozy. Don't forget your favorite soft toys to elevate the whole mood of your back garden. Getting all the stuff out at once is preferable, so you don't have to go inside later to get anything. Arrange a perfect tablespace with our eco-friendly disposable bowls, disposable eco-friendly trays, fancy palm leaf plates, and other disposable eco utensils.
Get the Little Ones Involve
Engage your kids in entertaining games and fun activities such as scavengers hunt, torchlight treasure hunting, and racing game. To teach your kids good camping practice from an early age and encourage them to avoid screens and love nature, make them set their small tents on their own. Then, encourage them to decorate it with fairy lights and flowers. Then, serve them deliciously cooked foods in our elegant biodegradable mini partyware whose just-the-right size is perfect for kids. We offer different shapes and designs in this elegant biodegradable mini-partyware collection to meet your little ones' preferences. You can also choose between various shapes in our eco-friendly disposable bowls.
Decorate the Tent
Add soft toys or stuffed animals to children. Put a few flashlights, lanterns, or sticks in each tent. You can also set up decks of cards or board games in case it gets cold.
Putting something soft on the floor that you can lie on: camping beds, an air mattress for blowing, yoga mats, towels, a thick blanket, or even pillows on the couch work well. Add pillows and light sleeping bags or cotton blankets for the summer heat, especially if you live where night temperatures drop significantly.
Eating and Stargazing
The most relaxing way of getting deep into nature is stargazing. Backyard camping allows a peaceful view of stars and good food in a cozy environment. How about eating in the gorgeous rustic compostable dinnerware and disposable eco utensils? We have created a beautiful collection of eco-friendly disposable bowls, fancy palm leaf plates, disposable eco-friendly trays, and disposable flatware.
Campfire Cooking
For an authentic camping experience, cook fresh and warm food in a fireplace. A barbecue would be the smart choice, and everyone would love it. Serve the meal in our disposable eco-friendly trays and fancy palm leaf plates to complement the taste.
Turn Your Lawn Into a Twister Board 
Cut a circle out of the pizza box and use it as a pattern to spray circles of different colors on your lawn. You will need four to six different colors to make rows of four to six circles, and each row has its color. Use a spinner from the game or create your paper with paper and felt-tip pens. Someone could randomly name colors and body parts ( right leg blue, left arm yellow, etc.). Use spray paint to mark the contractor if you want to quickly wash off the paint after emptying the campground.
Nature Hunting
Make a list of items that will probably be found in the yard and share copies with everyone who wants to play. This game works well individually and in teams. You can see who can find the most items or who can find them the fastest. Consider giving the winners a small prize, such as glow sticks or sweets. ◦Several ideas for your list are a four-leaf clover, a ladybug, something yellow, two identical leaves, a feather, a round rock, and so on.
Turn On the music 
Take your stereo or boombox outside or even plug your phone into a compatible projection speaker. Music will revive your camp in a short time. Take turns becoming a DJ so everyone can hear their favorite tunes. You can even start a dance party! If you have close neighbors, keep quiet as the evening progresses. Your neighbors may have small children trying to sleep. Do not emit deafening sounds or loud music.
Watch Movies Under the Stars
If you have a video projector, you can hang a sheet in the yard (as a screen) and watch a movie outside. According to your topic, you could even watch a movie about camping. For example, parent Trap or Camp Rock is an excellent choice for camping with children.
Watching the stars is a great activity. Spread a blanket on the grass and lie down to look at the stars. You could see who can point to the most constellations or teach kids to find prominent constellations, like Orion. Apps like Sky Map show you the name of each star and constellation using your location in real-time.