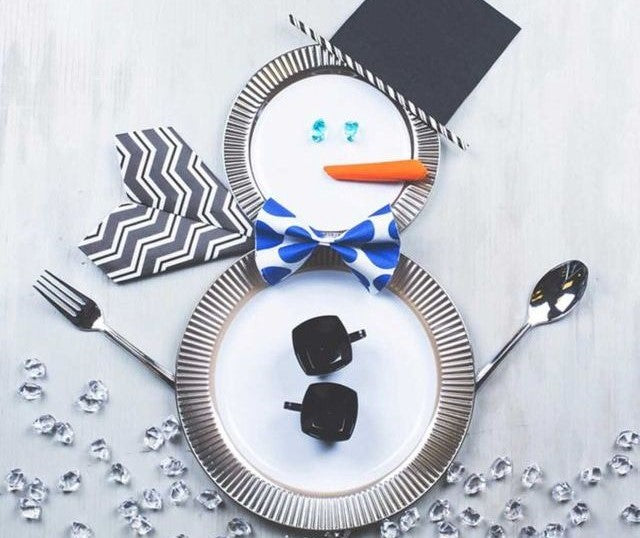 Beautiful DIY Winter Centerpieces Decoration Ideas
The Winter season is all about staying home and enjoying the coziest vibes by grabbing a mug of coffee. But it is not very fun or exciting to spend so much time inside. So the better option is to throw an epic party that demands elegant table decor to entertain and impress your friends and family. 
Everything you can do and create with your ten fingers is undoubtedly much more valuable than anything you can buy. The parties you arrange yourself have your unique stamp and carry your qualities.
Creative projects are very stimulating and have a therapeutic effect. But unfortunately, we are more attached to our homes than ever before because of the global pandemic. As a result, many have become more frugal than usual when spending the household budget. However, it doesn't take much to beautify your home. Most of the materials you need for DIY projects that we will present to you today, you already have at home. 
Centerpieces are the table's focal point, and every party table should be decorated to make things communicate formally. We have come up with some of the best DIY ideas to create beautiful wintry centerpieces. 
Wintry Centerpiece
Anything creative can make a masterpiece of art. So you can be creative and take advantage of the food that will help you create the perfect wintry centerpiece for your table.
Cinnamon sticks with dried apples and pine cones can provide your party table with a perfect wintry look that would wow your friends and family. The process is pretty simple and wouldn't take much to prepare it.
Grabe cinnamons stick and cut them down so they incorporate with dried apples you will put inside them. Gather them around the dried apples in a circular direction and then place the pine cones around them. To add wintry looks to your centerpiece, spray white paint on the cinnamon sticks. 
There is an endless list of centerpieces that you can choose from. Some take a few minutes to elevate your table's decor, and some might take longer, but the results would be worth watching.
No matter what you choose, you must decide what you love and how you want to make your table look. 
Old Wine Bottles
After throwing endless parties and celebrating holidays, you must have ended up with a pile of wine bottles that you might throw in the trash. 
Repurpose your all-old wine bottles and make some amazing-looking centerpieces for your upcoming parties. So gather all your old wine bottles, and grab a Gold glitter to enhance them.
Decorate the wine bottles with gold glitter and put some silk flowers inside them. You can repurpose your old wine bottles and convert them into some art pieces.
Moreover, when paying so much for your table's decor, don't forget to have superb-looking premium plastic charger plates. Disposable charger plates will help you make things communicate formally on your table. Elegant charger plates are essential for your table's representation, and without them, your tablescape would be incomplete. So get these amazing-looking Elegant paper charger plates, disposable dinner plates, salad plates, cutlery sets, and fancy disposable wine glasses from Smarty Had A Party at a fraction of the cost and elevate your table's profile.
Twinkle Lights Centerpiece
Twinkle lights will add warmth to your party table, and they are pretty easy to arrange. Just grab a transparent glass vase and add pine cones.
Get battery power twinkle lights and wrap them around the pine cones to add an aesthetic profile to your table. Then, place them on your table as a centerpiece to add aesthetic vibes to the scene. 
Scented Candles
Scented candles are a popular detail for interior decoration throughout the year. Still, you'll probably agree that they have a unique charm during the winter months, bringing in a dose of romance. 
Candles can be found today at affordable prices in various sizes and shapes. We suggest scents such as vanilla, cinnamon, or clove, for the winter months. 
You can also make scented candles yourself. However, if you still do not want to bother with making the candle itself, you can at least design its holder yourself. Then, you can put the candle in a jar or an ordinary glass cup that you will then decorate, or, for example, lanterns are in trend.
Blankets and Pillows for Extra Charm
Knitted blankets, fuzzy fur blankets, and pillows are in trend. Blankets and pillows can be a great decorative detail, whether on an armchair, sofa, or floor.
Pillows with motifs of winter and Christmas, white or red, and gold and silver, will fit into the winter decoration of the home. Choose colors and patterns that will blend in with the rest of the interior.
Natural Materials for Making Decorations
There are no better materials for do-it-yourself decorations than cones, twigs, holly, and dried oranges! All of the above can be used to make a wreath, put in a jar, vase, wooden box, on the window, etc. The possibilities are endless!
Wreath - Decoration for Any Home
A wreath is also a classic decoration during the winter holidays. But the advantage of this decoration is that you can play with your imagination and create a unique and original wreath. For example, you can use twigs and other natural materials, Christmas balls, decorative ribbons or fabric, bows, and decorative lamps.
Wreaths are usually round, but this is not the rule. So leave that decision to the imagination as well. They are mainly used for exterior doors or as kitchen table decoration.
Winter is the period when we mostly stay in the warmth of our home. We can completely relax in the house and enjoy ourselves with other family members.
The home's visual appearance dramatically influences our mood and atmosphere in the space. Since the cold winter months are ahead of us, we suggest you decorate your living space in the winter and holiday spirit to achieve a winter idyll.