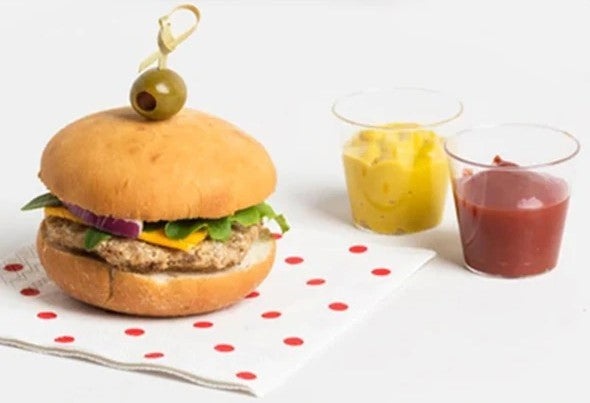 How to Organize a Burger Bar Party?
The grilling season is just getting started! Burgers are everyone's first pick for grilling and entertaining during the summer. They're simple, customizable, and sure to please the crowd. 
Arrange several burger options, as well as cheeses, vegetables, sauces, and other toppings, plus a variety of roles, to create an amazing DIY Burger Bar. Then each friend or family member can have a blast trying out different combinations of recipes. You can even have a competition to see who can come up with the finest or most unusual combination!
A memorable feast will be set up with some planning and basic tips and tricks.
Choosing a Perfect Party Theme
Themes are always entertaining and unique, and they make decoration a delight. Although white, blue, and red is a classic, your burger party can be themed as a poolside beach party, a floral carnival, or any other theme you want.
To achieve the look, purchase affordable outdoor decor such as balloons, ribbons, streamers, and tablecloths from a party supply store.
Several streamers and balloons placed around influential party spots such as the dining table or terrace help control the flow of the party and let attendees know where the fun is!
A Cool Burger Bar Set-Up
To promote efficient traffic flow and avoid pileups, set up your burger bar in stations – one for chilled toppings, one for spicy and savory toppings, and one for sauces.
Place a simple label next to any custom toppings or uncommon items (such as exceptional cheese), and where there are many options, such as two varieties of patties.
Guests will know what they are treating themselves to, and you will be able to satisfy any dietary restrictions. Ensure that platters are easily accessible and provide an abundant quantity of serving utensils, one for each item.
Serve Heavenly Burgers-Grilled To Perfection
This summer get-together is focused on one thing: a fantastic burger! We've shared some ideas for preparing summer's most popular dish.
Choosing the Correct Meat: Get 80/20 minced beef. It has the optimum fat content, which provides the most moisture as well as flavor.

The marinade is mandatory: Gently massage the marinade into the meat until it is evenly spread. If you overwork the meat, you'll get a tough and stiff burger.

The Size must be Perfect: Begin by shaping a 1/4th pound of beef into a ball and flatten it to 1/2 to 3/4 inches thick and significantly larger than the bun. The patties will cook more evenly, stay flattered, and shrink less if you press your thumb into the center to make a dimple.

The Timings Matter: The flavor of a charcoal grill is preferred, but a gas grill or a cast-iron pan on the stove can also prepare delicious burgers. For medium crisp, cook 4 to 5 minutes per side. Burgers cooked medium-well would still be juicy, thanks to the marinated beef.
Choose disposable party plates for serving the tasty burgers since that would be both affordable and easy to discard without wasting time washing the plates.
Food Safety Tip: When barbecuing meat patties, it's a good idea to have a digital thermometer in hand. Cook them to an internal temperature of 160 degrees Fahrenheit (71 degrees Celsius) for beef and 165 degrees Fahrenheit (74 degrees Celsius) for chicken. Insert the thermometer into the side of the patty so that the tip reaches the center for an accurate reading.
The Tastiest Burger Toppers
With a variety of creative toppings, a good burger becomes even better. Serve a platter with the usual suspects like lettuce, cucumbers, tomatoes, and cheese, but don't forget to include a few surprises! 
Add bowls of mushrooms, eggs, chili, spicy peppers, lettuce, avocados, pickled okra, bacon, and flavored mustard or mayonnaise to the mix for a unique take on a build-your-own burger bar.
Freshness Tip: Get the toppers out of the fridge at the last min to keep them fresh. To keep the ingredients fresh and crisp, place the serving dishes within larger bowls filled with ice.
Flavors Are Layered With The Side Dishes
Side dishes don't have to be stuffy or complicated to be entertaining. Serve a menu of tried-and-true classics with a modern touch on plastic plates. Visit your nearest farmers market for a plethora of new ways to elevate basic foods.
Have the Peachy (rice) Salad, for example. It combines fresh sliced peaches with cherry tomatoes, basil, blueberries, and a spicy jalapeno jelly sauce. Alternatively, add new ingredients to traditional recipes, such as grilled corn with poblano pepper cream or buttermilk herbs as a side dish.
This isn't your typical salad; note the shredded cabbage and roasted banana chilies among some of the lettuce and carrots. You may also use it on burgers. In fact, we strongly recommend it.
End The Day With A Sweet Treat!
The lovely S'mores Icebox Cake is one of our favorite dessert ideas to serve with a summer feast. All of the standard ingredients are present, but they're served straight from the fridge in stylish disposable plates. A toasted marshmallow topper and chocolate chips complete your summer cake.
Disposable dinnerware adds convenience by removing the worry of breakage that comes with a glass or porcelain tableware. It also reduces the amount of time it takes to clean up. Grab fancy disposable plates that have a unique look with an eye-catching texture, perfect for every party.
Must Haves At The Burger Bar party!
Unless you're prepared to do a lot of dishes, use napkins, paper plates, glasses, and cups. 

Tablecloth - makes it much easier to wipe the table.

Adult and children's beverages

Coolers and ice — Since we want to take advantage of the nice weather, make sure you have drinks and a fully filled refrigerator outside.
Fun For The Kids: Make a gathering with a variety of outdoor games! Set up game booths and let the kids' imaginations soar. During the party, set up a few friendly competitions and let the good times roll.