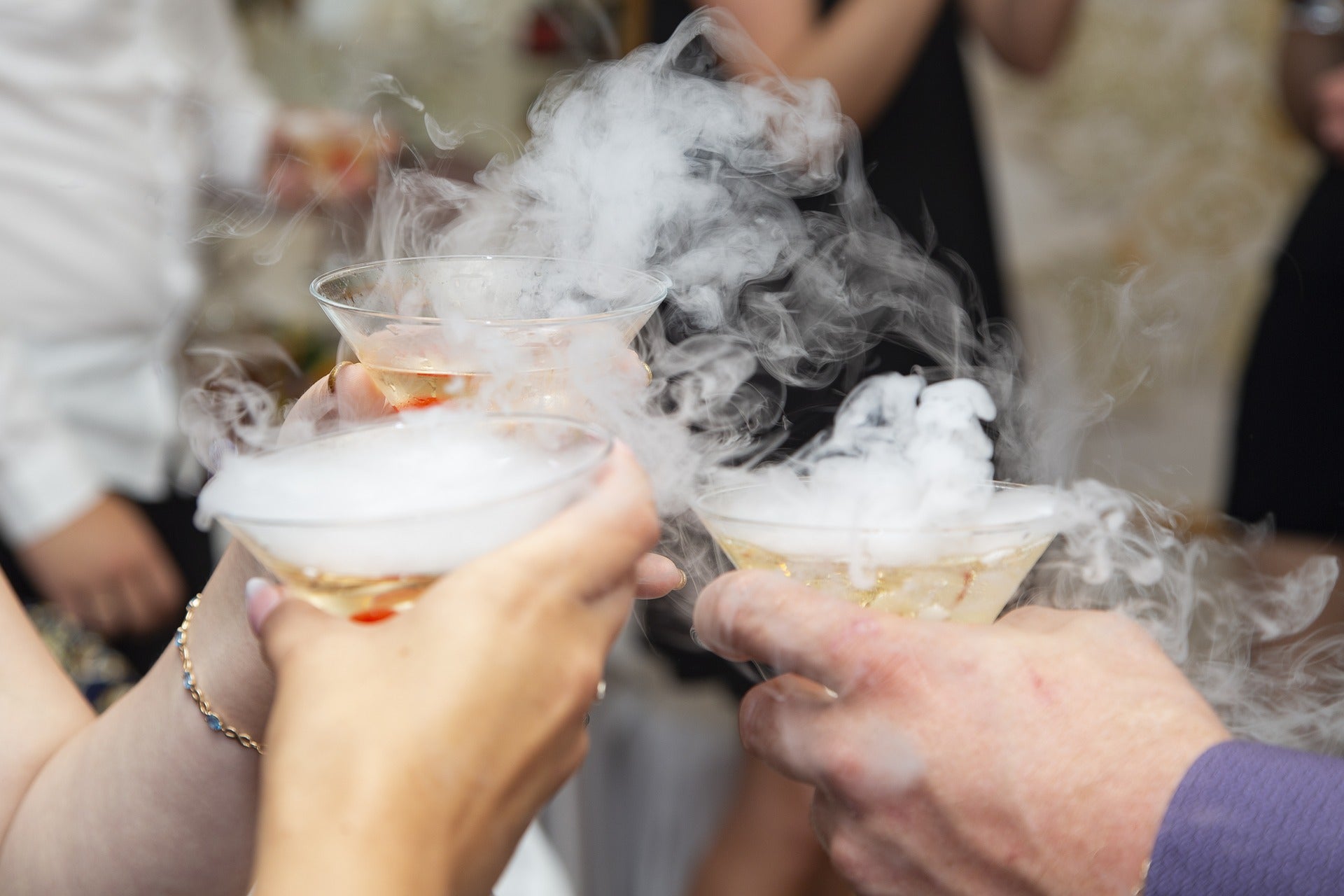 How to Make Spooky, Smoking Cocktails with Dry Ice
Just because cocktails are non-alcoholic doesn't mean they are boring drinks. On the contrary, they are fun to make and drink when they are full of fruity and juicy. If you are looking for non-alcoholic beverages because you are underage or alcohol isn't your thing, you have come to the right place. We have some fantastic spooky smoking cocktails ideas to make your next serving more accessible and spectacular.  
Dry Ice Gives Cocktails a Wow Effect
Dry ice is a material that can be used for various purposes. For example, in the world of cocktails, dry ice gives cocktails a solemn, captivating, and mysterious note. The result is awe-inspiring and will delight your guests. A good idea, for example, for a Halloween party.
Dry ice is carbon dioxide (CO2) in solid form. When the latter is compressed and then cooled to temperatures below -78.48 ° C, it becomes stable and takes on the appearance of ice. Then, reheated, it does not melt but is directly converted into a gas (sublimation process).
Sublimation becomes more visible and noticeable when a piece of dry ice is placed in a liquid solution. Dry ice can have a variety of solid shapes (sticks, snow, cubes, etc.). Also, keep in mind that it is completely colorless and odorless.
How to Use Dry Ice in Cocktails?
Adding dry ice to cocktails creates a kind of white smoke that hovers over the drink, creating a very successful effect! In addition, the smoke is accompanied by an effervescent effect with fine bubbles. When there is no more smoke, the ice has completely evaporated. While such a procedure may seem daunting to you, it's pretty simple once you learn how to deal with this dry ice because you still have to take some precautions!
If it is a large piece of ice, you will need a screwdriver and a hammer to break it. Do not forget to protect the surface on which you perform this operation, for example, with a towel. Another imperative: never allow ice to come in direct contact with your skin or eyes. Therefore, you must wear protective gloves and goggles.
When you have small pieces of dry ice, here's what you need to do:
Prepare the cocktail separately.

Put a piece of dry ice in a glass with pliers or protective gloves. 

Add crushed ice, then add your pre-prepared cocktail.
The dry ice cube is completely dissolved in the liquid in 5-7 minutes. You can drink a cocktail while smoking, which enhances the fun. However, it is essential not to put an ice block in your mouth or swallow it. Keep in mind that dry ice smokes and further cools the drink. Its taste will remain the same with or without dry ice.
Dry ice should not be placed in the freezer or refrigerator. It should also not be placed in an airtight container as it may explode. It is best to put it in a dry and ventilated place. Keep out of reach of children and pets. For example, you can store it in an empty refrigerator with the lid open. Ice packs should remain tightly closed until use. Dry ice does not last long, so it should be used on the day of the event or the next day at the latest. 
There is a whole science of making two, three, or five drinks, and together they give delicious pleasure. It is all measured in milliliters, in drops, correct recipes, rituals of shaking, pouring, and even drinking are respected, and all that to get the perfect balance of taste, smell, viscosity, texture, and color. On the other hand, we have to admit that there are so many ways to prepare, so we can say that the best cocktails are between free art and applied science. The smoke effect will give them an extraordinary emperor! If you want something stunning for your party, smoke is a hit! And here are ideas for a terrifying Halloween cocktail!
Spooky and Smoky Mocktails
Smoky mocktails are fun to make and watch when presented with the magical smoke being sparked from the drink. You don't need to be a professional mixologist to acquire the perfect art of making spooky and smoky mocktails at your home. Although you will need to take care of things, the happy stuff starts for you with lots of spookiness and smoke around your delicious drink.
To make the drinks instantly smoky, you should use ice, which is easily available. There are many ways to add smoke to your mocktails. But we won't mention them here because firstly, they are complex to implement, and secondly, they aren't as effective as dry ice is. Instead, we will let you know the best way to make it easy and reliable for you to turn your simple drinks into magical smoky mocktails.
Making Smoky and Magical Mocktails
To build your smoky and spooky mocktail, you will start with one ounce of non-alcoholic blue Curacao. Now, this is the thing that I recently discovered, and it's a great little thing to throw into your cover to add to your non-alcoholic beverage repertoire. Next, add half an ounce of fresh sour, just equal to lemon juice and simple syrup. Mix it with regular ice, add some mint leaves and give it some shakes.
To make it smoky and spooky, don't shake it too much. 3 to 4 shakes are enough to get a delicious taste. Now double strand into the fancy plastic martini glasses. Using double strands will avoid the bits of mint floating around in the glass because that doesn't look great.
Now, for the magical part, drop in the dry ice and top with a bit of soda water to make it more delicious. And there you have your magical spooky mocktail with smoke floating around. Be careful when adding dry ice to the glass because many people think dry ice is edible. It will injure you badly if it is consumed directly. Instead, use chili sticks to stir the dry ice in your elegant plastic glasses.
Serving up Smoky Mocktails
Making the smoky mocktails is a beautiful experience, and watching it too. But, it is incomplete if the mocktails aren't served with style. Once you master the art of making smoky mocktails, serving them up with style is the next art you should be considering. 
With Smarty's unique products, you can level up your serving at your next party. We have a variety of disposable cocktail napkins and plastic glasses for Halloween to ensure you aren't old school when it comes to serving mocktails. Moreover, our elegant plastic glasses are the best products to cater to the need for drinkware in your events.