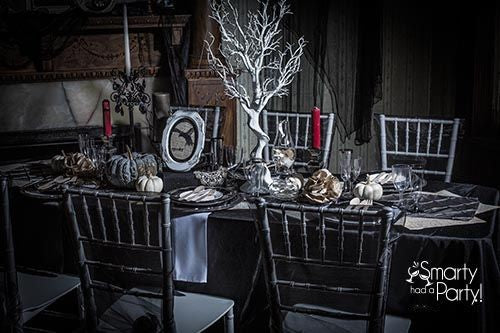 Paint the Party Black with Our Fabulous Halloween Table Decor
Throwing parties is fun and turns into the next level of fun when you have to give it a particular theme. That's the moment when you unleash your creative instincts. A fabulous black party isn't merely for Halloween. You can use the black theme for other events like birthdays, weddings, anniversaries, etc. Black is a solid and bold color and carries a prestigious nature. We have some modern and creative ideas to decorate your next black party.
Black Party Decoration 
Decorating a black party theme isn't a big deal as anything can fit in the black scene. You can mix up black with other colors to create attractive color combinations in your decor. For example, you can choose black and white or a black and yellow variety. Additionally, black and yellow balloons will take your party theme a notch and impact the overall scene. If you are a pure black lover, then you can use black balloons and decorate the scene by creating a ceiling full of balloons.
Fabulous Halloween Table Decor
Table decor is also an essential part of the party theme as, after all, it will be the center of the attention of your guests. For the table decor, you will have to make the presentation of the items in creative ways so you can wow your guests. Napkins folding would be the part of the table, so why not decorate the table with it? To elevate your table decor, you can fold napkins in different shapes and patterns. For example, for the black table, you can have bat-folded napkins, and it won't take a minute to fold them into bat shape.
Moreover, dinnerware should match your party theme to create a beautiful scene of the black-themed party for Halloween. Disposable dinnerware for Halloween is trending, and they have some plus points to consider using at your next party. We have some elegant collections of black dinner plates and disposable black flatware to cover the black-themed party entirely. Also, while drinking in regular glasses, life seems boring, so consider elegant plastic drinkware to level up with the party theme. 
Black Candy Bar
A black candy bar is a great way to make an impact on guests that you have put in all efforts to throw the party. Moreover, kids won't forget you for this if you set up a candy bar table with various candies. So, consider setting up a black candy bar with lots of black sweets in jars, bowls, and black plastic glasses. Don't forget to have a candy scoop!
Food for Black Theme Party
Adding black party ideas to your food menu would significantly impact your guests. In the food department, you can go with burgers with black bread. Moreover, a pizza full of olives and served on Halloween plastic plates will easily get the job done for you. 
Black and White Decor Nightmare
This color combination is an absolute classic and will be suitable for Halloween. Find one part in the apartment where you can put a lot of drawings, various objects, sculptures, and everything that reminds you of that day.
Spider Web Decor 
Choose one central place in your living room where the mirror stands. Using a thicker black thread around the mirror, "weave" a spider's web and then fix artificial plastic spiders on it. Put a black torn cobweb-like net around it, then place old books, candlesticks with black candles, and crow-shaped figures on it.
Terrible Pumpkin 
The carved pumpkin is a decorative symbol of Halloween. But, forget the classic orange one, and choose a more unusual color like black. Then cut the top and remove the "meat" from the pumpkin. Next, put potted plants, such as guardhouses and cacti, and arrange pieces of moss around them. This way, you will get one blooming melancholic pumpkin to remember.
Bloody Candles 
These slightly morbid candles are so easy to make those dark style lovers will use them all year round. Since you first chose a lovely thick black candle, light a thin red candle and let it drip on the rim of the black and flow through it. Judge for yourself when there is enough red wax or "blood." Next to them, place a vase with colored black roses and faded red for an even more impressive look!
Black Poison Bottles
Make simple labels to cover the black bottles, flasks, bottles, and cups you use for Halloween. The motif of a skeleton head with two crossed bones is implied because it represents poison. In better printing houses, I can print such stickers directly for you, buy self-adhesive paper, cut it to the appropriate dimensions, and illustrate it yourself.
Mummy Bottle
Since the decoration will be ready in a few minutes, the mummy bottle is suitable as a gift if you visit someone for Halloween. Since you have found a right, if possible, black bottle of wine or some other drink, take white gauze and wrap it well and thoroughly around the bottle.
Wicked Balloons
 Inflate balloons in different colors, such as white and orange. Take a black marker and let your imagination run wild. Draw the face of a wicked pumpkin, a benevolent spirit, a cheerful skeleton, or anything else that comes to mind
Ghosts on the Cake
Here is a simple and effective solution if you have a cake that you want to decorate in the spirit of Halloween. Place a cotton ball on top of a wooden barbecue stick to remove makeup. Transfer a piece of white gauze over it, and tie a thin silk white ribbon around the cotton ball. You will get ghosts with heads whose body floats and floats, and then just stab them all over the black cake. Due to the black background, these white spirits will come to the fore. If you still improvise and put a white cobweb on it, it will be a complete hit!
Eat, drink & be scary, Smarties! 
With love 
Smarty had a Party
!