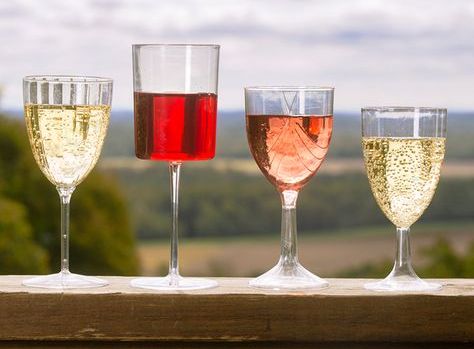 How to Decorate Plastic Wine Glasses and Use Them Safely?
You have no idea what a few decorative disposable plastic glasses can do to your party's decor. Having a nice collection of decorative plastic glasses at a party will make a difference because it reflects your personality.
When you hold and stroll with it at the party, it represents your class and legacy. We've created unbreakable and stylish drinkware sets that you can buy for your next party to make things easier for you. 
Bring Some Fancy Decorative Plastic Wine Glasses to Your Next Party
If you think drinkware is not that important, you are wrong. You cannot just put any drinkware on the table and call it a day. Should be put proper attention into purchasing appropriate dinnerware for an event.
It's crucial to choose the 'right' glasses for the job. Aside from improving your table presentation, it may also add to your style's elegance, transforming regular meals into glamorous and engaging events.
Other than the looks, specialist glassware is designed to match the drink it will serve. Wouldn't you want your garage door to be the same glass as your wine glass? So, we've selected a few decorative wine glasses for you to rest your hands on.
Smarty Had A Party makes sure the party doesn't run dry, no matter the theme. We have a wide variety of 

fancy plastic wine glasses

 in terms of quality. In addition, we have glassware in numerous styles to accommodate every event, whether it's a massive occasion like a milestone anniversary or an intimate meal with a small circle of friends. 

Use stemless or plastic wine glasses with a crystal look. Don't choose anything less than a fashionable way to say cheers. Our glasses collection includes a wide range of shapes and designs. You may buy plastic wine glasses in bulk to prepare for various events, ensuring that you have the right type and quantity.

Beautiful and disposable wine glasses are, without a doubt, versatile enough to meet any of your party themes, but the advantages don't end there. For example, disposable design means fewer difficulties when cleaning up after your event. Durability is also vital, and our disposable glasses can withstand the rigors of harsh weather or a simple spill.
Is it Safe to Drink Off Plastic Decorative Wine Glasses?
Acrylic drinking glasses are a practical choice if you seek the appropriate drinkware for regular use. They are low-cost, versatile, and long-lasting, perfect for residential, industrial, and commercial use. Are acrylic glasses, on the other hand, safe?
Acrylic plastic drinkware is far safer to use than other types of drinkware. Plastic drinkware does not contain or emit Bisphenol A. (BPA). BPA is a potentially hazardous chemical that has been linked to infertility, thyroid disorders, metabolic disorders, and other hormone-related difficulties.
Smarty Had A Party came up with a unique way to blend a party, a good time, and a healthy lifestyle. You can be the one to set an example for your peers by using our environmentally friendly drinkware sets. An exciting, beautiful, and ecologically concerned event makes people more aware and willing to take better care of our earth.
If you go through our collection, you'll notice that we have a carefully curated selection of eco-friendly, disposable, and biodegradable party supplies and drinkware. That includes eco-friendly plates, eco-friendly glasses, and eco-friendly silverware to help you put together a beautiful table setting. In addition, materials such as palm leaf, molasses, and birch create our environment-friendly and safe products.
How to Decorate Plastic Wine Glasses and Still Use Them Safely
As it's summer and there are a lot of parties, we thought we'd show you how to decorate plastic wine glasses quickly.
If you have a set of drinkware, you may decorate plastic wine glasses by adding your own custom design to the exterior of the glass. Again, using the right paint will aid in getting the paint to adhere correctly and keeping it looking good after multiple washes.
Since it is easy to use and needs little maintenance, acrylic enamel paint is the finest choice for painting wine glasses (as well as other delicate surfaces). Non-toxic and water-based paints stick well to glass surfaces and are generally safe.
Keeping this in mind, here are some standard tips for decorating your plastic wine glasses:
Apply a thin coating of glue with the foam brush. Don't forget that it dries clear.

Glitter in multiple layers. We like to use a crumpled paper bag to gather any surplus glitter.

Apply glitter with a different foam brush. Also, don't forget to shake off any leftovers!

Apply a thick gloss finish coating on the glitter area, aiming to stay near it. It's fine if some of it falls off!!

It's time to get creative. Add names, quotes, or even exciting patterns with any color paint marker. This would be fun for a bridal bash or a bridal shower.

Ta-da! You've completed the task. The paint marker dries in a flash. You can send the cups home with your guests as a lovely little surprise after a party.
Be the Host's Favorite Guest by Bringing Decorative Plastic Wine Glasses That Are Disposable
Who doesn't want to be the most beloved guest at their host's house? A gift is an excellent way to express gratitude to your host for their kindness. Consider the nature of the event and local tradition while picking your selection. If it's your first time visiting someone's home, bringing a small gift is a thoughtful gesture. Bring elegant wine glasses to the party to earn the host's affection.
The best plastic wine glasses are chosen by the event. For example, a crystal-cut disposable wine glass would be ideal for a formal occasion, such as a rehearsal dinner or wedding reception. On the other hand, we recommend stemless wine glasses for a summer wedding, birthday, or picnic. 
Consider additional complementary products, such as eco-friendly party supplies for your next spectacular event, special occasion, or family gathering.