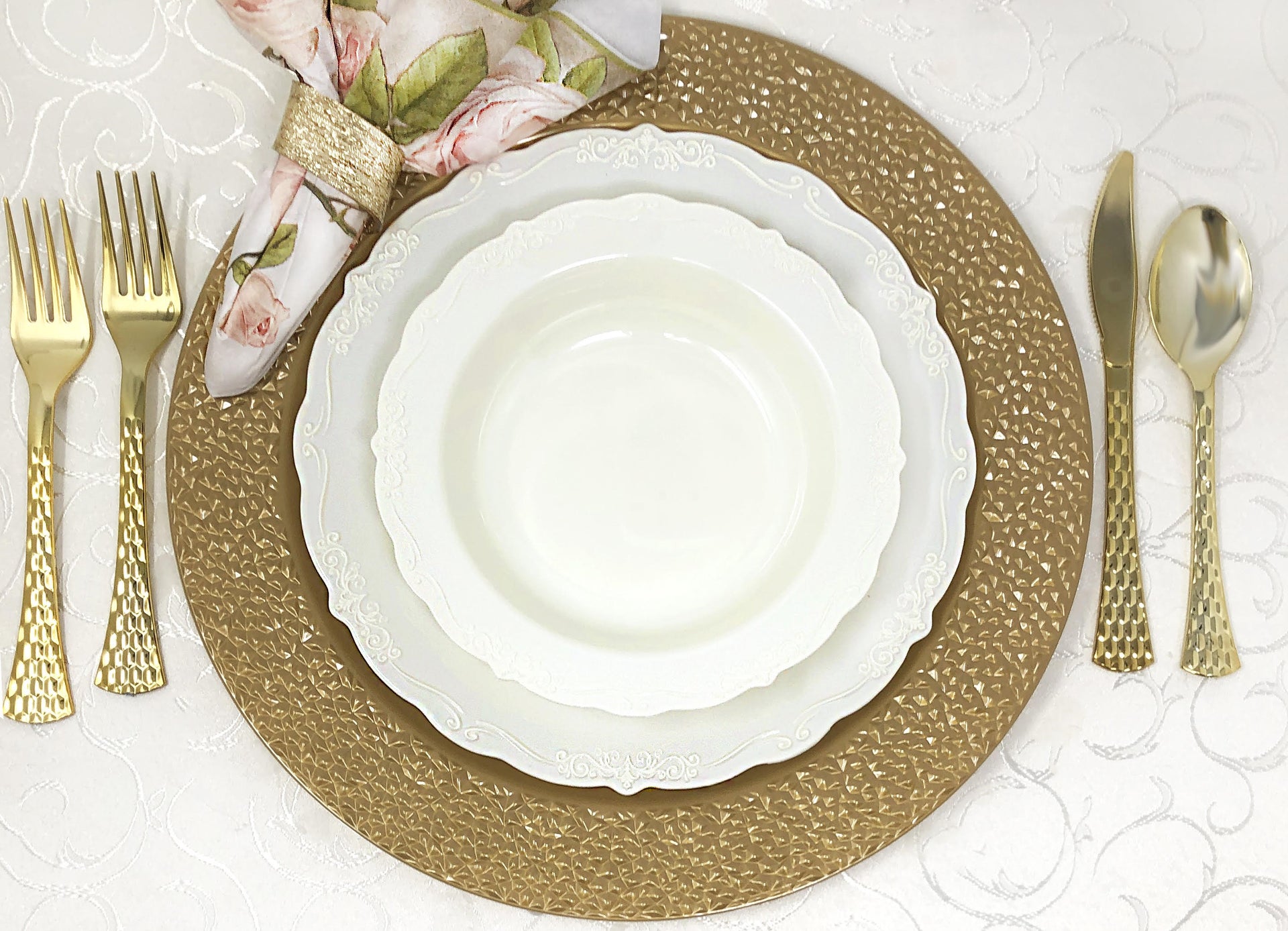 Disposable Plastic Plates That Look Real?
In recent years, plastic plates have significantly evolved, and it's the biggest reason for their popularity and high demand. The best thing about the plastic plates is that they always have your back by offering you hassle-free cleanup. 
Disposable plastic plates that look real provide the ultimate comfort and peace of mind while serving a large crowd. Whether serving a long list of guests at your grand event or simply having a household dinner with your family, you can always pull a new plate without worrying about cleaning it up. 
However, some people hesitate to use them for formal settings at upscale parties or business lunch meetings. Probably, they're afraid of getting embarrassed in front of their VIP guests for using cheap serving wares. So, let's discuss the disposable plastic plates that don't only look real but can even beat the premium quality ceramics plates in design, aesthetics, and quality. 
What Makes Disposable Plates Realistic 
A plate's design, style, and aesthetic play an essential role in completing its profile - and this is what makes a plate a perfect serving ware item for formal settings. By the name "disposable plastic plates," the first thing that most people would think of is cheap plain white plates that can split up into pieces when a heavy meal is served to them.  
This isn't the case now, as the industry has dramatically evolved, and disposable plastic plates compete with the real ones. Of course, plastic plates are just like the real ones (reusable ones, like ceramics and porcelain), but they should be disposed of to offer hassle-free cleanup.
Now, the material used in manufacturing the plates has improved with time. Hence, the plastic plates have become sturdier, making it harder to tell plastic from premium quality ceramic.
All the credit goes to the plastic coating that's BPA-free and plays its role in increasing the durability of the plate, and as a result, they can hold the heavier meals without bending or breaking. 
Also, a better design language and stylish look adapted by the manufacturers have impacted the profile of the plastic plates - making them plates that look real but are plastic-made. So when you plan to serve a long list of guests and are tight on a budget, plastic plates are the best choice for serving your guests with style at an affordable cost. 
A Few Tips for Finding Plates that Look Real but Are Actually Plastic 
After acknowledging the characteristics of the plastic plates, you might be looking for an authentic place to get them. If you search online, you will get to know that the market is full of them, and finding the best isn't always simple. 
Before going on the hunt for the plastic plates, you better learn a few valuable tips and master them — so you don't buy cheap plastic plates. 
Prefer Designs that Resembles with Real Plates
A plate's designs and styles play an essential role in building its profile. So opt for the plate designs that make them look like the real ones. It's just like having a sports car body on your sedan with a regular car's engine, but it will still turn the heads around it. 
So, to find the plates that look real but are actually plastic, focus on the design of the plates that makes them resemble the other materials like ceramics and porcelain. 
Whether you have a baby shower, a birthday party, an upscale wedding party, or even a casual party with friends and family, you must choose a theme for the party to give it life. 
Choosing the plastic plates that cooperate with the party decor and the table decor will make the plastic plates match the charm of the party decorations. Match the plastic party plates with your tableware. It will enable the plastic plates to play with the rest of the tableware while disguised in the beauty of table decor. 
Think About the Durability
This is an essential factor to consider while buying plastic plates. Make sure the plates you are purchasing are durable enough to hold the meals you will be serving. 
Some plastic plates made of cheap material can easily be bent or can't hold up with the food served. Make sure you have double-checked the durability of the plastic plates you are buying. 
What Are the Best Reusable Plastic Plates that Look as Real as Ceramic?
"Smarty had a Party" has a wide variety of reusable plastic plates in various designs and styles, from simple designs for daily use to vintage and rustic dinnerware designs to cater to your serving needs for special occasions.
The ability to hold heavy meals, an elegant profile for formal settings, and the option to reuse them are the elements that make them beat out the ceramic offerings. 
Here is an example of reusable plastic plates that look as real as ceramic:
Shining pearl white vintage round plates is one of the best collections "Smarty had a Party" offers. The scalloped edges make it easier for you to make it difficult for your guests to spot the difference and make them think they are premium quality ceramic plates.  
Where to Buy Plastic Plates that Look Like Real Plates? Look No Further! 
The plastic plates market is flooded with products, but few of them deliver what they promise. "Smarty had a Party" is an online superstore that offers plastic plates that look like real plates. At your next celebration, you can show your guests how much Smarty's plates resemble ceramics.
We offer everything from fancy disposable plates for casual use to premium quality dinnerware sets for upscale parties. Also, they are lightweight, easily transportable, and durable enough to hold up the meals, just like the real plates available on the market. 
Get the fantastic reusable plastic plates that look real, disposable plastic bowls, and plastic serving trays at a fraction of the cost to add elegance and style to your serving style.