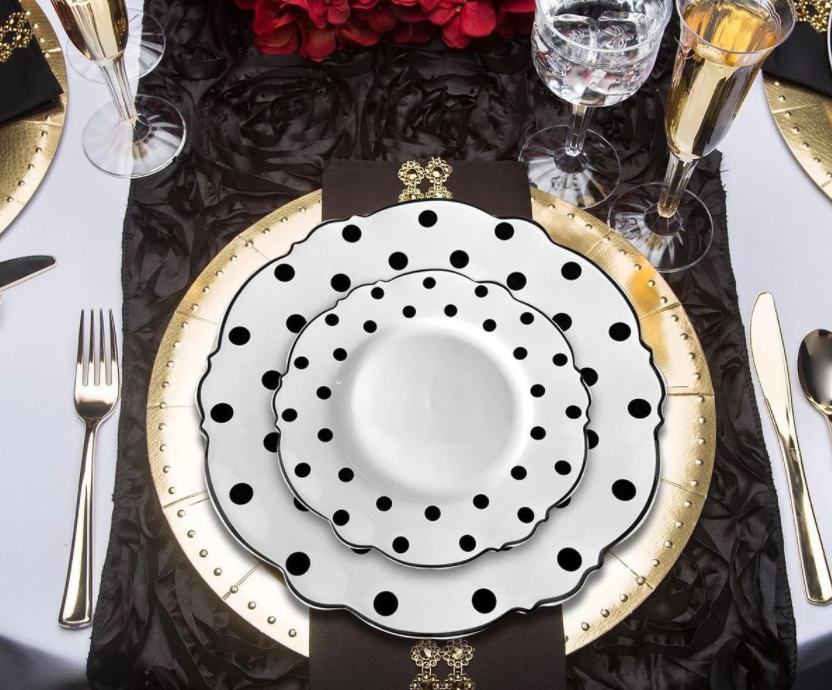 How to Coordinate Dinnerware at Any Party?
Setting an extraordinary party table may require a little more effort than you think. There is a lot more than just getting dinnerware and randomly putting it on the table. Dinnerware is the most important aspect of a party table. It catches the first glance of your guests, so it should complement and enhance the looks of everything else on the table.
Here are some ways you can adopt to coordinate dinnerware with the decor at any party.
Complement the Theme
Choosing a theme is the first step in throwing a successful party. Only then should you make purchases for the decor and dinnerware. Buy dinnerware that goes with the theme of your event. Not only that, both the decorations and the dinnerware should complement each other as well. This whole coordination will bring harmony to your party.
The design of your plates should go with the occasion. Get our disposable party chargers and dinner plates and level up your celebrations.
Play with Colors, Textures, and Design
Neutrals never go wrong! If you are preparing for an event at the last minute, neutrals should be your top choice. Enhance the beauty of neutral dinnerware by adding a splash of bright colors. However, if you are having the entire dinnerware in subtle colors - you should add a pop of color with flower centerpieces. This combination of subtle colors and flowers will give a beautiful look to your party tables. Now you can get our elegant paper charger plates in many different colors.
Let's talk about how you can coordinate dinnerware items in different designs. At Smarty, we offer dinner plates, chargers, trays, and bowls in exceptional textures and designs. Have a look at our 13" White With Gold Marble Square Disposable Paper Charger Plates which are also available in round shape. The beautiful color, texture, and design of these disposable party chargers are what your party tables need.
Devise a Color Scheme
Visualize a color scheme in your mind or look it up on the internet for more inspiration. Once you have found the perfect color scheme for your dinnerware, it will become easier for you to bring the right color of dinnerware to the table. Make sure the table does not look boring when set.
If you can't think of a color scheme, go for the black and white theme, which goes with both formal and informal events. Add a little blush of pink shade to balance the two colors.
Experiment with Flatware
Mix and match the flatware in the same way as you would with the plates. Flatware resides on the same level as the table - hence, if you choose more vibrant plates, then go with neutral, solid flatware.
You have to give your guests a memorable experience of dining. This is only possible when you have flatware of the right material and design. Our flatware is durable, and the feeling your guests will get once they cut the meat and dig the fork inside is out of the world.