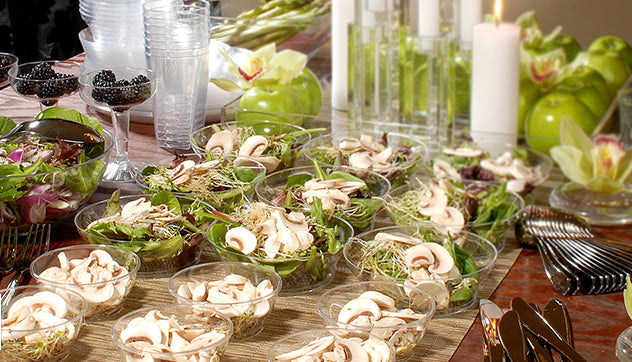 Where to buy Best Party Supplies?
There are hundreds of new products launched in the market, which makes buying the perfect one a daunting task for the consumers. 
You want your dinnerware to last ages, and that's why you become choosy about its materials. You will also consider it's design, style, and color of the party supplies. 
We talked to the experts and asked for the perfect places to buy the best party supplies. 
Read on to find out where you should be landing. 
Disposable Serving Collection
When it comes to parties and catered events, you need party supplies such as cake cutters, trays, cake stands, and more. Wondering where to buy them? Well, you won't need to go into space to buy them; they are available here on earth.
"Smarty Had A Party" has everything to offer for all parties. The range starts from the cake cutters and cake stands to silver disposable serving knives.
They are the most affordable serving collections you will see as they are made of plastic material. But they don't feel cheap or low quality because they are made of the highest quality plastic material.
Fancy Serving Ware
When it comes to birthday parties, upscale dinner parties, and wedding parties, you need an elegant and fancy serving ware range to uplift your table's decor. 
Whether you plan to throw an epic birthday party or an upscale lunch party for your office mates, "Smarty Had A Party" has everything fancier to offer you at an affordable cost.
You get the best quality material at a fraction of the cost, plus they are disposable, so you won't need to be worried about cleaning and washing them after your guests leave. 
Instead, you can dispose of them easily and wind up your party in a few minutes without any hassle. It's the best place to buy fancy serving ware party supplies for your upscale parties.
Disposable Serving Trays
Serving trays are used to serve drinks, cups, and or bowls to your guests, and these shouldn't compromise the quality of styles. Get the best serving trays from "Smarty Had A Party" at your doorstep.
Disposable plastic serving flatware
Flatware is a serving ware you will be spending time with, and it shouldn't be lacking anything in quality and styles. With plenty of options available in the market - it becomes puzzling to fall for the right one.
"Smarty had a party" is a solution to your serving ware problems as they offer everything that you would need at the table. 
Their range starts from silver flatware and goes to gold plastic flatware. However, it's totally up to you what you opt for. 
Silver plastic flatware is best for casual parties, and gold plastic is best for upscale parties. Get amazing deals on disposable plastic serving flatware collections at the fraction of a cost and style your table.