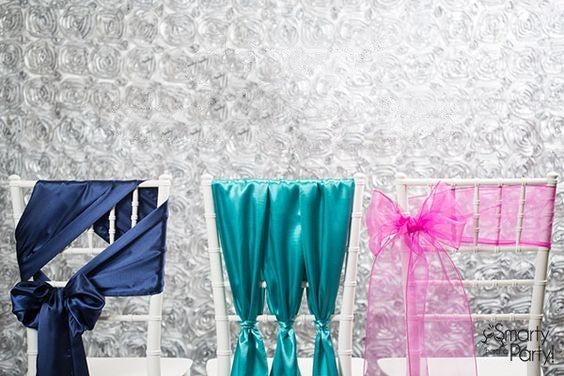 How to Choose Chair Covers for Your Special Celebration?
You might assume chairs are something that most people won't give attention to at the event, but somehow they do care about it, as chairs bring aesthetics to your overall decor. Consider your chairs without chair covers; how dull would they look? Your event decor won't be completed without them.
When it comes to choosing a perfect chair cover for your special event, it might get overwhelming for anyone. There are numerous options available in the market. And falling on the perfect one is a difficult task. We did extensive research to help you pick the perfect chair covers for your next event. 
Choosing a Chair Model/Style
Firstly, you need to determine what chair model or style you want at the event? There are plenty of chairs styles, but the famous ones are; banquet, Chiavari, and folding chairs. 
Banquet chairs are mostly used for formal events such as weddings and black tie events. On the other hand, Chiavari chairs can be used without covering them, but when covered with the matching event's decor, they can be whimsical and mesmerizing. 
In contrast with both of these chair models, folding chairs come at a very affordable price tag and provide the ease of being transportable because of their foldable features. 
If you are arranging an event outdoors somewhere in the garden or rusty environment, folding chairs can be economical and a perfect option for you. 
Moreover, if you aren't aware of your chair's model at the venue, then you can ask the management to guide you through. And, if your chair doesn't match the chair models we mentioned, then, in this case, you can go with the universal chair covers. 
Choosing the a Fabric/Material 
Once you have decided on the chair style, the next step is to decide on the material. And, choosing a perfect material depends on what type of event will be covering chairs for? 
By determining the perfect material for chair covers, you can narrow your path towards getting the perfect chair covers. 
Polyester is one of the most widely used materials for chair covers. It is ideal for covering folding and banquet chairs for special events. Polyester is a matte fabric that can be the perfect option to elevate the decor at special events. It offers the ultimate ease to dress your chairs. 
Secondly comes the Spandex. Perfect for banquet and folding chairs. And, taking off and on chair covers are much easier with this material. You can never go wrong with this fabric choice as it is widely liked and used for all special events and celebrations. Spandex's sleek-fit capability with chairs will create a whimsical effect in the scene. 
Last - but not least is Sequin, which comes with a low maintenance cost, but offers a lot more glamor. Sequin is a perfect fit for all types of chairs, whether you are using folding, banquet, or Chiavari. Sequin won't be a deal-breaker for you if the color and fitting are done precisely and accurately. 
The theme of Your Event
The theme of your event can play an important role while choosing the perfect chair covers. They can highlight the tones of your event by incorporating chairs, belts, and caps.
Matching your chair covers' belt and caps with the tablecloth and napkins will add celebratory touches to your event. Consider disposable napkins and tablecloths to enhance your theme tone.
Using fancy disposable tablecloths and linen-like tablecloths adds finishing touches to your table decor, so both table and chairs complement the overall decoration of the event.