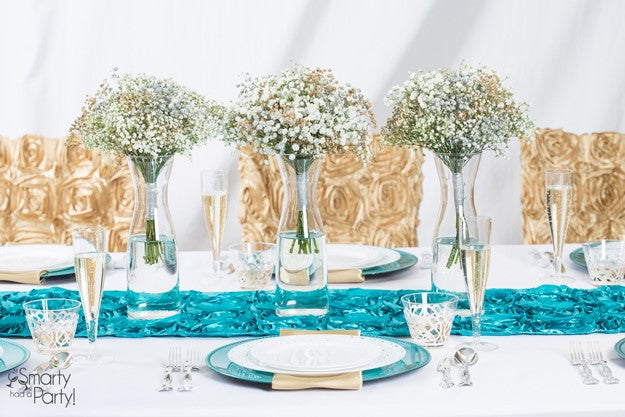 DIY Wedding Decor: Centerpiece Vases
While the decor is the most important part of every party, especially a wedding, decorating itself is so entertaining that you will want to do it all by yourself. It means you will get together and do something for your big day that you two are proud of. 
You get to decide what you want - whether you want to incorporate flowers in your centerpiece or you want to opt for a flower-free centerpiece.
Where to Get the Perfect Vase?
Vases can be really expensive, and it is so time-consuming to find a perfect vase for a wedding. So, we have come up with an idea to use clear disposable plastic wine carafes as vases. You can find them in bulk quantities at reasonable prices at our online Smarty store.
Our fancy disposable plastic carafes will look extremely elegant as vases. They can be used as drinkware as well as centerpieces, which makes them a top choice for your events. You can also get crystal clear plastic carafes and decorate them in whatever way you want to create a look.
Floral Centerpieces
Flowers have the power to entice up any wedding event, irrespective of the theme. Add some vibrance to your wedding tables with these flower centerpieces.
Flowers and Sand Centerpiece
Perfect for a beach wedding party, this centerpiece is what brings the real touch of the sea to your wedding table. Cluster a few flowers and layer them on top of the sand in a vase and let the magic of sand and flowers adorn your tables.
Traditional Flower and Foliage Centerpiece
Flowers and foliage, when combined, make an extremely elegant decor piece. The bright flowers and green foliage give a beautiful combination and bring a traditional yet gorgeous effect to the table.
Rainbow Flowers Centerpiece
Vibrance can never be boring. Mix and match flowers of different colors and put them together in a vase to make a rainbow flower centerpiece.
Crepe Paper Flowers
Crepe paper flowers look as elegant as the real ones and make a wedding table look adorable.
Non-Floral Centerpieces
In case you don't want to make a flower centerpiece, there are unlimited options for centerpieces that don't include flowers at all.
Vase with Vintage Objects
Vintage weddings have their charm. So, if you are a fan of vintage style, make a vintage centerpiece by filling a vase with such accessories.
Foliage Centerpiece
It's always better to involve greenery in your venue. With eucalyptus, myrtle, tea fern, or lemon leaf, make a serene foliage centerpiece.
Vase Decorated with Lace
You can simply put a vase decorated with lace and/or glitter, and it will do the magic for you. 
Acrylic Painted Vase
Bring your inner creativity out and get your hands on some acrylic paint. Paint the carafes in different colors and display them as centerpieces. You can write something for the guests as well.
Ostrich Feather Centerpiece
This centerpiece will set the mood for an enchanted wedding event. Having the perfect color tone, ostrich feathers give a royal look to your entire wedding.