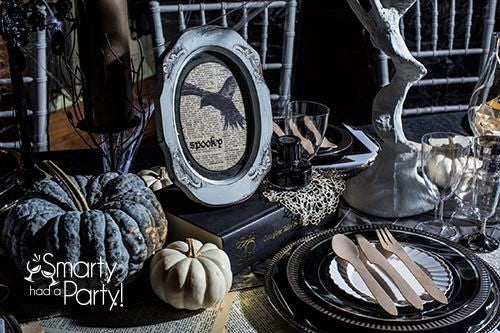 How Do You Throw an Elegant Halloween Party for Adults?
Halloween has evolved over the centuries; people have continuously been captivated by creepy things that make them crazy and stunned. The kids have their trick-or-treating and stockpiles of Halloween candy, but adults are somewhat left in the dark on Halloween.
Indeed, you would love to throw a classier Adult Halloween party full of surprises, amusement, fun, and fear for your friends to make unforgettable memories.
Design Spooky Invites
Invitations are a lot more vital than you may think. They set the mood for the party long before it even starts. You can begin the amusement right with scary and spooky invitations. It will bring a wave of thrill to your guests and make them curious about your surprisingly spooky arrangements.
Specify Your Halloween Party Theme
The theme you finalize for the Halloween party matters a lot. Although Halloween is a popular party theme, you must decide how to decorate your party space. Jack-o'-lanterns and friendly ghosts are more cheerful Halloween characters. Zombies, witches, and vampires are much darker.
Suppose you want to celebrate all the fun sides of Halloween. In that case, you should combine surprise, thrill, fear, and excitement by choosing among the different sets of characters and sourcing the spookiest costumes for each character.
Embellish the Lobby of Your Home
This is an excellent idea if you want to make your Halloween party more catchy and exciting from its beginning. You can decorate the lobby of your home with ghost characters, scarecrows, jack-o'-lanterns, cobwebs, and a hidden speaker to make scary voices. This will even surprise your "I'm not afraid of Halloween" type of friends.
Serve Drinks in Oddly Decorated Glasses 
Plastic drinking glasses can be decorated with a few black ribbons, dark chocolates, red jellies, and candies wrapped in black paper. You can play with your friends' imaginations by giving them a vibe that they are holding a ghostly drink with blood dripping at their edges, giving them goosebumps.
You can source plenty of plastic drinkware items from Smarty Had A Party. We have a wide range of drinkware glasses, including disposable wine glasses, plastic shot glasses, disposable plastic cups, and many more. You can also use our disposable cups to create spooky designs on them.
Make Your Snapshot Weird
Weirdness is the remarkable quality of being a ghost at a Halloween party. You get a chance to have some fun with not only your character but also by decorating the surroundings of your doorway and room with spookily weird snapshots.
If you have old frames, you can easily print scary and weird pictures from the internet and make them more creepy with black laces and scratches on the face. It can even make you scared during preparations.
You can also use crushed pieces of glass to embellish your snapshots for a dangerous look. But be super careful when dealing with glass. Wear safety gloves to keep yourself protected throughout the process.
Make Your Cocktails Incredible and Decisive
If you are inviting a bunch of your friends over to a party, then drinks are one of the mandatory things. You can wrap your drinkware glasses in red, black, and white wrapping sheets and then paint various ghostly or abstract pictures to make them spooky and weird. You can use carbonated pomegranate juice to give your drink a blood-red look. Of course, you can choose to have any of your favorite drinks too.
Blood Red Velvet Cake
Red velvet has never looked so evil. You can bake a tasty and delicious cake and give it a spooky look by trying some creepy recipe ideas. Leave a sharp cut within the top for added impact, sprinkle ruddy icing down the flawless white sides, and cut a fragment out before your guests arrive so they can see the blood-red interior. It's refined and terrifying all at the same time. Besides, place disposable plastic cups filled with red wine to give it an extra thrill.
Hypnotize Your Guests with Taste and Aroma
How can we forget the impact of good taste and hypnotizing aroma in our adult's Halloween party? But, of course, adults are more choosy in taste and aroma than kids. So if you want to throw a perfect Halloween Adult Party, remember to use creative methods to make your food look more attractive.
Swirly pops are the ideal party favor for your Halloween bash. First, wrap the sticks in dark lace and make custom names with anything frequenting messages you like most. Then, set them out in a cauldron or disposable cups with caps, or poke gaps in a pumpkin to create a bouquet.
Black and White Candies for a Sophisticated Vibe
An adult party should have a sophisticated and classy look because it can boost the spirit and create a sense of fulfillment in humans. This is human nature; they appreciate a sense of superiority. Dark and white sweet in clear disposable wine glasses will naturally bring Halloween modernity to your party. What you stuff these jugs with is entirely up to you, but they'd be incredible for a dessert table, party favors, or appetizers.
Make Them Scream With a Scary Ice Hand
When it comes to Halloween parties, it's obvious to shock your friends and make them scream because this is the real fun of a Halloween party. What if you make an ice hand using a glove, water, and refrigerator, put it in any bowl, and then ask your guests to wash their hands to start the meal? Boom! SCREAMS!
Create a Unique Halloween Party Hashtag
If you're investing all of this time and cash to form the perfect Halloween party, you'll want to remember the memories by looking at photographs from the event. So when your visitors upload photos to their social media, tell them to use a hashtag unique to your party. Then, once it's over, you'll be able to scroll through all the photographs and see how much your friends enjoyed themselves.
Create a Unique Adults Halloween Goody Bags
Everybody gets excited about gifts. However, you don't need to spend a fortune to find fun party favors. Silly string, disguise masks, fake blood, vampire teeth, and candy are all creative thoughts you'll utilize to make goodie packs. The excellent part about including a mask is that any guest who doesn't have an outfit can still feel included by wearing theirs.
Eat, drink & be scary, Smarties! With love, 
Smarty had a Party
!