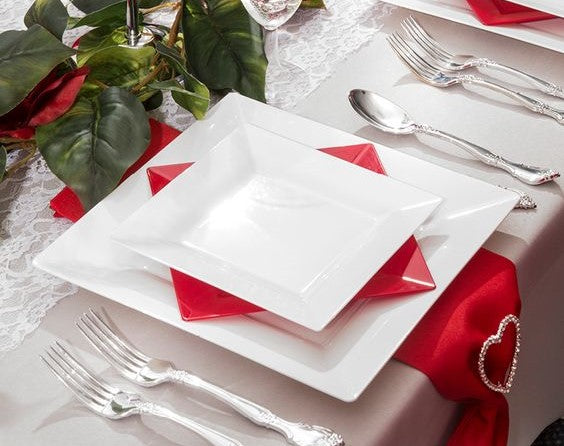 How Do You Set Up Valentine's Day Dinner Table?
Perhaps the most common dates chosen in the winter period are certainly February 14 or Valentine's Day. As a day chosen to be a holiday of love and romance, it is an ideal moment for all those who want to express their emotions to a loved one!
Your Valentine's day celebrations should be as beautiful as your relationship. Aromatic candles, fresh flowers, good food, and refreshing cocktails make this night memorable. A perfect Valentine's Day dinner is incomplete without an elegantly arranged table. You will have to take care of every detail on the table, but don't worry! We will help you with that. We will discuss what you need to know about setting a perfect Valentine's Day dinner table.
Customize Tablecloths
Forget the typical red and black tablecloth and create something innovative. For example, to create a minimal Valentine's Day dinner table, take a plain white tablecloth and write a pattern of XOXO on it with fabric paint. Then, you can use red or black fabric paint to write the text.
On the other hand, if you are looking for a bright and bold table, use a red tablecloth and get the tableware and centerpieces in white and red. You can also choose a white tablecloth with red plates. You can get all these supplies from Smarty.
When it comes to a romantic dinner, the color palette includes gentle tones, pastel shades, and subtle touches of the red characteristic of Valentine's Day. Lovely pink shades, fluffy beige, white and cream variants, and pale lilac tones are part of this story. The greenery can refresh the whole set in the middle of the table and make it less uniform. If you choose striking red and burgundy tones, or bold shades of purple, you will create an impressive display in the middle of each table that your guests will surely remember for a long time.
Valentine's Day Decor
In addition to flowers that play a significant role in decorating tables, delicate pink tablecloths, napkins, and candles will bring a dose of romance to your table. You can also play with the color of the blush and the color of the cassia, depending on your style. In addition, glasses and plates can contain gentle vibrations and be red, pink, or lilac. Romantic messages for each guest can be in the middle of the plate, and scattered rose petals will emphasize the emotional note.
A Classic in a New Way
 If you do not want to go beyond the expected, give red details and flowers a new glow. Our advice is to add a dark yellow shade to the table. In addition, bring a bouquet of wildflowers to the table, and if you like green and blue, know that they are in trend this year.
A Tablecloth That Falls to the Floor 
When it comes to tablecloths, choose those of lighter colors and larger dimensions. Let the edges touch the floor if you are a fan of unusual decor. The scene will look more romantic, and if you opt for lace details or silk fabric, enthusiasm will not be lacking.
Emphasis on Details 
The ribbon tied around the accessories is a detail that makes a difference. Flower petals in an ice cup can also be very interesting. With this way of decorating, all that is needed is for the other items on the table to be discreet.
Flowers and Candles Centerpieces
Nothing is more romantic than a bunch of fresh flowers. And not just red roses, but all of them - Pink Tulip, White Daisies, Purple Orchid, and Calla Lily. A beautiful arrangement of these flowers in a rustic vase will make your Valentine's dinner table exceptionally romantic.
Get colorful, aromatic candles to complement the beautiful flowers. Candles and flowers, along with some greenery elements, will make a scene so splendid that you would want to stay in that moment forever.
Valentine's Day is almost unthinkable without flower arrangements. Everyone experiences them in their way, and our idea is that instead of a vase in which you will put a bouquet, arrange the picked flowers on the table. Then, if you like dried flowers, follow the trend and decorate the table like never before.
Candles as an unavoidable detail. This kind of occasion requires a subdued ambiance, for which, as every year, you can use candles. Therefore, prepare stands and candles of different heights to achieve dynamics. 
Add Lush Elements
The scene looks marvelous when bright-colored flowers and candles are combined with lush green foliage. Its many textures and hues create an exciting mood for a perfect Valentine's evening. You can make foliage using monstera, olive branches, or eucalyptus.
Light Up the Scene
The color and the intensity of the lights you use are also going to be a factor influencing your moods for the evening. Use string lights for aesthetics and a warm glow to have some light in the dining room. You can also use fire to add an ambiance.
Give a Restaurant Feel to Your Home Dining
Even if you have chosen to eat at home, you can have a feeling of outdoor dining. Print out the menu and place it in a napkin folded like an envelope. It will make your partner feel extra special.
Fold the napkins as you would do for a formal table setting. Instead, get ravishing charger plates and elegant plastic plates from Smarty to create an exquisite table look. Our Valentine's Day disposable plates are all that a perfect Valentine's Day dinner table wants. The colors of our beautiful plastic plates for Valentine's Day will blend perfectly with the centerpieces and candles.
Moreover, the way you plate your food is also going to influence the mood of your partner, so present them with food like a professional. They will notice the effort you have put into making their evening special.