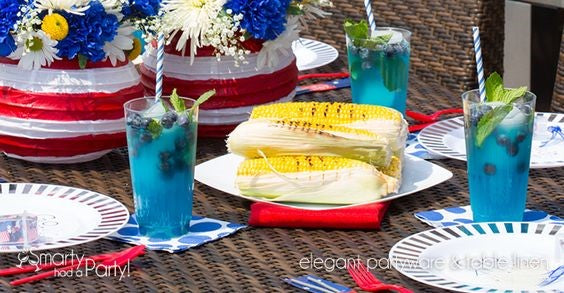 Host an Effortless 4th of July BBQ with Elegant Plastic Servingware
What's more exciting than having a barbecue on the 4th of July. Independence Day is just around the corner, and having a bunch of friends and enjoying the smoky fireworks of your very own barbecue grill can make this 4th of July even more enjoyable. The charcoal smoke, the aroma of sizzling meat, and the patriotic passion of the day build up a whole new memory.

To make your BBQ more special, we are here with some of the best plastic serving ware for your best barbecue. We all know when you invite some enthusiastic guests with their children, there's always a chance of breaking a glass or a cup or a plate or anything you can think of.
To save your premium crockery from that extra enthusiasm, we offer a wide range of premium plastic serving ware that you can easily use to get things going smoothly. We are well aware that inviting a couple of friends, arranging the event, estimating the cost, preparing food, and saying goodbye is not just a piece of cake – you've to get involved! Well, this is where the "Smarty Had A Party" idea for you is – our wide range of disposable dinnerware and plasticware.
The Menu!
The menu must contain classic American food. First, highlight watermelon, corn, and other berries that are a seasonal product that marks the summer. Then, serve the most famous dishes in the country, such as ribs, cookies, pie, and others, and your dinner is guaranteed to be a hit.
Watermelon Margarita
It can be very hot during the summer barbecue! So cool off with the beautiful Watermelon Margarita that you can serve in plastic champagne glasses, fringed with sugar with a small decorative watermelon on the corner of the glass.
Ingredients:
2 cups watermelon chunks, seeded

4 oz. tequila

1 oz. Cointreau or other orange-flavored liqueur

1/4 cup fresh lime juice

Ice cubes as needed

Salt, to taste (optional)

2- lime wedges (optional)

2 -lime slices
Directions:
In a blender, combine the watermelon, tequila, Cointreau, lime juice, and ice cubes, and puree until smooth.
Spread salt on a small, flat plate. Moisten the rims of 2 margarita glasses with the lime wedges and invert them onto the salt plate, then shake off any excess. Pour the watermelon margarita into the glasses and garnish each with a lime slice.
Smokehouse Ribs
Ingredients:
1/4 cup chili powder

2 Tbs. sweet paprika

2 tsp. dried oregano

1 tsp. cayenne pepper

6 lb. spare ribs, cut into 3 slabs, each about 16 inches long

Kosher salt and freshly ground black pepper, to taste

1/2 cup wood chips

1 cup barbecue sauce
Instructions:
Mix chili powder, paprika, and oregano. Rub the ribs on both sides with a mixture of these spices and season with plenty of salt and pepper. Place the ribs on a baking sheet, cover with plastic wrap and refrigerate overnight. Heat the grill over medium heat, covered, until it starts to smoke, about 10 minutes. Turn off everything except the left and suitable burners and reduce the heat to medium.
Place the smoking rack on top of the grill to heat. Place the ribs on each shelf of the stand (the bottom plate will sit directly on the grill racks). Cover the grill and roast the ribs until the meat softens and separates from the bones, about 2 hours, rotating the ribs every 45 minutes. During the last 20 minutes of cooking, occasionally coat the ribs with the sauce you made.
Transfer the ribs to a board, cover with aluminum foil and let stand for 10 minutes. Then, cut the ribs between the bones and arrange them on a heated plate.
Ribs, in warm weather, go phenomenally well with cold beer, which you can serve in plastic cups of different sizes and colors, and best in blue, red, and white, following the holiday!
Patriotic Cake
Vanilla cake with buttercream, mixed berries, and bananas is delicious, and festive flag cake is created for this day and has a beautiful ending!
It can be any vanilla cake that will please you on a warm day. The point is to make a flag out of fruit and surprise your guests with appearance and taste!
Premium Plastic Party Plates
We offer a wide range of plastic party plates with incredible and royal designs. Along with a standard set of plastic plates, we also offer compostable plastic plates that you can just throw away after winding up the party's mess. You won't have to worry about cleaning the dishes. You can use them and get rid of them. Our disposable plates are compostable, meaning they are eco-friendly and eventually decompose over time.
Moreover, you can also choose various colors to decorate your table according to your choice. Specifically, for the 4th of July, you can use disposable patriotic plates in multiple colors to make your table setting pop out.
Elegant Plastic Drinkware and Flatware
A barbecue is incomplete with some bubbly drinks on the table. So, to cater to the drinkware domain, we have many options to choose from, depending upon your choice. We have unique designs of elegant plastic drinkware for a barbecue party that just look wonderful with the servings.
Whether a golden fork or a silver knife, we've got you covered with royal flatware sets. To make your BBQ party easy to handle, our disposable plastic serving flatware, including plastic cake cutter/lifter, plastic serving spoons, plastic forks, plastic salad scissor tongs, and plastic serving tongs are just a few of the main items on the list.
Cleaning BBQ Mess Becomes Easy
The serving plates often get dirty due to the stain of BBQ, and it becomes very hectic to wash all the dishes out. So, why not use plastic serving plates instead? We offer disposable serving trays that you can quickly dispose of after a fantastic BBQ party, and you won't have to worry about cleaning the dishes afterward.
Happy independence day!