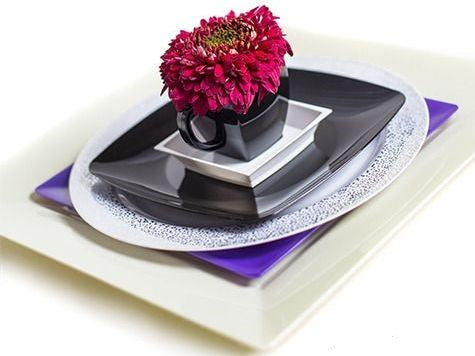 Are Disposable Plastic Plates A New Future?
A Short Guide to Choosing a Right Choice
We are all familiar with the royalty and unique designs of ceramic and porcelain plates, but sometimes, this is not exactly what we need. The characteristics like durability and convenient handling change the scenario when it comes to the usage of plates. Maybe that's why marketing assumes that everything is not for everyone and that everyone doesn't need everything.
In the residential and household sector, it is quite a thing that your dining table must represent the true art of your life through the range of your tableware. Of course, with all those elements of prestige and royalty, your choices may vary from ceramic to porcelain plates. But, when it comes to situations like arranging a party to celebrate some of your mesmerizing moments of life with your loved ones, the choice of arranging plates becomes crucial.
This is where our wide range of disposable party dinnerware sets serves your party needs. Just imagine cleaning the dirty plates, standing alone in the kitchen corner. It can be annoying! If the party is limited to only a close group of friends, one might want to use those ceramic dishes, but what about handling 30 people at a gender reveal party or at grandma's birthday? We provide a robust solution to this problem with our disposable dinnerware that you can easily use and through it out. No plate-cleaning, no mess!
However, with the recent pandemic, people got much more curious and sensitive to using or sharing their items with others. The impact of a pandemic is that most people are now resistant to using the same plate that someone with the flu or any symptom of the virus has used. We believe it's not an anti-social act - instead, it's a great safety measure! Our range of disposable plastic plates is one of the best options to keep you safe and hygienic from any virus carrier. One of the most exquisite advantages of using disposable plastic plates is that you play your part in reserving clean water since there's no need to clean them.
We specialize in making eye-pleasing elegant plate designs that don't look like ordinary disposable plastic. Being disposable doesn't mean they can't be designed well. We care about your party's aesthetics, which is why we provide high-quality plastic dinnerware with value sets, giving you more in less.
Moreover, we also have an extensive range of disposable charger plates. With various colors, shapes, and designs, we stand up front in the market of charger plates to give your party an ambient look. Whether it's silver, gold, white, or marble-textured, we have some unique designs of every dimension you can think of. Our artists know exactly what design and texture of dinnerware will make your party memorial.
Our 13 inches Gold Rounded disposable paper charger plate is one of our best-selling products. Along with a rounded shape, it also comes with a squared edge design giving your table a premium look. Since these are disposable, you can easily use them at any of your heart-pleasing parties.
Be Trendy and Spend Wisely!
Disposable plates are suitable for single-serving foods that can be recycled and disposed of after use. These plates are handy for serving food during any event and celebration. Disposable plates are made mostly of plastic, aluminum, paper, and other unconventional materials. The increasing fast food consumption in developing regions increases the demand for disposable plates for packaged takeaway food.
The demand for disposable plates is increasing in the future due to their high biodegradability and sustainable packaging appearance and the increasing application in food packaging. Furthermore, it is estimated that the need for disposable plates will grow as their use constantly increases in takeaway chains, fast food consumption, small commercial restaurants, events, and even roadside vendors.
The global disposable plate market is driven by the demand generated by the food industry. Disposable plates are mainly used for serving and packaging food in the food industry. As a result, the disposable product market is witnessing impressive growth and predicts tremendous growth in the coming years.
A large number of food delivery applications for home delivery and takeaway from restaurants and hotels has greatly increased the demand for disposable plates in the market. Also, the growth in demand for takeaway food has helped the development of the disposable plates market.
A large number of manufacturers offer disposable plates according to restaurant requirements. It is estimated that catering establishments will account for half of the sales of disposable plates in 2022.
Why are Single-Use Plastic Plates Responsible for Their Growth in the Market?
Disposable plastic plates are likely to lead the market during 2022-2027. Disposable plastic plates are found to account for 62% of the disposable plate market.
The characteristics of disposable plastic plates, such as low cost, durability, strength, and ease of production, give advantages to disposable plastic plates over other materials. In addition, manufacturers offer custom-made plastic plates with the desired design according to restaurant requirements with innovations in production.
What is certain, if you want to make your event or celebration as good as possible and save money, turn to disposable plastic plates. Of course, this does not mean you must settle for faceless and monotonous dinner plates. Various disposable wedding dinnerware sets can also be used for family barbecues, birthday parties, baby showers, bridal bashes, holiday feasts, and other festive occasions.
You can find disposable plastic plates in all colors and designs on the market. From classic white to elegant gold and other colors and designs that make your disposable tableware look elegant and festive, worthy of your party!
Made of high-quality plastic, disposable plastic tableware sets will add a touch of glamor to your events without breaking your budget. They will help you create a table setting suitable for your festive event. It is precisely because of them that the event will look festive and professional.