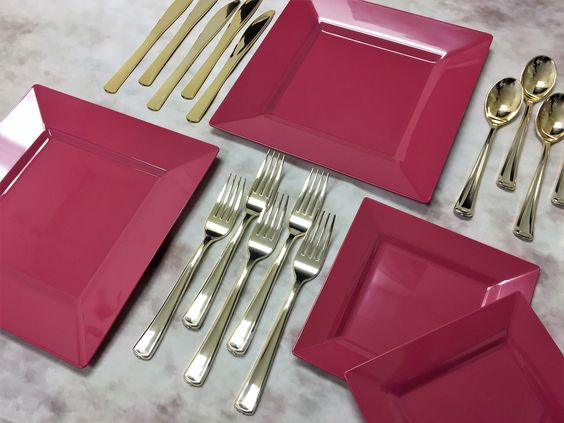 Everything You Need to Know About Plasticware
Plastic dinnerware sets are the most popular ones among restaurants and ordinary people. This is because they are affordable and widely available. The number of advantages offered by plastic dinnerware sets is enormous. Sadly, people have believed in so many myths about disposable party dinnerware. But none of that is true. You can use plastic dinnerware sets for your weddings, birthday celebrations, bridal showers, and daily life without making it end up at the bank of a river. Yes! You heard it right- it is up to you to correctly dispose of the disposable dinner plates so that you can better impact the Earth.
Busting Some Common Myths
Smarty Had A Party is here to bust some common myths about the disposable party dinnerware sets. First, not all plastic is harmful to the environment and your health. We manufacture environment-friendly, BPA-free plastic value sets and plastic plates in bulk to keep your health in check.
Another myth about disposable party dinnerware is that it comes in dull and uninteresting colors and shapes; this is so 1900s. Our elegant plastic plate set is the new cool due to its sophisticated design and unparalleled aesthetics. 
Unlike glass or paper plates, disposable dinner plates don't break or bend easily. We manufacture the most durable and robust disposable charger plates and plastic plates in bulk for a fantastic dining experience. 
BPA-Free Plastic and Smaller Carbon Footprint
You can use our BPA-free elegant plastic plate set and disposable charger plates and keep the environment safe. On FDA's ongoing review of scientific evidence for the safety levels of BPA-free plastic, the available reports confirm the safety of BPA-free plasticware.
While producing our plasticware, very few fossil fuels are released into the atmosphere, making them safe with a smaller carbon footprint than others. In addition, according to toxicologists, the risk of toxins released into food materials from BPA-free plastic is zero, which makes it safe to use by everyone. 
Recyclable Plasticware
The best part about disposables is the fact that they can be recycled. This saves a lot of energy and significantly impacts the environment. The need to harvest new raw materials is reduced, and a tremendous amount of energy is saved. The recycling process is not that costly, and all you need is to throw the plastic plates in a recycle bin. Make sure to dispose of our elegant plastic plate set and other products to lessen the carbon footprint.
Elegance Offered by Plastic Value Sets
Gone are the days when plasticware used to come in insipid designs and colors. Plastic value sets being produced these days are gracefully designed and exquisitely assembled to match all your party needs. You can shop our wedding plastic plates or disposable charger plates by color, allowing you to feel free to mix and match the colors and personalize your events. Our plastic wedding plates are exquisite enough to grace your wedding ceremony and beautify your wedding party tables.
Polypropylene Products
The production of five types of plastic is now standard. Polypropylene is considered the most popular type of plastic. This plastic is minimally harmful to health.
Polypropylene plastic is obtained by heating and further compressing synthetic raw materials. Thanks to the high pressure, obtaining the highest quality material is possible, which becomes the strongest and safest type of plastic. It is widely used in producing plastic utensils, yogurt, processed cheese containers, semi-finished products, carbonated drinks, and other products. Polypropylene's main advantage is its heat resistance and relatively high temperatures. The maximum temperature that this plastic can withstand is 150 0 C. This simplifies our lives and saves time because food can be heated in a microwave oven in plastic containers without using glass or ceramic vessels. In public catering facilities, polypropylene plastic utensils are widely used for hot coffee, tea, and other beverages.
Advantages of Using Polypropylene Utensils
Polypropylene products have their label, which is indicated by PP. Such plastic has three degrees of heat resistance - high, medium, and low. This label indicates that they are the safest when heated. They can be used for heating in microwaves or ovens. It can also be used in dishwashers. It is necessary to consider the markings on the bottom of the dish. Therefore, on the shelves of shops, places of public catering, and at home, you can find products made of this plastic. Also, lids for cans used in everyday life are made from this material.
Polypropylene belongs to environmentally friendly plastics, so its use is widely used in medicine. Such dishes have high hygienic properties and save us from spreading many harmful diseases. It is also characterized by its high strength. For example, it will not break in a light impact or fall. Plastic products are lightweight. It does not corrode. Affordable. It does not absorb foreign odors. Disposable polypropylene dishes do not need to be washed and cleaned after eating; it is enough to throw in the trash.
Types of Plastic Utensils and Their Characteristics 
Plastic utensils are divided into two large groups - disposable and reusable. The first is made of less strong and durable plastic and is discarded immediately after use. The second can be used more than once (as a rule, these are all types of dishes, trays, bottles, etc.). Before buying disposable plastic utensils, ask what material it is - polystyrene (fragile and thinner, can withstand temperatures up to 70 °) or propylene (much more robust, can withstand temperatures up to 130 °). Less common are products made of polylactide and other biodegradable materials (they decompose entirely in a few months). 
Plastic Containers - Basic Requirements 
Plastic food accessories are products that have an extensive list of requirements. Among the main ones is the attractive appearance. Disposable tableware for a buffet, picnic, or another event should be beautiful - evenly colored (if it is colored), without deformations and other defects. This is the only way you and your guests will enjoy using it; Compliance with generally accepted hygienic and medical requirements. Because disposable plastic utensils come into contact with the food a person eats, their poor quality can seriously harm health. So if you plan to use food containers or other utensils for hot meals and drinks, you should choose products made of durable propylene of sufficient thickness.