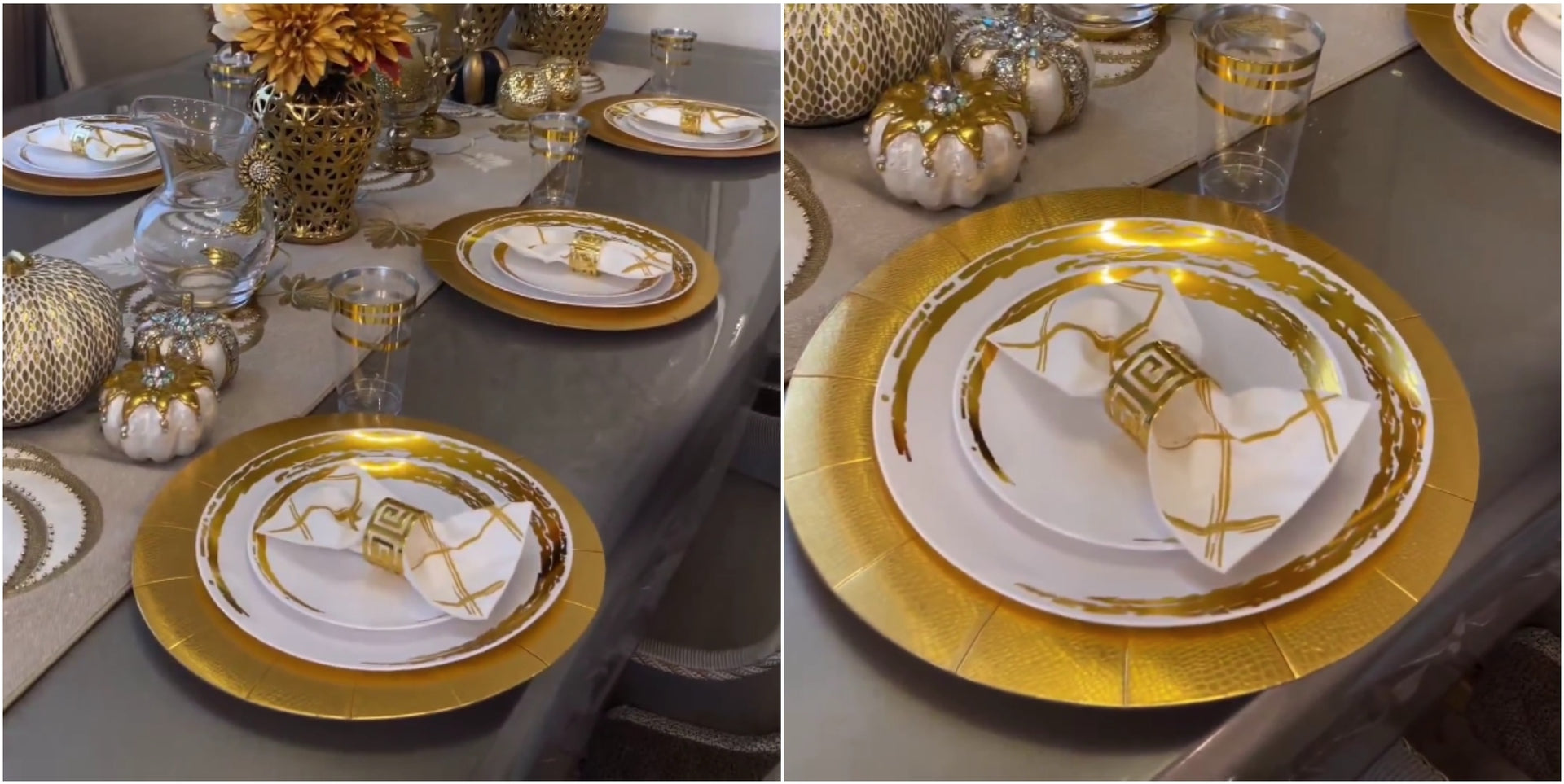 Thanksgiving Chic: Stylish Tips for an Elegant Table Setting
As the crisp autumn air settles in, our thoughts turn to one of the most cherished celebrations of the year: Thanksgiving. Beyond the warmth of family gatherings and the comforting aroma of a home-cooked feast, there's an undeniable joy in curating a space that reflects the essence of gratitude and style. This year, let your Thanksgiving table be a canvas for sophistication and timeless elegance.
Autumn's Finest: Designing a Fabulous Thanksgiving Table
In this post, we'll explore the art of creating a Thanksgiving table that not only embraces the spirit of the season but does so with a touch of glamour. Whether hosting an intimate family dinner or a larger gathering of friends, our tips and tricks will help you transform your table into a chic masterpiece that leaves a lasting impression.
Join us as we delve into the details of creating a Thanksgiving table that not only captures the timeless essence of the holiday but also reflects your personal style. Let's embark on this journey of style, gratitude, and autumnal allure – because your Thanksgiving table deserves to be as memorable as the moments shared around it.
Timeless Elegance: The Gold and White Color Theme
When crafting an elegant Thanksgiving table, a few color palettes rival the timeless allure of gold and white. These hues seamlessly blend sophistication with warmth, creating a canvas that pays homage to the season's richness and exudes a sense of opulence. Gold is reminiscent of autumnal harvests and is a symbol of abundance. Pairs harmoniously with the pristine purity of white, evoking a sense of purity and celebration.
As you embark on the journey of Thanksgiving tablescaping, take a moment to appreciate the classic appeal of these colors. Gold, with its metallic sheen, adds a touch of luxury, while white provides the perfect backdrop to showcase the vibrancy of autumnal accents. Together, they set the stage for a table that is not only visually stunning but also evokes a sense of timeless elegance that transcends fleeting trends.
Table Basics: Plastic Tablecloths and Elegant Autumn-Inspired Table Runners
The Convenience and Sophistication of Plastic Tablecloths
Plastic tablecloths are a practical and sophisticated way to achieve a polished look for Thanksgiving. With a gold, ivory, gray, or white plastic tablecloth, you get a pristine backdrop and easy cleanup. They can also be used creatively by layering textures or introducing patterns. So, whether you prefer chic minimalism or intricate designs, plastic tablecloths provide a blank slate to curate a refined and practical Thanksgiving table.
Adding a Touch of Autumn with Elegant Table Runners
An autumn-inspired table runner adds warmth and character to your table setting, like a runway for your Thanksgiving feast. Use fall materials like burlap or rich textiles, and add subtle autumn motifs. Choose a table runner that complements the color palette of gold and white and becomes a focal point of the season.
Tips for Choosing the Right Textures and Patterns:
Texture Harmony:

 Mix and match textures to add depth and visual interest. For instance, pair a smooth plastic tablecloth with a textured burlap or linen table runner for a dynamic contrast.

Subtle Patterns:

 If you opt for a patterned tablecloth or runner, ensure it complements rather than competes with the rest of your table decor. Subtle, understated patterns work best to maintain an elegant aesthetic.

Seasonal Embellishments:

 Don't shy away from incorporating seasonal embellishments like metallic threads or embroidered autumn motifs. These details add a personalized touch and enhance the overall theme.
The Showstopper: Creating a Luxurious Centerpiece
Gold Vases as a Focal Point
The centerpiece is the heartbeat of any elegant table setting, and for your Thanksgiving celebration, we're elevating it to a new level of opulence. Enter the showstopper – gold vases that command attention and serve as the focal point of your table. The radiant glow of gold not only adds a touch of glamour but also reflects the warm hues of the season. Choose vases in varying sizes and shapes to create visual interest, establishing a foundation for a captivating centerpiece.
Incorporating Flowers, Decorations, and Elegant Candle Holders
Once you've set the stage with gold vases, it's time to curate a captivating ensemble within. Channel the spirit of autumn by filling your vases with various seasonal flowers. Rich burgundies, deep oranges, and muted yellows create a color palette that harmonizes with the gold and white theme, infusing vibrancy and life into your centerpiece.
To enhance the autumnal allure, introduce gold and white pumpkins interspersed strategically amidst the floral arrangement. These decorative gourds serve as elegant nods to the harvest season, adding texture and a touch of whimsy. Surround them with delicate candle holders in matching gold tones, casting a warm and inviting glow that enhances the overall ambiance.
Balancing Height and Visual Appeal for a Stunning Centerpiece
The key to a truly stunning centerpiece is achieving the perfect balance of height and visual appeal. Begin by arranging the gold vases at varying heights to create a dynamic and cascading effect. This not only adds dimension to the table but also ensures that every guest has a clear view of the centerpiece without obstructing conversation.
Next, intersperse the floral arrangement, pumpkins, and candle holders strategically to maintain a harmonious flow. Consider using elevated stands or platforms to add layers and create a sense of depth. The goal is to craft a centerpiece that becomes a visual symphony, where each element complements the others, resulting in a cohesive and breathtaking display.
Place Setting Perfection
Introducing Disposable Charger Plates for a Polished Look
When setting a table, every detail matters, especially regarding the place setting. Enter the secret weapon for an instant touch of sophistication: disposable charger plates. These elegant, easy-to-use plates are the foundation of each setting, providing a polished and refined look that rivals their non-disposable counterparts. Choose charger plates in lustrous gold or pristine white to seamlessly tie into the overall color scheme, elevating each place setting to a new level of opulence.
Stylish Plastic Dinnerware Sets that Mimic the Real Deal
Bid farewell to the notion that disposable means compromising on style. Embrace the convenience of stylish plastic dinnerware sets that not only mimic the appearance of fine china but also offer practicality for a stress-free cleanup. Opt for designs that mirror traditional patterns or boast a contemporary flair, ensuring that each guest's dining experience is as visually pleasing as it is convenient.
Choosing Elegant Plastic Tumblers and Disposable Silverware
Extend elegance to every facet of the table setting by carefully selecting plastic tumblers and disposable silverware. Plastic tumblers, available in chic designs and crystal-clear finishes, add a touch of sophistication to your table while being durable and practical. Complement these with disposable silverware featuring intricate details and metallic accents, creating a cohesive and visually appealing ensemble.
Elevating the Table with Coordinated Paper Napkins
No detail is too small to achieve an elegant Thanksgiving table. Elevate the overall aesthetic of your table by opting for coordinated paper napkins that align with the color theme. Whether adorned with metallic patterns, delicate prints, or a simple monogram, these thoughtful touches add a layer of refinement to each place setting. Fold them creatively or use stylish napkin rings to further enhance the visual appeal.
Bringing It All Together: Practical Tips for Execution
How to Coordinate and Balance the Various Elements?
Creating a beautiful Thanksgiving table setting is an art that requires careful coordination. Strive for a well-coordinated table where each component complements the next. Establish a focal point, often the centerpiece, and let it guide your decisions regarding other elements. Weave the color palette throughout the table for cohesion and lasting elegance.
Setting the Table in an Organized and Visually Pleasing Manner
To create a visually pleasing table setting, ensure each place setting is well-spaced and arrange tableware systematically. Maintain symmetry and consistency in item placement for a polished look. Neatly folded napkins add refinement. The goal is to create a table setting that pleases the eyes and facilitates a seamless dining experience.
Budget-Friendly Options for Achieving a Chic Thanksgiving Table
Create a stylish Thanksgiving table without breaking the bank. Check out the Smarty Had A Party online store for affordable tableware options. Use items you already have and get creative with DIY projects like napkin rings, placeholders, or a unique table runner. Achieve a chic look that reflects your style without overspending.
A Touch of Personalization: DIY Elements for Thanksgiving Chic
Handmade Name Cards or Placeholders
Elevate your Thanksgiving Chic table setting with a personal touch by incorporating handmade name cards or placeholders. Not only do these add a bespoke element to each setting, but they also serve as thoughtful mementos for your guests. Consider using materials that align with your overall theme – perhaps small gold-framed cards or mini white pumpkins adorned with individual names. Handwritten notes add a warm and intimate feel, setting the tone for a gathering that celebrates both style and personal connection.
Personalized Touches for Each Guest's Setting
Personalize your table with custom place cards expressing appreciation for each guest's presence. Use personal anecdotes, quotes, or shared memories. Attach these touches to napkins or charger plates for a delightful surprise. Experiment with metallic calligraphy or intricately designed trinkets for more sophistication. Show your thoughtfulness as a host with these personalized elements.
Incorporating DIY Projects that Complement the Overall Theme
For a stylish Thanksgiving table, try some DIY projects beyond name cards. Create a table runner with burlap or muslin, adding gold and white patterns. Make elegant napkin rings with twine and faux leaves. Infuse your personality by creating custom candle holders or repurposing glass jars. The possibilities are endless, resulting in a table that reflects your unique flair.
May your Thanksgiving be a harmonious blend of elegance, warmth, and the delightful clinking of glasses, creating memories long after the last slice of pie has been enjoyed. Here's to a Thanksgiving filled with style, grace, and the unmistakable charm of Thanksgiving Chic. Cheers to a celebration that is as memorable as it is elegant!