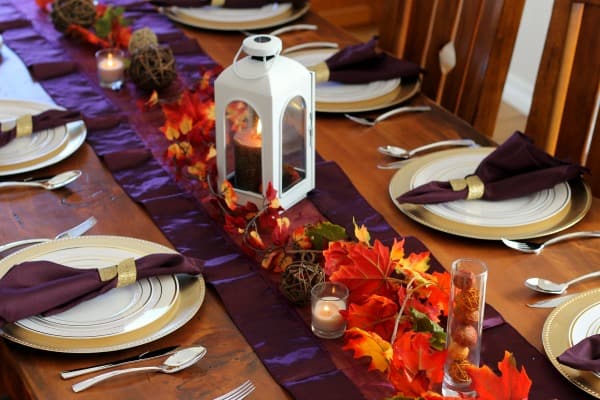 Fall Party Ideas You Can't-Miss
Fall is the favorite season of the year. Who doesn't enjoy watching the multi-colored leaves fall from the trees? The bare and exposed branches of the trees create stunning scenery. 
Fall is the cooling-off month between the scorching summer and freezing winter. Fall is one of the best seasons because it offers festivities that the whole family can enjoy. 
It is the most enjoyable time of the year as it brings delicious meals, tasty treats, mouth-watering desserts, fancy costumes, and vibrant colors. But then, it's time for friends and family to gather and have fun! So, let's welcome the season with these fantastic fall party ideas! 
#1: Decorate Your Entrance
Decorating your entryway is the most important thing to consider when it comes to fall party ideas so that the guests can see that they are in for a treat when they enter. But, of course, your decoration depends on what kind of entrance you have. Fall foliage is the simplest method to evoke the spirit of fall, which will mesmerize you.
You can decorate your entrance with fall foliage and beautiful garlands of multi-colored leaves. Leaf garlands with string lights can also be used to decorate your outdoor space. 
To make decorations for the fall party, you can also poke holes in pumpkins and fill these holes with fresh and colorful leafy branches. Arrange this branch-bearing pumpkin around your front door. 
Besides this, pumpkins are a great addition to your fall decor. Fall without pumpkins is like Halloween without treats. To give your entrance a spooky look, you can carve different designs on pumpkins and paint them with different colors. 
Luminaries made from paper bags have long been a seasonal favorite. To give a touch of fall, line a stairway or a stone path leading to your house with cut-out leaves made from paper bags and fill them with non-inflammable candles or bulbs for a glowing effect. Sand can be used to weigh down the bags.
#2: Halloween Costume
Costumes are essential to any party, whether a fall party or a Halloween party. The scene of falling leaves creates a creepy atmosphere, and that is why fall is associated with Halloween. In addition, it is fun to see everyone dressed in silly clothes. Therefore, the Halloween costume-themed event makes excellent sense at this party. 
Encourage your guests to wear their favorite costumes and celebrate the creepiest day of the year. You can also hold a contest and reward the best costume creator at the end of the day. 
#3: Decorating Denim Jackets
A denim jacket is never out of style, and you can wear it in fall and winter. You can also paint your denim jacket with different flowers and leaves. 
Nowadays, iron-on transfer paper is available in the market. It is a particular type of vinyl that can easily adhere to the fabric. You can customize your denim jacket with these iron-on stickers. 
#4: Bonfire Bash
To host a fall party, you should try a bonfire bash. Light one or more bonfires, arrange furniture and prepare delicious meals. 
A toast should always be made in a warm fire, with soft blankets and pleasant company. As you relax by the fire, share stories and create memories while enjoying seasonal drinks and beverages like apple cider.
Bring the equipment you'll need to grill hot dogs, pop some corn, toast marshmallows, and serve these dishes in elegant disposable plates. Of course, this type of party goes well with live music, so think about hiring a professional guitarist to enchant your guests with various cheerful and soothing songs.
#5: Movie Night
Invite your friends over for an outdoor horror movie night. You'll need a portable projector which you'll connect to your laptop or another device, and a blank wall or sheet to set up your home theatre. 
Grab your blankets and pillows, and prepare for a fall movie night! 
It's time to serve the snacks. First, you need a drink and popcorn to see a movie, but don't forget the seasonal favorites. Your menu for watching movies will be completed with candy corn, pumpkin seeds, caramel apples, hot cider, and the many sweets featuring pumpkins.
#6: Make Your Own Wreath
Although everyone enjoys lush green wreaths, the season now calls for crimson, gold, and orange tones. Use the autumn leaves that have fallen in your yard to make a colorful wreath. You can also get preserved leaves from a crafts store; they will stay longer.
Make your own fall wreath this year rather than purchasing one from the store. Collect enough materials so that you and your buddies can each make one. This is an enjoyable and affordable method to make decorations you can use every year while also enjoying the company of your friends. 
#7: Halloween Photo Booth 
Whether you are throwing a fall party for kids or adults, a photo booth is a great idea to keep your guest busy and have some fun! Taking pictures has become an integral part of our lives, which is why photo booths have become more common at parties.
Your guests will be delighted and entertained as the photo booth will allow them to express their humor and make memories. You can go for any theme you like or create your own Halloween photo booth by taking ideas from Google or Pinterest and following those brilliant ideas to rock your party.
#8: Give You Guests Something to Nibble On
Before the main event, give your guests something to eat and an opportunity to mingle. Goat cheese crumbles, juicy figs, arugula, and caramelized onions are the toppings of this thin-crust pizza. To save time, start with pizza dough from a bakery.
Serve finger foods like sausages, potatoes, and vegetables on fancy disposable plates. Apart from these dishes and snacks, the fall party also brings a variety of desserts with it, which include pumpkin cheesecake, caramel apples, donuts, chocolate cookies, and gingerbread pumpkin trifles. You can choose party plates that match your theme for your fall party. Happy Fall, Y'all!