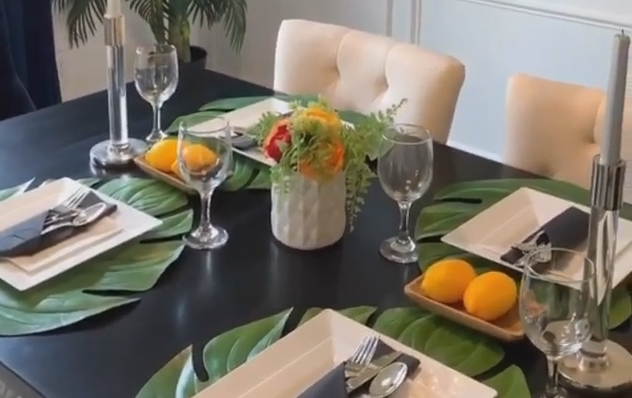 Exotic Vibes: Captivating Tropical Tablescape Idea for a Stunning Dinner Party
We present our guide to creating an unforgettable tropical tablescape that will transform your dining experience into an exotic getaway. A well-designed tablescape sets the stage for an extraordinary gathering, where every detail contributes to the overall atmosphere. Whether planning a celebration in your backyard or hosting an indoor soirée, infusing your dinner party with tropical vibes will elevate it to new heights of elegance and style.
Transforming Your Diner Party Experience with Tropical Tablescape Design
This blog post will take you through the elements of a captivating tropical tablescape. So, prepare to unleash your creativity and embark on a tropical adventure at your dining table. Let's dive into the world of exotic vibes and discover how to transform your dinner party into an unforgettable experience filled with captivating tropical flair.
Place Setting: Creating an Island Oasis
Tropical Leaves as Placemats: Bringing Nature to the Table
Create a tropical tablescape with vibrant and large tropical leaves as placemats. Monstera, banana, or palm leaves instantly bring the tropics to mind. Their natural textures and earthy colors provide a beautiful backdrop for your table decor. Lay the leaves flat, allowing them to overlap slightly, and place the dinnerware on top. This simple yet stunning touch will transport guests to an island paradise instantly.
Elegant Plastic Dinnerware Sets: Combining Style and Convenience
While elegance and practicality may seem unlikely, modern plastic dinnerware sets offer the perfect combination of both. Opt for sophisticated designs and high-quality plastic materials that mimic the look of porcelain or ceramic. From dinner plates to salad bowls and side plates, these durable and lightweight pieces will withstand the outdoor elements without sacrificing style. Your guests will appreciate the convenience of disposable dinnerware that maintains an air of sophistication.
Disposable Cutlery Set: Practicality without Compromising Elegance
Consider using a disposable cutlery set that exudes sophistication to complement your elegant dinnerware. Look for options made from sturdy plastic with sleek designs and metallic finishes. Gold or silver plastic cutlery can add a touch of luxury to your tablescape while remaining practical for outdoor or casual settings. With no need to worry about washing up after the party, you can focus on enjoying the festivities while maintaining a polished and cohesive look.
Fancy Plastic Wine Glasses: Toasting in Style
No tropical dinner party is complete without a toast to celebrate the occasion. Enhance the elegance of your tablescape by using fancy plastic wine glasses. Look for designs that mimic traditional glassware's shape and style but with plastic's convenience and durability. Stemless wine glasses are popular, as they offer a modern and sleek aesthetic. Whether serving wine, tropical cocktails, or non-alcoholic beverages, these stylish plastic glasses will elevate your tablescape and make every toast memorable.
Centerpiece: The Focal Point of Paradise
Candles: Setting a Romantic Ambiance
Candles are essential for creating a romantic atmosphere in your centerpiece. Choose vibrant pillar candles in colors like deep blues, lush greens, or warm oranges to resemble a tropical sunset. Place them in elegant holders or choose floating candles in glass bowls with water and flower petals for added elegance. The soft flickering light will infuse your tablescape with warmth and intimacy, inviting guests to indulge in the tropical ambiance.
Tropical Flowers: Bursting with Vibrant Colors
Include vibrant tropical flowers in your tablescape for a complete tropical look. Use bold blooms like orchids, hibiscus, anthuriums, or bird of paradise. Arrange them in low vases or mason jars with raffia or twine for a rustic touch. Scatter loose flower petals on the table for added color. These flowers' vivid hues and unique shapes will transport your guests to a lush island paradise, adding irresistible charm to your dinner party.
Palm Leaf Trays with Lemons: Adding a Refreshing Twist
Create a visually appealing centerpiece using palm leaf trays filled with vibrant lemons. Arrange trays of different sizes in the center of your table and fill them with fresh lemons. The contrasting lush green of the palm leaves and the bright yellow of the lemons create a striking display. This unique and refreshing centerpiece serves as a conversation starter, adding a pop of color and a tropical touch to your table. Your guests will be delighted by this simple yet captivating centerpiece.
Menu: Delightful Tropical Delicacies
Appetizers: Exquisite Bites to Kickstart the Tropical Feast
Start your dinner party on a high note with appetizers that showcase the vibrant flavors of the tropics. Consider serving dishes such as coconut shrimp with a tangy mango dipping sauce, tropical fruit skewers with a zesty lime and chili drizzle, or a refreshing ceviche made with fresh seafood and tropical fruits like pineapple or papaya. These appetizers will awaken the senses and set the tone for a memorable dining experience.
Main Course: Savory Tropical Dishes that Transport You to Paradise
For the main course, prepare savory dishes that embody tropical flavors. Try Jamaican jerk chicken with coconut rice and beans, grilled seafood with pineapple and cilantro salsa, or a tropical coconut curry with hints of ginger and lime. These dishes transport your guests' taste buds to a distant island, leaving them yearning for more.
Desserts: Sweet Endings with a Tropical Twist
Conclude your tropical feast with delightful desserts that offer a sweet finale. Treat your guests to creamy coconut flan, refreshing mango and passionfruit sorbet, or decadent pineapple upside-down cake. For a creative twist, serve a tropical fruit platter with coconut dipping sauce or a vibrant fruit salad drizzled with lime and honey. These desserts will leave a lasting impression, ensuring your dinner party ends on a high note.
Entertainment: Enchanting Activities for a Memorable Evening
Tropical Music Playlist: Setting the Mood with Island Rhythms
Music sets the mood for a tropical dinner party. Create a playlist with upbeat tunes from the Caribbean, Hawaii, or other tropical destinations. Include reggae, calypso, steel drum, or Hawaiian ukulele melodies to capture the perfect island vibe. The infectious beats and soothing melodies will have your guests swaying and feeling the exotic vibes throughout the evening.
Photo Booth with Props: Capturing Memories in a Tropical Paradise
Set up a tropical photo booth for guests to capture memories. Decorate the backdrop with colorful foliage, vibrant flowers, and props like sunglasses, leis, and straw hats. Provide a Polaroid or instant camera for instant keepsake snapshots. Alternatively, offer a digital photo booth with themed filters for social media sharing. This playful activity ensures everyone leaves with tangible memories of the enchanting tropical dinner party.
Limbo Competition: Testing Guests' Flexibility and Having a Blast
No tropical party is complete without a lively limbo competition. Set up a limbo stick and play tropical music as guests take turns bending backward to navigate under it. Encourage friendly competition and award prizes or tropical-themed favors to the winners. This activity brings laughter and joy, creating a memorable experience that encourages guests to let loose and have fun.
Frequently Asked Questions (FAQ)
How can I incorporate a tropical theme into my table decor without overwhelming it?
Incorporating a tasteful tropical theme into your table decor is about focusing on key elements. Use vibrant tropical leaves as placemats, choose dinnerware with subtle tropical motifs or colors, and add pops of tropical flowers or fruits as accents. Balance these elements with neutral or complementary colors for a visually appealing tropical tablescape without overwhelming the overall aesthetic.
Are plastic dinnerware sets safe for food consumption?
Yes, plastic dinnerware sets specifically designed for food consumption are safe. Look for dinnerware sets made from food-grade, BPA-free plastic materials that meet safety standards. These sets are designed to be durable, easy to clean, and safe for serving food. 
Can I incorporate other tropical elements into the tablescape?
Absolutely! The beauty of a tropical tablescape lies in its versatility. You can incorporate various tropical elements to enhance the overall theme. Consider adding seashells, tropical-themed napkins or table runners, woven straw placements or coasters, or even small tropical figurines as decorative accents. 
Are fancy plastic wine glasses durable enough?
Yes, fancy plastic wine glasses are durable enough for your dinner party. Look for wine glasses made from high-quality, shatterproof plastic materials designed to withstand regular use. These glasses are often thicker and more sturdy than typical plastic cups, ensuring they can withstand handling and usage during your event.
Cheers to an extraordinary and unforgettable evening!