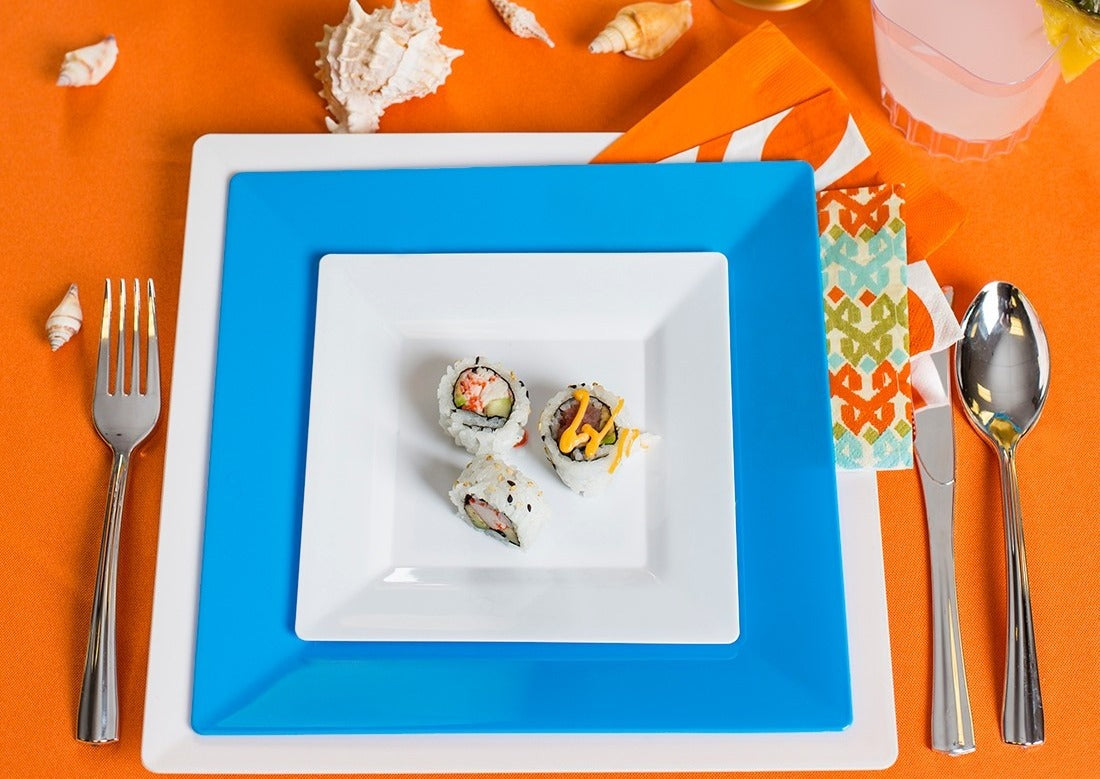 Enhance Your Summer Gatherings with Stunning Sea-Inspired Tablescape
As the warm breeze of summer beckons us to gather and celebrate under the sun, it's time to take your outdoor gatherings to the next level. Imagine hosting a delightful feast where your guests are transported to a serene coastal paradise with the soothing sounds of waves and the enchanting colors of the sea. With a stunning sea-inspired tablescape, you can transform your summer gatherings into unforgettable experiences that capture the essence of the ocean. 
Captivate Guests with Enchanting Seaside Tablescape for Unforgettable Summer Gatherings
In this blog post, we will unveil the secrets to enhancing your summer soirees with a captivating sea-inspired tablescape that will leave your guests in awe. Get ready to be inspired by the wonders of the sea and discover how to infuse your outdoor celebrations with the magic of the ocean.
Decoration
Utilizing Decorative Small Colorful Umbrellas for a Fun and Festive Touch
To create a lively sea-inspired tablescape, use tiny decorative umbrellas for a playful touch. These whimsical accents instantly bring a tropical paradise vibe and add color to your table. Place them in drinks, stick them into appetizers, or scatter them around the table for a festive and fun atmosphere. These tiny umbrellas will transport your guests to a beachside getaway, whether in vibrant blue, coral, or yellow shades.
Incorporating Shells as Natural and Elegant Table Accents
Incorporate shells into your sea-inspired tablescape for an elegant and authentic touch. Choose shells of various shapes, sizes, and colors, strategically placing them along the table in clusters or individually for a visually pleasing arrangement. Add a personal touch by placing a few shells on each plate. These natural accents effortlessly blend with the theme, infusing a subtle coastal vibe into your table setting.
Creating a Stunning Flower Centerpiece with Blooms and Greenery
Create a captivating coastal centerpiece for your tablescape using beautiful blooms and greenery. Choose flowers that reflect the colors of the coast, like blue hydrangeas, white lilies, or yellow sunflowers. Add lush greenery such as eucalyptus or ferns for a natural touch. Use a clear plastic vase filled with sand or seashells as a base to anchor your centerpiece in the sea-inspired theme. The result: a captivating focal point that brings coastal flora's refreshing allure to your table.
Table Settings
Opting for Paper Napkins in Vibrant Shades to Add a Pop of Color
In a sea-inspired tablescape, details matter, even the choice of napkins. Select paper napkins in vibrant shades that capture the cheerful spirit of summer. Opt for turquoise, coral, or sunny yellow hues to add color. These vibrant napkins serve a practical purpose while enhancing the overall aesthetic, creating a cohesive and visually pleasing look that complements your sea-inspired theme.
Choosing Vibrant Disposable Tablecloths to Evoke a Sunny, Beachy Atmosphere
Use vibrant orange disposable tablecloths for a sea-inspired tablescape to set a sunny, beachy atmosphere. The bold color creates a warm and inviting ambiance reminiscent of a summer day by the shore. It catches attention and infuses the space with vibrant energy. Choose high-quality disposable tablecloths for durability and easy cleanup.
Opting for Elegant Plastic Plates that Mimic the Look of Fine China
Enhance your sea-inspired tablescape with elegant plastic plates resembling fine china. The Smarty Had A Party online store offers disposable tableware that combines convenience with premium sophistication. Look for intricately designed, patterned, or glossy plastic plates resembling porcelain or ceramic. These lightweight and easy-to-handle plates add elegance to your table setting. Your guests will be pleasantly surprised by these disposables' stylish and refined appearance.
Utilizing Disposable Silverware with a Polished and Sophisticated Design
Choose stylish disposable silverware that doesn't compromise style. Look for sturdy plastic options that mimic the shine and elegance of real silverware. These disposable utensils, from forks and knives to spoons, seamlessly blend with the sea-inspired theme while offering easy cleanup. The polished and sophisticated design complements your table, enhancing the overall dining experience.
Selecting Fancy Plastic Drinkware that Resembles Glass for an Elevated Look
For an elegant sea-inspired tablescape, choose fancy plastic drinkware resembling glass. Look for high-quality plastic cups or stemware that mimic delicate glassware. These durable and shatterproof options add sophistication to your table setting. These elegant drinkware choices elevate the visual appeal, whether serving cocktails, chilled beverages, or sparkling water. Guests will appreciate the attention to detail and enjoy sipping their favorite drinks from these stylish and practical alternatives.
Culinary Delights
Highlighting the Freshest Seafood Options for a Truly Sea-inspired Menu
No sea-inspired tablescape is complete without fresh seafood. Embrace the flavors of the ocean by sourcing the highest quality catches available. Visit your local fish market or grocery store for succulent shrimp, flavorful lobster, delicate crab, or flaky fish varieties. Using fresh seafood ensures each bite captures the essence of the sea, elevating your summer gathering to new culinary heights.
Discussing Popular Seafood Choices
For a sea-inspired menu, serve popular seafood like shrimp, lobster, and crab in appetizers and main courses. Guests will love the succulent taste and versatile nature of shrimp, lobster's luxurious texture and buttery flavor, and the sweet and delicate meat of crab in salads, dips, or crab cakes.
Ideas for Seafood Appetizers, Main Courses, and Sides
Elevate your ocean-themed dining with delicious seafood dishes like shrimp cocktails, crab-stuffed mushrooms, or grilled lobster tails. Add refreshing sides like avocado, shrimp salad, grilled veggies, or garlic butter roasted potatoes. Your guests will love the flavors of the sea.
Refreshing Seafood-based Beverages to Complement the Meal
Enhance your seafood dining experience with refreshing beverages that complement the delicate flavors. Consider a seafood Bloody Mary or a crisp white wine like Sauvignon Blanc or Chardonnay. For a non-alcoholic option, try a citrus-infused mocktail with cucumber and mint. Perfectly complement your culinary creations.
Final Touches
Incorporating Sea-inspired Table Cards or Place Cards for a Personalized Touch
Add a personal touch to your sea-themed tablescape with sea-inspired place cards made from textured cardstock or seashell cutouts. Include guests' names and small sea motifs for extra charm and a delightful keepsake.
Adding Subtle Seashell or Beach-themed Decorations Around the Dining Area
Add a coastal touch to your dining area with seashell or beach-themed decorations. Scatter tiny seashells or starfish on the table, use fishing nets or mini beach chairs as accents, and hang beach-themed artwork on the walls. Create a peaceful beachside atmosphere for your guests.
Using Soft, Coastal-themed Background Music to Create a Soothing Ambiance
Choose calming coastal-themed music to enhance your sea-inspired tablescape. Select instrumental tracks with soothing ocean sounds for a peaceful atmosphere. Adjust the volume for easy conversation and relaxation.
Enhancing the Overall Experience with Beach-scented Candles or Diffusers
Elevate your guests' dining experience with beach-scented candles or diffusers. Choose scents like coconut or ocean breeze for an immersive seaside atmosphere. Place them strategically around the dining area for a multi-dimensional experience.
Frequently Asked Questions (FAQ)
1. How can I incorporate a sea-inspired tablescape if I'm on a budget?
Creating a sea-themed tablescape doesn't have to be expensive. Use seashells or repurpose items you have at home. Use affordable materials like paper napkins and elegant disposable tableware. Get creative and make a stunning tablescape without overspending.
2. Are disposable party supplies a good option for a sea-inspired tablescape?
Yes, disposable party supplies can be a convenient and practical choice for a sea-inspired tablescape. By using disposable party supplies for a sea-themed table setting, you can save time on setup and cleanup. Choose tableware with coastal designs or colors. Consider plastic plates resembling fine china, sleek disposable silverware, and fancy plastic drinkware that looks like real glass. Create an attractive tablescape with the convenience of disposable items.
3. What are the advantages of using disposable party supplies?
Disposable party supplies come with several advantages. Firstly, they eliminate the need for washing and storing traditional dishes, saving you time and effort during cleanup. They also offer a wide range of designs and colors, allowing you to easily match them to your sea-inspired theme or personal preferences. Additionally, high-quality disposable party supplies are durable and reliable, ensuring that they can withstand the demands of a summer gathering without easily breaking or bending. 
4. Are there any tips for ensuring a seamless and cohesive look with disposable party supplies?
Absolutely! To achieve a cohesive look with disposable party supplies, consider the following tips:
Choose disposable party supplies in colors and designs that complement your sea-inspired theme. Opt for shades like blue, turquoise, or coral to evoke the coastal ambiance. 

Look for coordinated sets of disposable party supplies that include matching plates, silverware, and drinkware for a visually appealing tablescape. 

Incorporate other sea-inspired elements like shells, beach-themed centerpieces, or coastal-themed accessories to tie everything together. 

Pay attention to the quality of the disposable party supplies. Opt for sturdy and reliable options that mimic the appearance of real tableware. 

Arrange the table settings with care, ensuring that the placement of disposable items is deliberate and visually pleasing.
Whether you're hosting a small gathering with loved ones or throwing a larger celebration, the tips and ideas shared in this blog post will help you infuse your summer gatherings with a touch of magic and a dash of coastal charm. Let the magic of the ocean guide you as you curate an unforgettable experience filled with joy, laughter, and the beauty of the sea. Cheers to a summer filled with remarkable gatherings and tables that celebrate the wonders of coastal living!