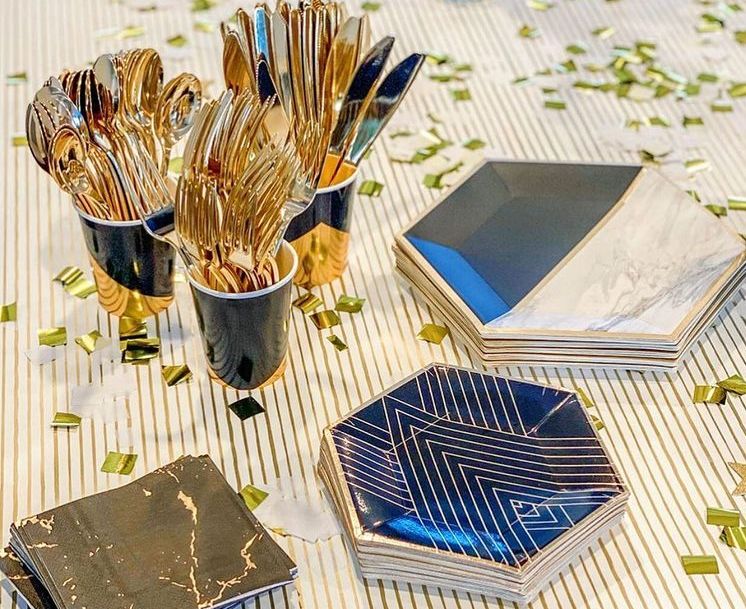 Everything You Need to Know About Choosing Cutlery Sets
Cutlery sets aren't just pieces of spoons, forks, and knives, but they are more than that. An elegant cutlery set will complement your style and personality. That's why experts suggest getting choosy when buying cutlery sets.
The market is flooded with so many cutlery sets of different designs, styles, and colors, making it even more difficult to choose the perfect one for your next party. Lucky you are! We did hours of research to find out what the market has to offer you. Read on to find the best option for you in the flatware industry.
Silverware Cutlery Sets
Silverware cutlery sets are widely used for casual use to special occasions like weddings, birthday parties, and you just name any formal event. 
Silverware comes at an expensive price tag, but its material is usually high-quality, which offers super long-term durability to extreme heat and accidental bendings. 
The weight of the silverware matters a lot as they come in different weight sizes. It's important to choose the right weight of the cutlery set as you will be spending a lot of time holding those spoons and forks. 
So, make sure you have chosen a cutlery set that you are comfortable with. Try holding spoons and forks to get an idea of what weight of cutlery set is perfect for you. 
Also, choose the cutlery sets that cooperate with your tablescape and table accessories. A clean and classic pattern cutlery set goes well with the formal table setup. However, it depends on your table space and its decor that what design and style will work perfectly with it. 
Plastic Cutlery Sets
Plasticware comes at a less expensive price tag, making them an economical option in the market. 
Plastic cutlery sets are the best option for serving big crowds as they are affordable to any budget. Plus, disposable cutlery sets are made for single-use, meaning after-party clean-up becomes a breeze.
However, plastic cutlery sets come in various styles and designs, making them the perfect go-to material for party themes. If you are throwing an epic theme party, then colorful and matching cutlery sets will add aesthetics to your tablespace. 
Silverware or Plastic Cutlery Sets?
As mentioned above, both materials are widely used, but both have different characteristics and price tags. However, if you have invited a long list of guests to your party, then plastic cutlery sets are the best option to go for. 
You won't need to pay a hefty amount for fancy plastic cutlery sets as they are the cheapest option in the market. Moreover, You get to see a lot of different designs and styles in plastic party cutlery, making them the perfect fit to elevate the party's table decor.
Silverware cutlery sets are recommended for a long-time companion. They are super durable in terms of bearing accidental bends. Plus, they can't be melted or molded easily when exposed to heat. 
Our Cutlery Sets
If you are looking for the best plastic sets in the market at an affordable rate, then we at "Smarty Had A Party" have got your back. We have a wide range of disposable plastic cutlery sets in various styles and designs. Have a look and get the best elegant cutlery sets for your next party.