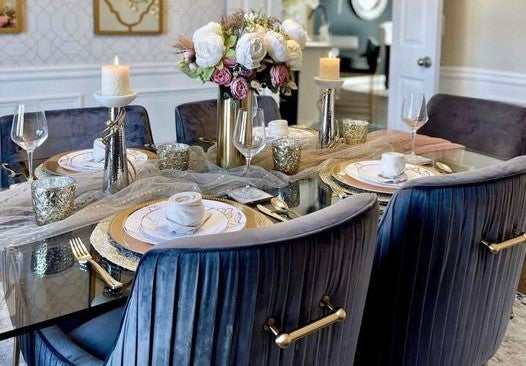 Dressed to Impress - Fabulous Ways to Set Your Party Table
Whether you host a birthday party, Thanksgiving dinner, brunch, or a simple friends' get-together, the most important step is setting the tables elegantly. No matter how expensive the decor is or how much money it costs you to hire a professional catering service if your tables don't have a visual appeal, they are not beautiful at all.
Hence you should know a few tips and tricks to make an ordinary table into an exceptionally beautiful tablescape. Make your party tables as gorgeous as you are and impress your guests with your creative skills. We are going to tell you some fabulous ways to set your party tables without making a mess.
Dress them Up with Linens
Transforming your tables with a linen tablecloth is an easy yet elegant way. If you want to keep your table setting basic, a plain white tablecloth decorated with pink roses and lilac would be the best option. To complete the look, get some subtle disposable party plates from Smarty. We also have a huge range of tablecloths varying from subtle colors to vibrant ones - so that you can create any look of your choice without making much of an effort.
Add Freshness with Flowers
Flowers are a great way to bring color and freshness to a table. No matter what kind of event it is, it feels incomplete if it does not have flowers. Make a DIY centerpiece with a vase and some freshly picked flowers to allure your tables. It will be complementary if you add foliage to the look, such as eucalyptus.
If you are looking for elegant dinnerware at this point, consider Smarty Had A Party. Our disposable party plates lend a perfect texture to your casual and formal table settings. The best part about using our recyclable disposable plates is the fact they can be recycled and ensure a guilt-free cleanup.
Create an Ambiance with Lights
A good amount of lighting influences the guest's mood like nothing else. You need to learn how to incorporate different lights in different parts of the venue and on the table as well. Use candles for the tables because, of course, a perfect tablescape calls for some candlelight. Use string lights, low-wattage bulbs, warm lights, and lamp shades to light up the place. When you have good lighting in the whole place, your tables will look exquisite automatically.
Get Inspiration from Everywhere
Go to Pinterest and look for inspirations from different types of table settings. This will broaden your way of thinking, and you will have some creative ideas to work on.