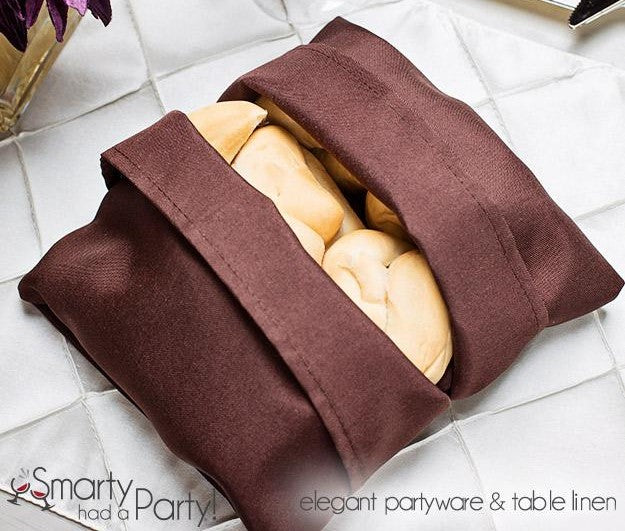 Best Napkin Folding Techniques Every Host Need to Know
Being a host isn't easy as you have to look after everything going on at your party. You have to plan before arranging any event and then make it go smoothly and according to your plan. Every little thing and detail counts when you are hosting an event, and here you will learn about ways not to miss those details in your next event.
Napkin folding is a part of table decor, and you must know the techniques to do the best napkin folding at your next party.
Why Should You Consider Napkin Folding?
Any good host would know the inherent value of the napkins, which add the extra flourished touches and stylish personality to your table decor. So when your guest sits down, the first thing he looks for is a napkin that serves the practical purpose and flair for the table decor.
With the practicality of folding utensils, napkins provide the final decorative touches to your table decor. That's why it's a must to have a set of fancy folded napkins at a table, so you don't feel embarrassed when asked about it.
Ironing Napkins
Before you start folding your fancy napkins, get rid of those wrinkles that take place after a wash. Ironing your napkins will give them a nice and decent look after folding them. 
So, to get the perfect results from the folded napkins, it's better to iron them first. Linen and cotton napkins are ideal for ironing.
If you are too lazy to iron them, we got you covered with our elegant paper napkins, which require no iron, and within no time, you will be able to wow your guests. 
Elegant Paper Napkins
Paper napkins are super trendy these days, and they offer a bunch of practical benefits that a host would want. Paper napkins are easy to carry and demand minimal clean-up as you can dispose of them after one use. Plus, they are more affordable than fabric napkins. 
We offer disposable party napkins to cover all your formal and informal events. Moreover, they are disposable paper napkins, so you can carry them anywhere, even on a picnic.
Napkin Folding Techniques
In the beginning, you might feel it's not a cup of tea for you, but when you start folding it and follow all the steps correctly, you will be able to do it in your sleep.
Everyone knows about folding napkins, but they don't know how to turn them into a piece of art.
The cone-shaped napkin folding is the easiest way to add glamour to your table decor. It goes perfectly fine with the simple and formal table settings. With a few folding steps, you will get the desired cone shape, and inside a napkin cone, you can place the flatware.
You can go with the pumpkins technique for the fall parties to give a festive look to your table scene. You fold the napkins like a mini pumpkin, and then it's ready to blow your guests.
How to Fold Paper Napkins on the Holiday Table? 
There are many ways to fold napkins. Some are only suitable for reusable decorative linen napkins, but we will pay more attention to disposable paper towels. Paper napkins from larger packages are best suited because tiny square napkins that will not look rolled up can be found on sale.
Mitra Bishop
You can fold the napkins quickly if you fill your hand. These napkins will look great on your desk. 
Step 1:
 You must first unfold the napkin to get a square. 
Step 2:
 Fold the napkin in half so the opening is facing you.
Step 3:
  Fold the top right corner to meet the bottom edge.
Step 4:
  Fold the bottom left corner upwards to meet the top edge. You should now have a shape like a rhombus.
Step 5:
 Flip the napkin over.
Step 6:
 Fold the top half of the bottom edge up to meet the leading edge. You should be left with a triangle pointing towards you.
Step 7:
 Fold the napkin a third time to get a triangle.
Step 8:
 With the tip of the triangle you just had, you need to fold it back and open it up.
Step 9:
 Fold the left-hand side triangle in half.
Step 10:
 Now, you need to fold the right-hand side from step eight back over so it overlaps the fold made previously.
Step 11:
 Flip the entire napkin over. 
Step 12: 
You now need to tuck the right-hand side of the napkin to the inside of the left triangle.
Step 13: 
Stand the napkin up vertically and push the outsides together, causing it to take shape. 
Petals 
An incredibly effective way to wrap napkins is to make petals. It is especially nice to roll up milk napkins this way. It is essential to carefully iron each fold and not make mistakes. Otherwise, the napkins will look messy. 
Step 1:
 Get a square dinner napkin
Step 2:
 Fold a corner of the napkin to the center
Step 6:
 Repeat Step 2 and step 3
Step 8:
 Create the Petals
Flower Napkin Fold
One of the easiest and fastest ways to fold a napkin nicely is to fold it in the shape of a flower. This method will not take much time, but it will delight your guests.
Step 1:
 Expand the square. 
Step 2:
 Fold the first corner to the middle of the napkin. 
Step 3:
 Fold all remaining corners toward the center of the napkin. 
Step 5:
 Fold the corner again to the middle of the napkin. 
Step 6:
 Fold the other corners to the center. 
Step 7:
 Gently separate the corner on the back of the napkin and gently pull it towards you to make a petal. 
Step 8:
 Arrange all the petals and put the finished napkin on a plate.
Pocket Napkin Fold
A pocket napkin is a great way to set the table efficiently (read about the rules of setting the table). Unfortunately, small napkins are not suitable for such purposes because they simply do not fit the cutlery. 
Step 1: 
Fold in half, left to right.
Step 2: 
Fold in half, bottom to top.
Step 3: 
Fold the top right corner down diagonally.
Step 4:
 Fold down the next layer and tuck behind the first.
Step 5:
 Fold down the third layer and tuck it behind the second.
Step 6: 
Fold the right side under.
Step 7:
 Fold the other side under.
Setting up a holiday table is a different experience than setting the everyday table. Sometimes you need plates with beautiful decorations, sometimes candles and panels of fresh flowers, and sometimes just lovely and stylishly folded napkins. Moreover, folding napkins is the easiest to do! Beautiful paper napkins can always bring your table to life and add a "holiday flair" to your table. Using the same piece of fabric, you can achieve the most outstanding results!