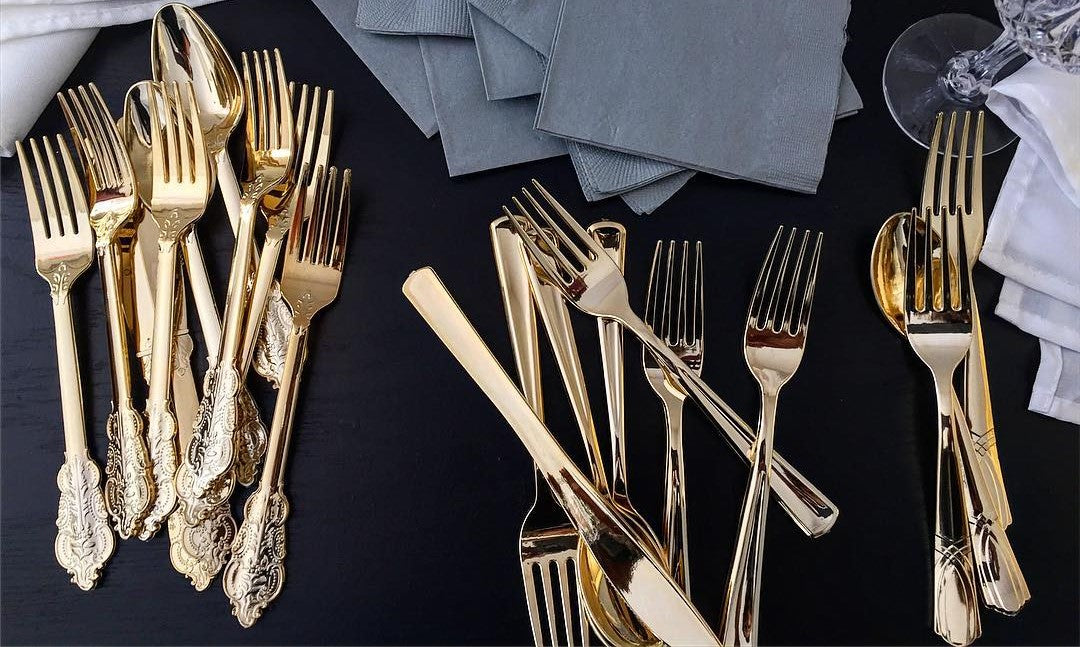 Best Heavy Duty Plastic Cutlery Sets
Throwing a party is a fun game until you see that pile of dishes waiting to be washed at the kitchen sink. Sounds dreadful, right? The inconvenience of cleaning the utensils can put you off, so that's not something you would want to do after an entertaining event.
Luckily, we have disposable plasticware to make your life so much easier. However, it's not that simple to buy strong plastic cutlery - a lot goes behind it. In this article, we'll get into more depth about what to look for in heavy-duty disposable plastic cutlery.
What to Look for in the Best Heavy Duty Plastic Cutlery Sets
Buying the best heavy-duty plastic cutlery sets is as complex as purchasing perfectly-fitting clothes. First, you must ensure that the cutlery suits all your needs. For that, your flatware sets should have discrete attributes that differentiate them from the poor-quality cutlery.
What are those qualities? Let's find out, starting from what exactly 'durable' plastic cutlery is.
What Is Durable Plastic Cutlery?
It is one-time-use cutlery made from one of the different types of plastic materials (polystyrene, polypropylene). This difference in the materials causes variations in plastic cutlery's durability and uses.
The durability of the plastic cutlery is the most crucial thing to look for in flatware. Whether you're a party host or a restaurant owner, having durable plastic cutlery is a must.
Why People Use Plastic Cutlery
Disposable silverware is an unavoidable part of dining. So whether you eat a sit-down dinner or get a takeaway from your favorite restaurant, you'll surely get plastic cutlery. 
People have been using disposable silverware for years for good reasons. They are convenient, inexpensive, and easy to clean.
The prime reason people use plastic flatware is its convenience because washing tons of dirty dishes is not something anyone would want to do. So instead, they offer a one-step cleanup, i.e., throwing in a recycle bin.

Materials Used to Make Extra Strong Plastic Cutlery
You might wonder what materials make extra strong plastic cutlery. Well, plastic cutlery is made from two different materials: polystyrene and polypropylene. So let's dive into what they are and the advantages they offer.
Polypropylene
It is bendable, flexible, and suitable for soft foods such as salads, cakes, etc. It can resist intense bending without breaking.
Polystyrene
Unlike polypropylene, this one is sharp to cut through hard food materials. However, it might break upon bending or molding because it doesn't offer flexibility.
Pros and Cons of Polypropylene
Polypropylene is widely used to make heavy-duty disposable plastic cutlery. It possesses unique qualities, making it suitable for use in plasticware. Here are some of its advantages and disadvantages.
| | |
| --- | --- |
| Pros | Cons |
| It is highly flexible and doesn't crack upon bending or molding. | It is not suitable for tough foods such as steak. |
| It can withstand high temperatures above 120 degrees Celsius. | Polypropylene materials are likely to get degraded by ultraviolet rays. |
| It is recyclable. | It can undergo an oxidation reaction. |
| It is available in light, medium, and heavy-weight. | It is a highly flammable polymer. |
Pros and Cons of Polystyrene
Having unique chemical and structural properties, polystyrene is yet another polymer used to make heavy-duty plastic cutlery sets.
| | |
| --- | --- |
| Pros | Cons |
| It can resist microbial activity. | It cannot resist temperatures above 80 degrees Celsius. |
| Polystyrene knives and forks are perfect for cutting sharp food items. | It doesn't offer resistance to ultraviolet rays. |
| It is a recyclable material. | It is highly flammable. |
| This material is available in light, medium, and heavy weights. | It has poor chemical resistance. |
Plastic Cutlery and Green Living
It's a common misconception that plastic cutlery and green living don't go together. However, it's not true in every case. You can use plastic cutlery without feeling guilty if you make proper arrangements for recycling.
There are ways by which you can make sure your plastic materials are recycled. Look them up on the internet and enjoy the perks of extra strong plastic cutlery without worrying about anything.
If you don't want to go that recycling route, use eco-friendly cutlery instead. It is compostable and degrades in no time.
What to Do With Plastic Cutlery After an Event
Reuse, repurpose, and recycle! There is no better advice than this one. Finally, you'll be satisfied knowing that your durable plastic cutlery is disposed of properly. For recycling, check for your local recycling facility and follow the process.
If you want to repurpose your plastic cutlery, that's even better. Chop a bunch of forks' heads and glue them together to make a vase. You can also paint forks, spoons, and sporks and stick them around each hour of your wall clock.
You can also use spoons' heads to label your garden pots and plants. Or make a DIY candle holder with them. You'll need about 16 spoons for that project - cut their curved parts and glue them around a cardboard piece. Add one layer with the concave side facing upward, then put another layer over the first one with the concave side facing downward.
Our heavy-duty plastic cutlery sets are dishwasher safe - so you can clean and reuse them. They'll last for multiple occasions if you wash and store them with care.
Buy Plastic, Eco-Friendly & Paper Dinnerware at Smarty Had a Party
Wanna know where to get the best heavy-duty plastic cutlery? Smarty Had A Party it is! Here you can get the most elegant heavy-duty plastic cutlery sets that slay!
With its top-notch quality, our heavy-duty disposable plastic cutlery is one of a kind. In addition, we manufacture all our disposables from BPA-free plastic material, making them a health-friendly choice. Not only that, our disposable plasticware is recyclable and offers easy disposal.
Make your party tables stand out with Smarty's disposable dinnerware. We've got everything - from plastic to compostable to paper - that fulfills all your party's requirements.
FAQ
How can I reuse plastic cutlery in the garden?
Label the spoons with the names of plants or seeds you sowed in the garden. That will help you recognize the different plants growing.
What is plastic cutlery made of?
Plastic cutlery can be made of polystyrene or polypropylene. Both these materials possess unique qualities that make them perfect for disposable cutlery.
Should you wash plastic cutlery before using it?
It's better to stay on the safer side. That is why you should wash your cutlery before using it. You should also perform this practice with reusable plasticware.
Is there a way to reuse plastic cutlery inside the house?
Yes! You can use plastic cutlery in so many ways in your home. For example, paint a bunch of spoons and stick them to a wall as decor pieces. Or use them to make flower vases - the options are endless.