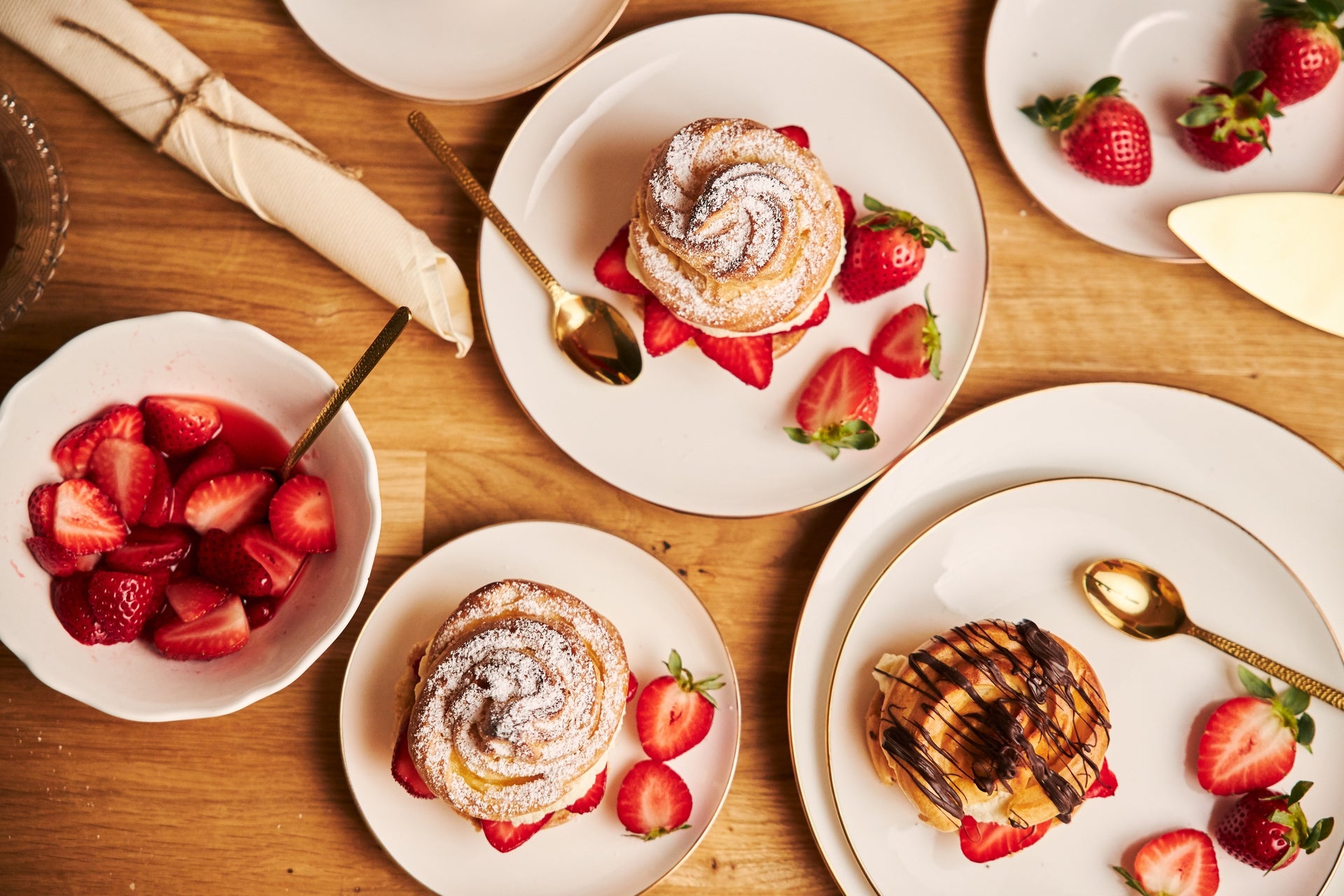 Berry Bliss: Irresistible Strawberry Party Recipes to Wow Your Guests
Are you ready to take your party to the next level? Look no further than the humble and irresistible strawberry. Bursting with sweetness and vibrant red hues, strawberries are the ultimate party fruit, capable of elevating any gathering to new heights of deliciousness. Whether you're hosting a backyard barbecue, a summer soiree, or a festive celebration, incorporating strawberries into your menu will impress your guests and leave them craving more.
So, prepare to dive into a berry-filled adventure that will wow your guests and create lasting memories. Let's explore these irresistible strawberry party recipes together and get ready to embrace the blissful flavors of summer with Berry Bliss!
Refreshing Strawberry Cocktails
Regarding refreshing and vibrant party beverages, strawberries are a natural choice. Their luscious sweetness and juicy texture can transform any cocktail into a delightful concoction that will leave your guests craving more. 
Strawberry Mojito
Ingredients:
6 fresh strawberries, hulled and sliced

8-10 fresh mint leaves

2 teaspoons granulated sugar

1 lime, juiced

2 ounces white rum

Club soda

Ice cubes

Mint sprigs and strawberry slices for garnish
Step-by-step instructions:
In a cocktail shaker, muddle the sliced strawberries, mint leaves, sugar, and lime juice until they release their juices and the mint becomes fragrant.

Add the white rum to the shaker and fill it with ice cubes.

Shake vigorously for about 15-20 seconds to chill the mixture.

Strain the mixture into a tall glass filled with ice cubes.

Top the glass with club soda to your desired level of fizziness.

Stir gently to combine the ingredients.

Garnish with a sprig of mint and a slice of strawberry.

Serve immediately and enjoy the refreshing flavors of this delightful Strawberry Mojito.
Serving Suggestions and Garnishes
Strawberry Sugar Rim: 

Elevate the presentation by moistening the rim of your 

plastic tumblers or margarita cups

 with fresh strawberry or citrus fruit and dipping it into a blend of freeze-dried strawberry powder.

Fresh Strawberry Skewers: 

Thread whole or sliced strawberries onto bamboo skewers and rest them on the rim of the 

plastic glasses

. 

Citrus Zest Sprinkle: 

Sprinkle citrus zest from lemon, lime, or orange over your strawberry cocktails. It adds an aroma and enhances the citrusy notes, brightening the drink.

Mint Leaves: 

Add a sprig or a few mint leaves to a glass as a garnish. The mint's aromatic fragrance complements the sweet strawberry flavors and is a natural stirrer.

Edible Flowers:

 Impress your guests with edible flowers like violets, pansies, or borage flowers. Place a single flower or a small bouquet on top of each glass for visually stunning garnish and subtle floral notes.

Colorful Paper Straws:

 Serve your strawberry cocktails with vibrant paper straws in shades like red, pink, or green. 
Delicious Strawberry Appetizers
A successful party starts with enticing appetizers that set the tone for the rest of the culinary journey. You'll discover a whole new taste sensation when incorporating the delightful flavor of strawberries into your appetizers. 
Strawberry Balsamic Bruschetta
Combining the tanginess of balsamic glaze with the sweetness of strawberries, Strawberry Balsamic Bruschetta is a flavor explosion that will tantalize your taste buds.
Ingredients:
1 baguette, sliced into thin rounds

2 cups fresh strawberries, diced

1/4 cup balsamic glaze

4 ounces of goat cheese

Fresh basil leaves, chopped.

Salt and pepper to taste
Step-by-step instructions:
Preheat your oven to 375°F (190°C). Place the baguette slices on a baking sheet and lightly brush them with olive oil. Toast in the oven for about 8-10 minutes or until they become golden and crispy. Set aside to cool.

Combine the diced strawberries, balsamic glaze, and a pinch of salt and pepper in a bowl. Toss gently to coat the strawberries evenly in the glaze.

Spread a thin layer of goat cheese onto each toasted baguette slice.

Top the goat cheese with a spoonful of the strawberry mixture, ensuring a balance of strawberries and glaze on each slice.

Sprinkle freshly chopped basil leaves on top for a burst of aromatic freshness.

Arrange the Strawberry Balsamic Bruschetta on a serving platter or wooden board, creating an appealing arrangement of colors and textures.

Serve immediately, allowing guests to savor flavors and textures in each bite.
Serving Suggestions and Plating Ideas:
Garnish with Fresh Basil: 

Garnish the bruschetta with a few extra fresh basil leaves before serving to add a pop of green color and enhance the aroma.

Drizzle Balsamic Reduction:

 For an added touch of elegance, drizzle a small amount of balsamic reduction over the top of the bruschetta. 

Plating on a Palm Leaf Tray:

 For a rustic and inviting presentation, arrange the Strawberry Balsamic Bruschetta on a 

palm-leaf serving tray

. The natural tones of the leaves provide a beautiful backdrop for the vibrant strawberries, creating a visually striking display.

Complementary Serving Dishes:

 Consider serving the bruschetta alongside complementary items, such as olives, prosciutto, or cheeses. These additional elements enhance the flavors and add variety to your appetizer spread.

Bite-Sized Variations:

 If you're hosting a cocktail party or want bite-sized appetizers, use smaller pieces of baguette or serve the strawberry mixture in 

small plastic cups

 or 

disposable serving spoons

. 
Fresh and Vibrant Strawberry Salads
No party is complete without a refreshing salad showcasing strawberries' natural sweetness and vibrant colors. Incorporating strawberries into salads adds a delightful flavor and a touch of elegance to your spread.
Strawberry Caprese Salad
A delightful twist on the classic Caprese salad, the Strawberry Caprese Salad combines the perfect flavors and textures. 
Ingredients: 
2 cups fresh strawberries, hulled and halved

8 ounces fresh mozzarella cheese, sliced

1 cup cherry tomatoes, halved

Fresh basil leaves

Balsamic glaze

Extra-virgin olive oil

Salt and pepper to taste
Step-by-step instructions:
Combine the halved strawberries, sliced mozzarella, and cherry tomatoes in a large bowl.

Tear the fresh basil leaves into small pieces and add them to the bowl.

Drizzle olive oil over the salad, ensuring all the ingredients are lightly coated.

Season with salt and pepper, adjusting the amount to your taste preferences.

Gently toss the salad to evenly distribute the flavors and ingredients.

Drizzle balsamic glaze over the salad, creating a beautiful swirl pattern or evenly coating the ingredients.

Transfer the Strawberry Caprese Salad to a serving platter or individual plates, arranging the ingredients in an appealing and visually striking manner.

Serve immediately and enjoy this fresh and vibrant salad's vibrant flavors and textures.
Serving Suggestions and Presentation Ideas:
Colorful Serving Platter: 

Choose a vibrant and 

colorful plastic platter

 that complements the fresh and vibrant colors of the salad. Opt for a platter with contrasting hues to create an eye-catching display.

Garnish with Fresh Basil:

 Garnish the salad with a few extra sprigs of fresh basil leaves before serving. 

Artful Arrangement: 

Arrange the ingredients in a visually appealing pattern, alternating the slices of mozzarella with the halved strawberries and cherry tomatoes. 

Drizzle Balsamic Glaze: 

Use a squeeze bottle or a spoon to drizzle the balsamic glaze over the salad. You can create elegant swirls or evenly coat the ingredients to add a glossy and appetizing finish.

Individual Salad Plates:

 For a more personalized touch, serve the Strawberry Caprese Salad on 

plastic plates

. Arrange the ingredients neatly in the center of each plate, allowing the vibrant colors to stand out.

Edible Flower Accents:

 Add edible flowers, such as nasturtiums or pansies, as a beautiful and edible garnish. 
Delectable Strawberry Desserts
When satisfying your guests' sweet cravings at a party, nothing quite captures the essence of indulgence like strawberry desserts. 
Strawberry Shortcake Trifle
Combining the classic shortcake flavors with a stunning layered presentation, the Strawberry Shortcake Trifle is a dessert that will steal the show at your party. 
Ingredients:
1 pound fresh strawberries, hulled and sliced

1/4 cup granulated sugar

1 tablespoon lemon juice

1 store-bought pound cake cut into cubes

2 cups whipped cream or whipped topping

Fresh mint leaves for garnish
Step-by-step instructions:
Combine the sliced strawberries, granulated sugar, and lemon juice in a bowl. Toss gently to coat the strawberries in the sugar and allow them to macerate for about 10 minutes. 

Start assembling the trifle by placing a layer of pound cake cubes at the bottom of a clear glass trifle dish or individual serving glasses.

Spoon a layer of the macerated strawberries over the pound cake, ensuring that some syrup is included in each layer.

Top the strawberries with a layer of whipped cream or whipped topping, spreading it evenly.

Repeat the layers until you reach the top of the dish or glasses, finishing with a layer of whipped cream.

For an extra touch of elegance, garnish the trifle with fresh mint leaves and a few strawberry slices.

Refrigerate the trifle for at least 1 hour before serving to allow the flavors to meld together and the cake to soften slightly.

Serve chilled, and watch as your guests marvel at the layers of sweetness and the vibrant display of this Strawberry Shortcake Trifle.
Serving Suggestions and Presentation Tips:
Individual Portions: 

Instead of a large trifle dish, you can create individual servings using 

clear plastic cups

 or mason jars. This gives guests personalized desserts, adding an extra touch of elegance and convenience.

Layering Technique: 

As you layer the ingredients, be mindful of making each layer visually distinct. 

Garnish with Fresh Mint: 

A sprig of fresh mint not only adds a pop of color but also imparts a refreshing aroma that complements the sweetness of the strawberries.

Strawberry Accents: 

Before serving, add a few whole strawberries on top of the trifle or around the serving dish for an eye-catching touch.