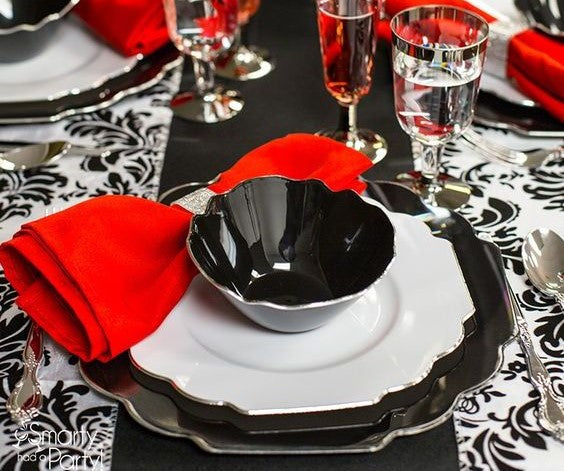 Start 2022 with an Ultimate Bash
Are you ready to ring into the new year and say goodbye to the previous one? What can be a better way than throwing a party and inviting your favorite people to do things that will give you an excellent start to the year?
As the New Year holidays approach, your dining table becomes the main gathering place in the house.
Many family dinners and socializing with friends await us during this period. So, it is normal to start asking ourselves and worrying about how we will decorate and set the table for all the parties this holiday season.
In 2021, you couldn't celebrate the new year parties as there were pandemics worldwide. But not anymore - throw an epic party to welcome the one more year ahead of you.
We have curated a list to give you ideas for your new year's bash. 
Epic Bone-Fire Party
While everyone's out and enjoying the celebrations outdoors, you might want to stay home; probably, you are a lazy worm or feel safer. But, no doubt, staying home can also bring too much fun for you.
Throw an epic bone-fire party and invite your favorite people to accompany you on the cozy nights of the new year. Set up a bone fire where you think it will give your party a focal point.
Grab some blankets for your guests, and choose your favorite movie or something you think your guests will enjoy watching. Then, by throwing an epic bone-fire party, you can have a lovely start to the new year and can create some more pleasant memories of your life. 
When throwing a bone-for party, don't forget to have a stock of snacks, drinks, and refreshments so your guests can graze on while enjoying the movie and bone-fire. 
To add more to the menu, you can be a little more creative with the idea of a bone-fire party. First, take advantage of the fire you have set up in your backyard. Then, prepare the BBQ with your guests to give them the ultimate campaigning vibes.
Give them one stick, let each of them put their favorite piece of meat and vegetables, and make their grill. Bake the grill together and count down to the new year, enjoying the beautiful New Year's fireworks!
Game Night Party
Everyone wants to grab a drink and dance a little to take a vibe in the cozy night. You can't help yourself without playing games that make you feel lost in them.
So, why not play them at the party? Or, throw an epic game night party and invite your gaming friends to accompany you and share snacks and drinks. 
Invite all your gaming friends and ask them to show their gaming skills by competing in multiplayer games, such as board games, PC games, and mobile games. No matter what games you choose, the idea is to have a lovely start to the new year with something that you can make your day.
Determine some creative prize for the winner. Be creative; surely everyone will enjoy and have fun because, in the depths of our souls, we are all still children! 
Party Servings
When you are enjoying, celebrating, and loving the vibe you are having, you wouldn't want someone to notice your old dinnerware sets and feel wrong about the arrangements you made.
To avoid such moments, it is better to have your stocks piled up with something classic, just like the elegant plastic dinner plates. These fantastic-looking plates will help you on your new year bash to serve your guests with style.
Plastic disposable plates are now in trend as these are affordable plus come up with multiple benefits that you would be missing by using other dinnerware or other materials. 
Disposable elegant plates will assist you in enjoying your party without getting worried about cleaning your dishes after the new year bash is over.
The Perfect Christmas Tree Decor
One of the most essential things for New Year's Eve, in addition to the good mood, and before each of the above ideas, is a beautiful Christmas tree!
Indeed you have already given your home holiday decor, filling it with colors that inspire you. Looking at the photos on Instagram, you may have had the opportunity to think how they all look fabulous while showing ornate homes. In contrast, your Christmas tree and decorations look very simple and modest. If you are ready for some adventure, we will show you how to quickly bring your look to perfection. 
Choose a Theme for Your Christmas Tree
When you choose a specific theme, it will be much easier for you to create an attractive New Year's tree look. Don't limit yourself to classic Christmas decorations, but look for your inspiration in moments such as retro or boho style.
Wrap Your Christmas Tree with Decorative Strips 
Give it an extra layer of decorative details to make your Christmas tree more interesting. For example, decorative satin ribbons are perfect for wrapping a Christmas tree either spirally or in free fall. This way, not everything is reduced to Christmas balls and glittering lamps, and the whole composition becomes richer.
Bring a Little Nature into the Whole Story 
If you love that natural feeling all around you, why not include it in the story around your Christmas tree? Enrich the top of the Christmas tree with twigs and dried flowers, and hang cones on the branches that will make even an artificial Christmas tree more natural. Also, with the help of dry twigs and flowers, you can fill your Christmas tree with its entire length if it is a natural one that lacks density.
Add a Beautiful Stand to Your Christmas Tree
In this case, we do not mean a classic stand or basket, but a soft blanket, a fur coat, or a knitted scarf with which you will wrap the base of the Christmas tree. Just imagine how perfect the gifts will look next to this base.