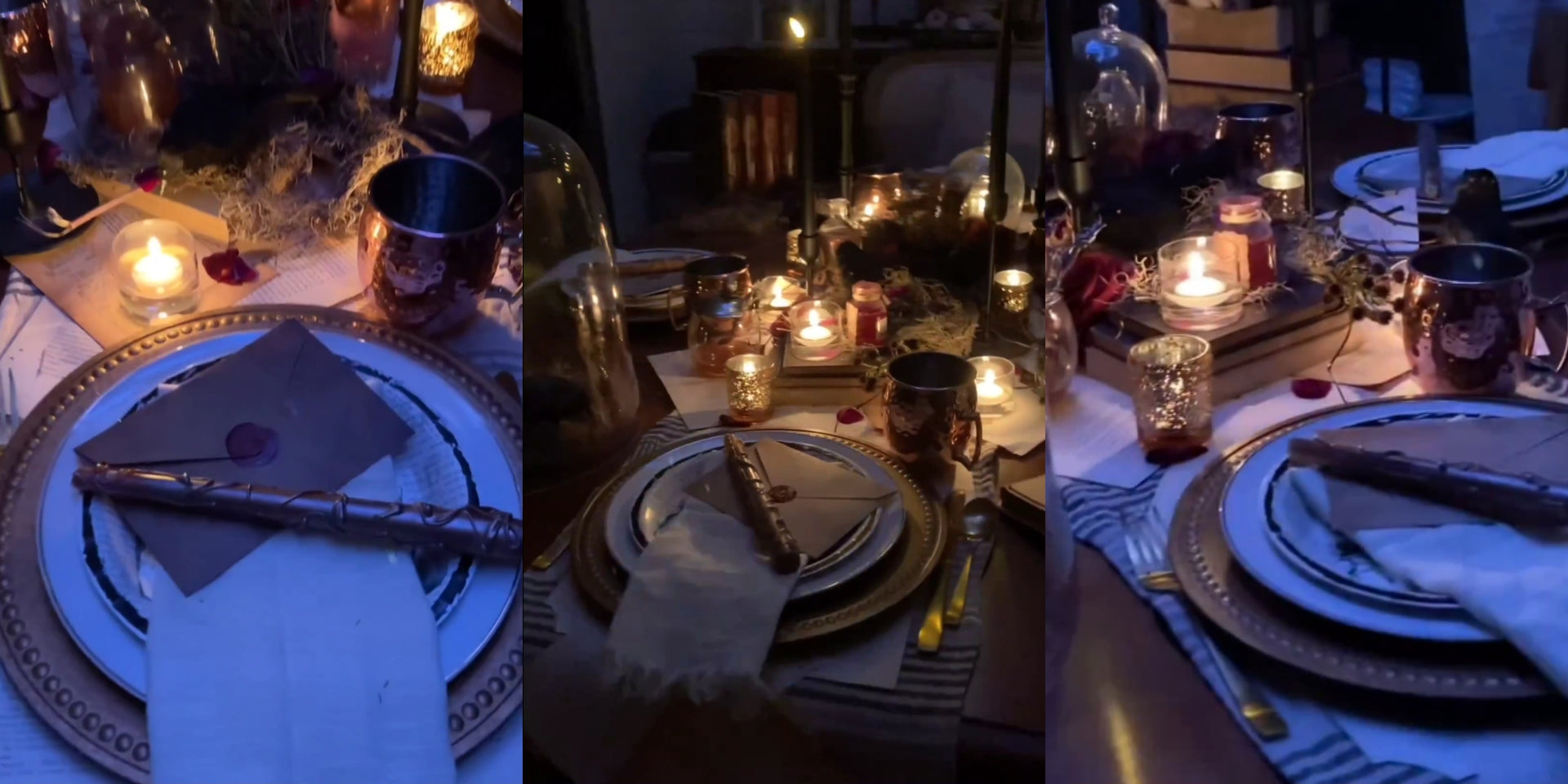 A Feast Fit for Wizards: Harry Potter Halloween Table Inspiration
Welcome to the enchanting realm where the magic of Harry Potter meets the spook-tacular spirit of Halloween! If you're a devoted Potterhead or just someone enchanted by the wizarding world, you're in for a treat. In this blog post, we'll embark on a journey to create a feast fit for wizards—a Halloween table inspiration that blends the charm of Hogwarts with the season's festivities.
Magical Feast: Creating a Wizardly Halloween Table Inspired by Harry Potter
Whether hosting a small gathering of fellow magical beings or conjuring a celebration for your favorite muggles, this guide will unveil the secrets to crafting a Harry Potter-inspired tablescape that's nothing short of magical. So, grab your wand, don your house colors, and get ready to be spellbound by the creativity and inspiration that awaits. 
The Basics of a Wizardly Tablescape
When transforming your dining space into a magical haven inspired by Harry Potter, the foundational elements play a crucial role in setting the enchanting tone. 
Choosing the Right Color Palette: Hogwarts House Colors
The heart of any Harry Potter-themed decor lies in the vibrant and distinctive colors of the four Hogwarts houses. Whether you're a daring Gryffindor, an ambitious Slytherin, a loyal Hufflepuff, or a wise Ravenclaw, infuse your table with the essence of your chosen house. From crimson and gold to emerald and silver, let the color palette serve as a visual feast that pays homage to the beloved school of witchcraft and wizardry.
Tablecloth and Table Runner: Adding Magical Texture
Once you've established your house colors, it's time to dress the table in magical textures. Consider a tablecloth that mirrors the grandeur of the Great Hall, with intricate patterns or subtle designs that echo the wizarding world's rich tapestry. Complement this with a table runner featuring motifs such as broomsticks, wands, or magical creatures, creating a visually stunning foundation for your enchanting feast.
Centerpiece Magic: DIY Potions and Pumpkin Displays
No wizardly tablescape is complete without a show-stopping centerpiece. Dive into potion-making by crafting DIY potion bottles filled with mysterious liquids (use colored liquids or glitter for an extra magical touch). Arrange them in varying heights for a dynamic display. Surround these magical potions with an array of real and crafted pumpkins to evoke the autumnal ambiance of the wizarding world. Add a touch of wizardry by incorporating mini witches' hats or tiny broomsticks to complete the spellbinding centerpiece.
Elements of Harry Potter Magic
Now that we've laid the foundation with a captivating color palette and spellbinding textures, it's time to infuse the true magic of Harry Potter into your Halloween tablescape. 
Incorporating House Crests: Gryffindor, Slytherin, Hufflepuff, Ravenclaw
Embrace the sense of camaraderie and competition by prominently featuring the iconic crests of the four Hogwarts houses. Whether through embroidered napkins, crest-shaped placemats, or even individualized house banners, let your guests proudly declare their allegiance. This adds a visual spectacle to your table and sparks friendly banter and bonding over shared house pride.
Spellbinding Place Settings: Name Cards and Wand Accents
Elevate the dining experience by personalizing each place setting with wizardry. Craft name cards adorned with miniature wands, or place a wand at each setting for a magical touch. Consider creating custom Hogwarts acceptance letters as place cards, making each guest feel like they've just received their invitation to the wizarding world. These small but thoughtful details will make your feast feel like an exclusive event in the heart of Diagon Alley.
Magical Candlelight: Floating Candles and Lumos-Inspired Lighting
Lighting sets the mood, and candlelight is an integral part of the magical ambiance in the wizarding world. Create the illusion of floating candles above your table by suspending them from the ceiling or using transparent strings. To enhance the mystical atmosphere, incorporate Lumos-inspired lighting. Consider placing fairy lights in jars or lanterns to evoke wizarding spells' warm and enchanting glow.
A Feast for the Eyes and Palate
Now that we've set the stage with a wizardly atmosphere let's turn our attention to the culinary delights that will make your Halloween feast truly magical. Get ready to indulge in a menu inspired by the wizarding world and beverages that carry the essence of the Great Hall.
Magical Menu: Harry Potter-inspired Dishes and Treats
Create a menu inspired by the Harry Potter series with Butterbeer cupcakes, chocolate frogs, and Bertie Bott's Every Flavor Beans. Serve Mrs. Weasley's pumpkin pasties, Hagrid's rock cakes, and a golden snitch-inspired dessert. Transport your guests to the wizarding world.
Beverage Charms: Pumpkin Juice, Butterbeer, and Polyjuice Punch
Complete your wizardly feast with iconic drinks straight from J.K. Rowling's magical universe. Choose from refreshing Pumpkin Juice, frothy Butterbeer, and mischievous Polyjuice Punch. Non-alcoholic versions available for young witches and wizards.
DIY Edible Wands: Adding a Sweet and Playful Touch
Elevate your dessert game with DIY edible wands. Crafted from pretzel sticks, chocolate, and colorful sprinkles, these whimsical wands add a sweet and playful touch. Create an interactive experience by having guests make their own edible wands, unleashing their inner wizards in a fun and delicious way.
The Chamber of Dining: Spook-tacular Place Setting
While we immerse ourselves in the magical world of Harry Potter, let's not forget the practical magic that can elevate your wizardly feast. Smarty Had A Party brings a touch of sophistication and convenience to the table, ensuring that your Halloween celebration is as enchanting as it is seamless.
Smarty Had A Party's Modern Plastic Dinnerware
Say farewell to the ordinary and embrace the extraordinary with Smarty Had A Party's modern plastic dinnerware. This collection is designed with style and durability in mind and provides the perfect canvas for your magical table setting. Choose from various plates that mimic the elegance of fine china but offer the convenience of disposable dinnerware. Your guests will be enchanted by the upscale look and feel, and you'll appreciate the ease of cleanup with Smarty Had A Party's modern plastic dinnerware.
Elevating the Experience: Fancy Plastic Plates for a Touch of Elegance
Transform your table into a banquet fit for the most discerning witches and wizards with Smarty Had A Party's fancy plastic plates. These plates add a touch of elegance to your feast, elevating the dining experience and ensuring that your guests feel like they've stepped into the magical world of high-society wizardry. From ornate patterns to sleek designs, these plates bring sophistication to the table without sacrificing the convenience of disposable dinnerware.
Convenience and Style: Disposable Silverware to Enhance the Wizardly Feast
Maintain the perfect balance of convenience and style with Smarty Had A Party's disposable silverware. Crafted with attention to detail, these utensils offer a metallic sheen that complements the magical ambiance of your Halloween table. Bid farewell to the hassle of washing silverware while preserving the upscale feel of a wizardly feast. Smarty Had A Party ensures that your table sparkles with style, effortlessly enhancing the overall enchantment of the occasion.
Sipping in Style: Plastic Drinkware
Raise your Butterbeer or Polyjuice Punch in style with Smarty Had A Party's plastic drinkware. Whether it's champagne flutes, tumblers, or wine glasses, these sophisticated yet disposable options add a touch of glamour to your beverage presentation. The crystal-clear design mimics real glass, providing an upscale look while simplifying cleanup. Sip and savor the magical concoctions of your feast with the assurance that Smarty Had A Party has your drinkware needs covered.
Putting It All Together
The time has come to weave all the magical elements together and witness the transformation of your dining space into a wizardly haven. Let's explore the final touches that will harmonize Harry Potter's magic with Halloween's spookiness, creating a feast fit for wizards.
Complete Tablescape: A Harmony of Magic and Halloween
Behold the culmination of your creativity—the complete tablescape that seamlessly blends the enchantment of Harry Potter with the allure of Halloween. Every detail contributes to the magical ambiance, from the house-colored palette to the whimsical DIY potions and pumpkin displays. Take a step back and appreciate the harmony of elements—the house crests proudly displayed, the spellbinding place settings, the flickering candlelight, and the inviting aroma of Harry Potter-inspired dishes. This is not just a table; it's a portal to the wizarding world.
Tips for Budget-Friendly Decor: Maximizing the Impact of DIY Elements
Creating a magical atmosphere doesn't require a Gringotts-sized budget. Embrace the spirit of DIY and discover the power of budget-friendly decor. Repurpose everyday items into magical artifacts, and let your imagination run wild. Consider inexpensive alternatives for house crests, utilize affordable tablecloth options, and explore thrift stores for unique finds. With a touch of creativity and resourcefulness, you can maximize the impact of your DIY elements, turning ordinary items into extraordinary pieces of wizardry.
Encouraging Personalization: Adding Unique Touches to Reflect Your Wizarding Style
No two wizards are alike, and your Halloween table should reflect your unique wizarding style. Encourage personalization by inviting your guests to participate in the magic. They could bring their own wizarding robes or create personalized wand tags for their place settings. Allow room for individual expression and interpretation of the theme. Whether through house-themed accessories or personal touches that reflect favorite characters, infuse the table with unique magic that resonates with each guest.
Here's to a Halloween that's truly enchanting—a feast fit for wizards that will be remembered for years to come. Happy Halloween, and may your nights be filled with the magic of the wizarding world!