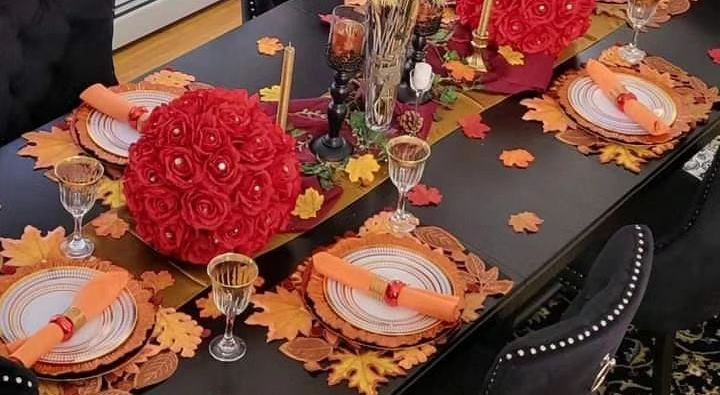 Autumn Elegance: A Guide to Setting the Tone for Your Fall Celebration
Welcome to the season of warm hues, crisp air, and the unmistakable charm of autumn. As we bid farewell to the heat of summer, it's time to embrace the rich and inviting ambiance that fall brings. Whether you're hosting an intimate dinner party, a family gathering, or a festive event with friends, setting the tone with an autumnal elegance can elevate your celebration to new heights. In this guide, we create a tablescape that reflects the season's beauty and exudes sophistication and warmth. 
Falling for Style: Inspiring Autumn Tablescape Ideas for Your Gathering
Whether you're a seasoned host looking to refresh your autumn hosting repertoire or a first-time host aiming to make a lasting impression, join us to discover the elements that will transform your fall celebration into an elegant and unforgettable event.
Setting the Foundation: Elegant Basics
Choosing Fancy Placemats
The foundation of an elegant fall tablescape begins with the placemats. Opt for fanciful placemats shaped like autumn leaves to instantly infuse your table with the season's spirit. These eye-catching details set the stage for the rest of your decor and serve as conversation starters, creating a warm and inviting atmosphere for your guests.
Opting for Disposable Charger Plates for Convenience
Strike the perfect balance between style and convenience by incorporating disposable charger plates into your autumn table setting. These elegant plates add a layer of sophistication to each place setting and eliminate the hassle of post-celebration cleanup. Choose autumn-inspired hues or metallic finishes to complement the overall theme and create a visually stunning effect.
Selecting a Stylish Plastic Dinnerware Set
Dinnerware sets the tone for the entire dining experience. Choose a stylish plastic dinnerware set that aligns with the autumn aesthetic you're aiming for. Look for pieces with intricate designs or subtle patterns that evoke the feeling of the season. The advantage of using plastic is its durability and ability to mimic the elegance of traditional dinnerware without the risk of breakage.
Elevating the Experience with Elegant Plastic Wine Glasses
Raise a toast to autumn with elegant plastic wine glasses combining the best style and practicality. These sophisticated vessels add a touch of refinement to your table while providing the convenience of disposable options. Choose glasses with delicate details or autumn-inspired motifs to enhance the overall elegance of your fall celebration.
Ensuring Convenience with Disposable Silverware
Ease meets elegance when you opt for disposable silverware. Eliminate the need for polishing and simplify your post-party cleanup while maintaining a polished look on your table. Choose silverware with intricate designs or metallic finishes to seamlessly blend convenience with a touch of opulence.
Adding a Touch of Luxury with Disposable Napkins and Napkin Rings
Complete the look of each place setting by incorporating disposable napkins and napkin rings. These small yet impactful details add a touch of luxury to your autumn tablescape. Choose napkin colors that complement your overall theme and pair them with stylish disposable napkin rings for an extra layer of refinement. The result is a table that exudes elegance and attention to detail, leaving a lasting impression on your guests.
Natural Elements as Table Decorations
Incorporating Real or Faux Autumn Leaves
Bring the outdoors in by incorporating the vibrant colors of autumn leaves into your tablescape. Whether using real or faux leaves, scatter them gracefully across the table or arrange them as a centerpiece. Consider a mix of reds, oranges, yellows, and browns to capture the essence of fall. This simple yet effective touch adds a natural, earthy element that enhances the overall elegance of your celebration.
Introducing the Beauty of Autumn Flowers
Flowers have a magical way of transforming any setting, and autumn blooms are no exception. Add seasonal flowers like dahlias, sunflowers, or chrysanthemums to your table decor. Choose a color palette that mirrors the warm tones of fall, and arrange the blooms in elegant vases or rustic containers for a captivating centerpiece. Fresh flowers' fragrance and visual appeal will add a touch of sophistication to your autumn celebration.
Creating a Cozy Atmosphere with Candles
Embrace the cozy ambiance of autumn evenings by strategically placing candles throughout your tablescape. Opt for pillar candles in autumnal colors or elegantly taper candles for a more formal setting. Consider using wood, metallics, or glass candle holders to add more sophistication. The soft glow of candlelight creates a warm and inviting atmosphere, setting the perfect mood for your fall celebration.
Adding a Rustic Touch with Pinecones
For a touch of rustic charm, introduce pinecones into your autumn tablescape. Scatter them around the table or use them as part of your centerpiece. Leave them in their natural state or paint them in metallic or autumn colors for a more refined look. The versatility of pinecones allows you to infuse a hint of the outdoors while maintaining an elegant and cohesive design.
The Harmony of Autumn Colors
Exploring a Palette of Warm Tones
Autumn is synonymous with a breathtaking array of warm and rich colors. Dive into a palette that mirrors the changing leaves and captures the season's essence. Think deep reds, burnt oranges, mustard yellows, and earthy browns. These warm tones evoke a sense of coziness and warmth, creating a visually inviting atmosphere for your fall celebration.
Coordinating Colors for a Cohesive Look
The key to an elegant autumn tablescape lies in the coordination of colors. Choose a primary color that serves as the anchor for your design and then introduce complementary shades to build a cohesive look. For example, consider accenting with gold, mustard, or muted greens if you opt for deep burgundy as your primary color. This thoughtful coordination ensures that every element on the table harmonizes, creating a visually stunning and well-thought-out aesthetic.
Balancing Bold Colors with Neutrals for Elegance
While bold autumn colors steal the show, introducing neutrals into your tablescape can elevate the overall elegance. Consider incorporating elements in shades of ivory, beige, or metallics to balance the vibrancy of the warm tones. This balance adds a touch of sophistication and allows the rich autumn colors to pop, creating a visually dynamic and refined table setting.
Where to Find Your Elegant Autumn Partyware?
Introduction to Smarty Had A Party Online Store
When curating an elegant and hassle-free autumn celebration, the right partyware can make all the difference. Let us introduce you to your one-stop destination for exquisite disposable partyware - the Smarty Had A Party online store. This online haven is designed for hosts seeking style and convenience, offering a curated selection that seamlessly blends sophistication with practicality.
The Range of Disposable Partyware Available
Smarty Had A Party understands that hosting a memorable celebration involves attention to every detail. That's why our collection of disposable partyware is carefully curated to meet the demands of elegance and ease. 
Explore Smarty's collection of autumn-inspired colors, patterns, and designs that capture the season's essence. Whether you're aiming for a rustic look or a more refined aesthetic, Smarty Had A Party offers a versatile range of options to suit your unique vision for an elegant fall celebration.
Tips for Making the Right Choices for Your Celebration
Theme Consistency

: Align your partyware choices with your celebration's overall theme and color palette. Smarty diverse collection allows you to find the perfect match for your vision.

Guest Count

: Estimate the number of guests you'll be hosting to ensure you have enough partyware for everyone. Smarty Had A Party offers bulk options, making accommodating gatherings of various sizes easy.

Mix and Match

: Feel free to mix and match different elements from Smarty Had A Party's collection. Experiment with colors, patterns, and textures to create a visually engaging and dynamic tablescape.

Consider Convenience

: Pay attention to the practical aspects while focusing on elegance. Smarty Had A Party's disposable partyware ensures a seamless setup and stress-free cleanup, allowing you to enjoy your celebration to the fullest.
Frequently Asked Questions (FAQs)
1. Where can I find the disposable partyware mentioned in the guide?
You can find the elegant disposable partyware featured in this guide at Smarty Had A Party's online store. Visit the website at SmartyHadAParty.com to explore their extensive collection of stylish and convenient partyware options.
2. How can I ensure that the colors of my tablescape harmonize well?
Explore warm tones like deep reds, burnt oranges, mustard yellows, and earthy browns to achieve a harmonious color palette. Choose a primary color and coordinate it with complementary shades. Balancing bold colors with neutrals, such as ivory or metallics, adds an extra layer of elegance.
3. Are the disposable partyware items durable?
Smarty Had A Party is known for providing durable and high-quality disposable partyware. While these items are designed for convenience, they are crafted to maintain an elegant and sophisticated appearance throughout your celebration.
4. How can I ensure the tablescape remains cohesive with diverse elements?
Pay attention to theme consistency and consider the overall aesthetic you want to achieve. Mix and match elements from the guide while keeping your chosen color palette and theme in mind. The key is to strike a balance and ensure that each element contributes to a cohesive and visually appealing tablescape.
Cheers to a season of elegance, warmth, and the joy of celebrating life's beautiful moments in the embrace of autumn's splendor. Happy hosting!