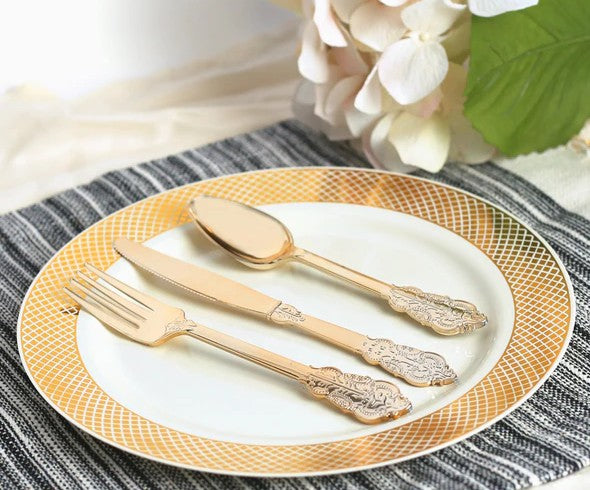 A Beginner's Guide to Vintage Flatware
''Magic is like silver cutlery - you only bring it out to either impress or stab important guests'' – Odette Bell.
Cutlery, flatware, and silverware, it doesn't matter. These are all quite lovely. If you're planning to start an antique silverware collection, you can't go wrong. But isn't it true that knowledge is power? So, here's a quick guide to help you find what you're looking for.
We'll be looking at everything from some simple sets to obscure (but incredibly fantastic) elegant vintage flatware designs below.
Things You Need To Know About Silver
"Is this pure silver?" we're frequently asked in the marketplaces. Of course, the answer is yes. Regardless of whether an item is hotel silver, coin silver, silver plated, or sterling silver, it contains silver.
Tip To Remember: Since silver is not magnetic, you can use a magnet to detect whether a fork or spoon is sterling or coin silver. Cutlery, platters, and other service items made of silver plate or hotel silver will attract magnets, but sterling or coin silver will not.
Sterling

 items must contain at least 92.5 percent silver and are easily identifiable by a 925 or above hallmark or the word "sterling" imprinted onto the item.

The oldest kind of silver in the United States is coin silver. The silver element of coins must be at least 90percent silver. Coin silver flatware is often stamped with the word "coin" and is bulkier than sterling flatware.

Hotel Silver

 is formed with a strong base element, such as copper or brass, with a thick silver covering on top.

A sterling silver teapot, flatware, or a bowl can easily be twisted or damaged, but a hotel silver bowl, teapot, or flatware piece is built to last. A hotel silver item will be more dazzling to the sight, with pitting and a far more matte look than other silver objects.

Silver-plated flatware

 is created using an electroplating technique invented in the 1800s. Typically, the base material is highly polished nickel silver that has been coated with a thin coating of silver. 

Stainless steel dinnerware

 is easily distinguished by its cold, glossy appearance. It has its place in the modern kitchen, but if you want to create a vintage silver collection, you should stay away from it.
Antique silverware is a broad term that encompasses everything from handcrafted antique silverware to mass-produced real flatware. Reading an excellent flatware buying guide would aid anyone who's thinking to upgrade the kitchen with vintage silverware. 
Tips on How to Tell If Silver Is Plated or Real?
Silver will be present in all original silverware. The amount of silver in antique silver cutlery differs from that in more typical disposable silverware. Plated silverware is formed of a base metal which is then silver-plated.
As you would think, this is less expensive for the suppliers, and it's an excellent method for them to build a lovely flatware set that they can sell at a lower price.
Sterling silver, on the other hand, is pure silver, and that's usually what we're searching for when selling or buying vintage silver spoons or the rest of the cutlery.
There are a few methods for vintage flatware buyers to determine whether or not the flatware they're holding is authentic cutlery.
Try the following simple techniques:
Is it possible to locate a hallmark? Silver hallmarks are usually a brilliant sign of silver flatware's worth. There is more information on all these below. However, silver hallmarks are mostly a spectacular predictor of the flatware value.

What is its weight of it? Due to the base metal at its heart, sterling silver tableware is much heavier than silver-plated flatware.

Is it attractive to you? Since silver is not magnetic, if a magnet is pulled to a piece of tableware, it is likely to be plated rather than pure silver.

 Using ice cubes is another simple way to determine whether the silver is pure or not. On a silver coin or cutlery, put an ice cube. If the ice cube melts rapidly, you have genuine metal and vice versa.
How To Choose A Good Quality Vintage Flatware Set?
Measure the dimensions of the fork prongs and their ends. These are the two most heavily used parts. The fork prongs and spoon rims are sometimes trimmed down and reshaped by a silversmith. The shape will improve in this scenario, but the fork prongs will become shorter, and the spoon bowls will become thinner.

The second most crucial thing we look for is that the decor is in good working order. The decoration seems rough and soft if the set has been highly polished. 

It's crucial to consider the condition of vintage flatware sets while comparing them. A damaged set will be far less expensive than one in good condition. If you find affordable flatware somewhere, make sure to inspect it thoroughly.
Caring And Cleaning In 5 Minutes or Less!
The flatware that is not properly cared for will tarnish and lose its shine over time. Take pride in your silverware's maintenance!
There are numerous DIY techniques for prolonging the life of your silverware and preserving its shine. Here's how to take care of your antique cutlery at home.
Soak your silver gently in a tub of 2 cups boiling water (to saturate and soak), 1⁄2 cup pure white vinegar,1 tbsp sea salt, and 1 tbsp of baking soda. 

Based on the quantity of tarnish or dirt, soak for up to 3 mins.

With tongs, remove your flatware from the water and dry it with a soft cloth.

Make use of silver polish. Apply a few drops of polish on a clean wet (soft) cloth and rub it vertically over the flatware. Clean your flatware by rinsing it in warm water and buffing it with a dry cloth.
Many antique pieces, including a strawberry fork, ice cream slicer, sardine server, butter pick, iced teaspoon, tomato server, food pusher, and sugar tongs, will add beauty to your dining table.
If you're concerned about buying classy sets of disposable flatware, visit our website and grab your favorite antique pieces. We have the premium quality fancy plastic silverware that your guests would love!