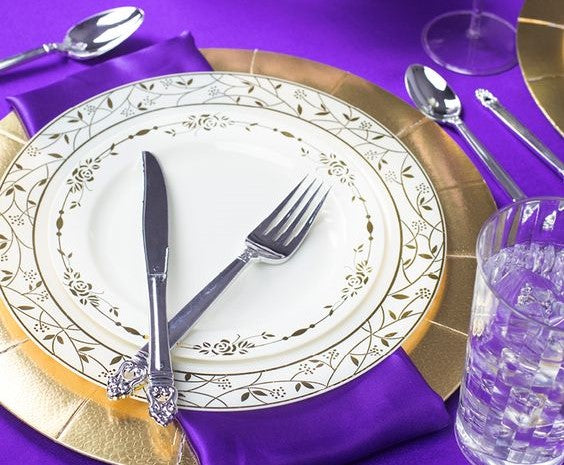 What is the Best Wedding Theme for 2022?
This year, not so new anymore though, has brought versatile ways of throwing a wedding party. You can go from choosing a minimal, monochromatic theme to a maximal glamorous wedding reception. But you really want to choose a theme, that is both chic and trendy, what do you do? You select a color as a theme because of the visuals, of course, but not just any color. Choose Pantone's color for the year 2022: "Very Peri".
As most people are already including this color in their weddings, it is the right time to get on the bandwagon, or else it will be too late. But we did not want you to throw a very peri-inspired wedding reception just like everybody else. Our creative experts sat down together and came up with the most exquisite ways in which you can incorporate very peri in your wedding party and keep a pace with the trends.
Very Peri - Pantone's Color for 2022 Weddings
The crown of "The Color of the Year" went on to very peri's head this year. This color is undoubted, an eye-catching one and definitely lives up to the Pantone's description of the color as it "displays a spritely, joyous attitude and dynamic presence that encourages courageous creativity and imaginative expression".
Taking forward that 'courageous creativity', set this color as your wedding theme and go all out with it. As we were talking about versatile ways of throwing a wedding party, this color offers versatility in a lot of ways. Using this fabulous color, you can throw as simple or as glamorous wedding reception as you want.
Wedding Dresses for 2022
Have you ever gone shopping for a wedding party dress and went like, "I like the top half of this dress and the bottom half of that one", knowing that the two could not be combined. Well, we have left that problem in the previous years as you can mix and match different colors and styles in this year's trends.
Also, separates are very much in trend, which is not a thing, but this year they are a little different. Earlier you would rarely see them, maybe like one or two in a collection, but this year you will see entire collections of separates. For a two-piece bridal dress, choose a heavily embroidered top paired with a plain long chiffon skirt in Very Peri, of course.
Make Your Very Peri Themed Wedding More Glamorous
Your wedding reception would only look elegant if you decorate everything staying within the chosen theme. The backdrop, your dress, the decor, and most importantly, the party tables - all should be nicely decorated and well set.
For a Very Peri inspired wedding reception, your party tables should have a slight touch of the color, or you can put everything on the table in the said color - it is totally up to you. We would suggest you incorporate a mix of lavender, lilac, white, and very peri to create that balance. Maybe, like getting the dinnerware in a darker shade and the tablecloth in a lighter shade, such as ivory or periwinkle.
For the dinnerware, your top choice should be Smarty's disposable dinnerware for weddings. Hold on, let us give you all the right reasons for picking these plastic dinnerware sets for your wedding.
Number one, they are durable, compact, sturdy, conveniently disposable, functional, elegant, and will not break easily like your ordinary disposable dinnerware (not to hurt any dinnerware's sentiments though). 
Plus, you will acknowledge that they are extremely elegant the moment you look at them. Talk about the elegant and highly fashionable designs, slick texture, varying patterns, and oh, the wide range of eye-appealing colors - our plastic wedding tableware sets offer them all.
You can get fancy disposable wedding dinnerware sets thet includes matching dinner plates, salad plates, and bowls, crystal clear tumblers, and a set of matching spoons, forks, and knives from Smarty Had A Party in lilac and purple color to make your theme match. Go to our website and click "Shop By Color", and you will be taken to the section where you can shop entire collections as well as individual pieces based on their color. Mix and match lilac, purple, and lavender, and don't forget to pick an item in a slightly subtle color to break the monotony.
Everlasting Flower Arrangments
The history of dried flowers takes us back to the 16th century when it became a popular hobby in Victorian England. No matter how innovative the Gen Z gets, there are a few trends that they can't help but bring back into their lives. Somebody just said, "They are back! Dried flowers are making a comeback", and we cannot stop loving it.
Everlasting flowers, or dried flowers, make up for great wedding decor - Why? A single scroll through Pinterest will answer your question.
Make a gorgeous flower arch for your wedding party and fill it with dried lilac, lavender, and wisteria flowers. And when we say "fill it up" you have to understand the assignment and really fill it up with flowers. In the case of dried flowers, we can safely say 'the more - the better'.
Also, you would get to keep the flowers after the wedding party is over, so it is a win-win situation overall.
Brighten Up with Purple Lights
Your event's color scheme matters more to the event planners and photographers than you think!
Artsy Creations
Pantone has literally tried to give us a creative spirit through this color, so how can we not get artistic and create beautiful and elegant decor pieces for our wedding reception?
Create Very Peri floral invitations and paint very peri blooms on them. You can write a little something for the party guests on the invitations to make them feel more welcomed.
You can make popsicles with Very Peri colored flowers as wedding favors, which are perfect for the season as well. Put blueberry smoothies on the tables for a perfect Very Peri table.