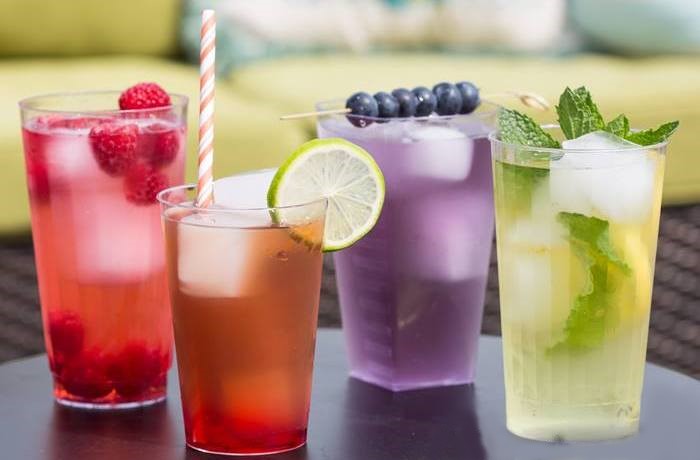 7 Best Summer Cocktail Recipes
Everyone wants a colorful, energizing, calming summer cocktail to beat the scorching heat. The cocktail's flavor depends on the person who will drink it because everyone has a personal preference for cocktails. Some people like light cocktails with more fruit essence; others like them to be strong and minimalist.
Summer cocktails have multiple choices, like sweetened, tangy, bitter, or peppery. You can choose any of them accordingly, and they will definitely benefit you to cool down and will uplift your mood in melting heat.
Uplifting cocktails are the best option to stay hydrated in the summers. Here are the seven best cocktail recipes to try out this summer that is easy to make and have a long-lasting taste in your mouth.
1. Slushy Strawberry Margarita
If you are hosting a cocktail party at home and searching for a recipe that tastes just like the restaurant, this strawberry margarita is just for you. You will need only six ingredients to make this cocktail. The ingredients include:
Tequila

Frozen lime juice

One tablespoon of sugar

A liqueur with a low percentage of alcohol

Sea salt

Frozen Strawberries
Use all the ingredients in their frozen form to give the drink the best texture. Blend all the ingredients in a blender. You can top the rim of your glass with sea salt to give your drink a salty touch. You can serve the cocktail in our disposable cocktail glasses, which come in different styles and designs.
2. Watermelon Tequila to Cool You Off!
You can use what summer has in abundance to beat a hot summer day that is watermelon.
To make this cocktail, you will require the following ingredients:
Seed fewer pieces of watermelon

Tequila

Sugar Syrup

Mint leaves

Lemon
Strain the watermelon juice and mix it with tequila, then add sugar syrup and lemon juice. Finally, decorate your glass with mint leaves.
If you are having a party at your house, you can add this refreshing drink to your cocktail bar, and your guests will love it. Another idea to make your party stand out is using disposable drinkware instead of glass drinkware. It will be comfortable for your guests as disposable glassware is lightweight, and it will be easy for your guests to carry them around.
3. Add Italian Touch to Your Typical Cocktail
Turn your classic cocktail into an Italian cocktail by adding a few more ingredients such as lime juice, orange juice, tequila, and amaretto (a unique liqueur.) This liqueur will add a rich taste to your drink. In addition, lemon juice and orange juice will give your drink a sour finish. And you will have a sweet-sour fruity drink that will be loved by your taste buds. Finally, add a fresh, thinly sliced orange to the glass to enhance the look of your cocktail.
4. When Life Gives You Lemons, Make Lime-Lemon Grass Cocktail
A sweet and sour lime with lemon grass slushy cocktail can be refreshing for summer and a complimentary drink with many dishes at your party. To make these cocktails, you will need a blender, lemon grass in thinly cut pieces, honey, fresh lime juice, and sea salt.
Boil lemongrass in a pan with a little bit of water. Add honey to sweeten it after removing it from the heat. Stain the sweet mixed with the sieve and add it into the blender. Remove lemongrass before blending.
Garnish it with lemongrass and serve it to your guests at a party or enjoy it yourself. At a cozy cocktail party at home where you don't want to use expensive glassware try using our plastic drinkware, which is very feasible and gives a stylish and classy impact to our simple cocktail parties.
5. Chile Lime Pineapple Cocktail
If you like Chile in your cocktails but are not in the mood to go to any restaurant for cocktails, we have you covered. You can make Chile and lime pineapple cocktails easily at home with the following ingredients:
Pink peppercorns

Lime

Crushed Chiles

Fresh pineapple juice

Sugar

Sea Salt

Liquor or club soda
To make this cocktail, firstly crush peppercorns with a knife, place lime juice in a bowl, and add peppercorns, sugar, and salt. After covering the container, let it set for a few hours. After that, add pineapple juice and club soda into the glass and add ice cubes generously.
This cocktail can be a good idea for a beach party, and you can serve it even to your calorie-conscious friends because it has zero calories. Also, if you are planning a party at the beach but are worried about using breakable glasses at your fun party, then you are at the right place, as our disposable wine glasses will be perfect for your beach cocktail party.
6. End Your Day With Colorful Summer Sunset Vodka Cocktail
If you are a person who loves fruit juices and cocktails, this is your drink. It comprises orange juice, lemonade, cranberry, chunks of peaches, and vodka. The orange, beauty, and cranberry give it colors of an aesthetic sunset. It would be an ideal drink for a mini pool party.
7. A Rich Colored Mint Filled Blueberry Cocktail
This will be the best cocktail for your Halloween party because of its rich maroon color, but its taste is the thing one can desire throughout the year. It has a different tasty and tarty flavor that your guests love at any party.
Adding mint adds a beautiful smell that refreshes your mind during a hot summer day. The honey added to the cocktail gives a different and refreshing sweet taste to the sourness of the berries. It is a drink that has a bold color, a mix of sweet and tangy flavors, gets ready in no time, and will definitely be a hit on the cocktail bar.
Try our fancy plastic tumblers at your cocktail party to give it a more attractive look, and you will not regret it. They come in different shapes and sizes and come in unique styles. They will enhance your party's elegance and the advantage that they are feasible to use.