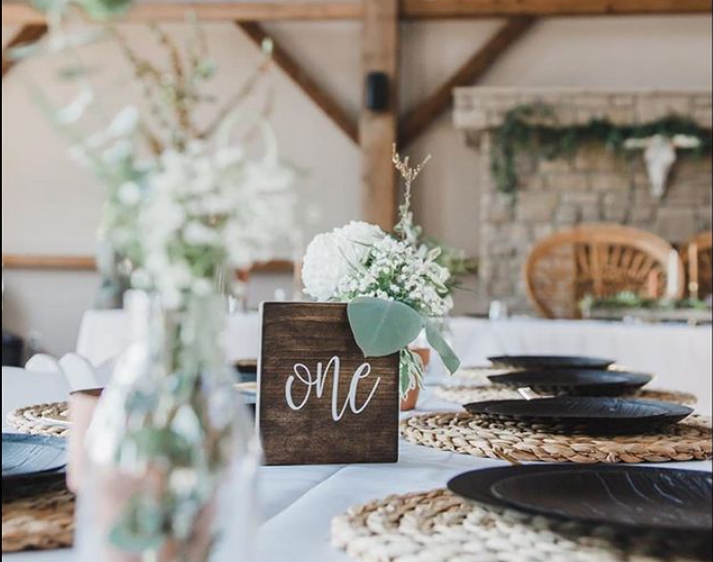 6 Wedding Décor Trends to Impress Your Guests
In the world of technology, we are more likely to follow trends other than traditions. And every year, the newer trends are set in the industry, and keeping an eye on them is tricky. Therefore, when researching your wedding, it's necessary to look at the newer trends.
Having trending decor is critical when you want to turn your wedding into a success story that people remember for years. To help you achieve a trendy look for your wedding, we have curated a list of 7 wedding decor trends you should follow while planning your wedding. But then, stick to the end to discover ways to impress your guests with your wedding decor.
1 - Muted Colors 
While some are after the vibrant color wedding decorations, most are unaware of muted color trend. The mutes colors bring simplicity to your wedding decor by adding natural and neutral color schemes.
Just because it's about having your wedding decorations minimalist and straightforward doesn't mean it should be boring, as simplicity is the purest form of beauty and elegance. Choose neutral color schemes for your wedding decor if you want to highlight and make every detail of the decor pop up.
Adding texture to your wedding decor will bring the most out of the neutral color schemes and provide a minimalist yet elegant look. For adding textures to your wedding decor, the invitation card can be a great tool to enhance the intensity of elegance of your wedding decor.
Ask your stationery designer to add textures to your wedding invitation card. It will be the next level of thoughtfulness if you put quotes on your wedding invitation cards so your guests can frame them for years to remember.
 2 - Embroidered Tablecloth
The tables are the center of attention at any wedding venue, and tables play a significant role in making the wedding decor stand out. Table cloths can be a great addition to your wedding decor to add a fancier touch to your table.
Embroidered tablecloths are trendy and perfect for adding character to your wedding table. All you need to do is to incorporate the color scheme of your wedding in the tablecloth to make it communicate with your wedding decor.
However, a white tablecloth with embroidery looks more attractive and works best when looking for a muted color wedding theme. Also, a white embroidered tablecloth with rustic table settings will cherish your wedding decor.
3 - Textured Tableware
Regarding table decor, the focus is always on adding a fancy tablecloth and attractive centerpieces, but the serving wares are mainly overlooked. However, the serving ware is what the guests would be coming in contact with while sitting at a table.
The plain white dinnerware is usually seen as tableware for the most formal settings, but now with the advent of various new designs of the dinnerware have set up new standards for traditional table settings.
Now, textured tableware is preferred to elevate the table decor. So whether you are planning to have a vintage wedding theme or a minimalist one, the textured dinnerware will star your wedding show.
Style up your wedding tableware with elegant disposable dinnerware for weddings by "Smarty Had a Party." Elevate your table decor with enchanting disposable wedding dinnerware sets that come in various designs and colors in your imagination.
Apart from the style and look, they serve the practical benefits of speeding up the clean-up process for you. In addition, since they are disposable, so you wouldn't need to spend their clean-up cost.
4 - Let the Nature Play Your Decor Part
With the withdrawal of the pandemic, it seems to be a significant relief and a sense of freedom for everyone. And, for the couples who dream of having a destination wedding somewhere in the mountains or forest, it's a golden time for them.
Gone are when weddings used to take place in confined places or banquets. Now couples want somewhere out in the open air in the backyard or in a garden.
At destination weddings, you won't have to rely on handmade decorations. Since the venue is an enchanting and mesmerizing spot, nature plays the decor part. Plan your wedding somewhere in the woods of a national park or even your favorite where you find a sigh of relief.
It wouldn't be a personalized venue but a mesmerizing decor with mixed rustic vintage elements naturally incorporated into the set. Then, play with the lights to add a modern touch to your wedding decor.
5- Enchanting Cake Trend
The cake is a constituent part of any wedding reception. The cake cutting ceremony is a symbolic moment for the couple, as everyone eagerly waits for the couple to cut it and share the happiness and joy with the audience.
With cake having so much attention at a wedding, its style and design shouldn't be overlooked. Having a personalized cake matching your fashion taste and reflecting your personality is what couples prefer now.
Now cakes are seen at weddings full of rich colors, bold color patterns, and unevenly heightened. When deciding on the cake design with your designer, ask for metallic patterns and beautiful textures reflecting your wedding theme with bold colors.
6 - Gorgeous Florals
Flowers bring an attractive touch to any decor but incorporating the gorgeous green floral is an excellent way to add a natural touch to your wedding decor. In addition, they are inexpensive and can be used in ceilings, walls, walkways, and tables at your wedding venue to provide a mesmerizing touch to your wedding.
Filling out the ceilings with a floral touch and setting up floral centerpieces on the table makes the eye lead along with the length of a table is a newer trend of incorporating the flowers and the green element.
Adding mesmerizing florals to the decor is a newer trend, but incorporating them into your wedding decor should be done creatively to make things communicate formally at your wedding decor.