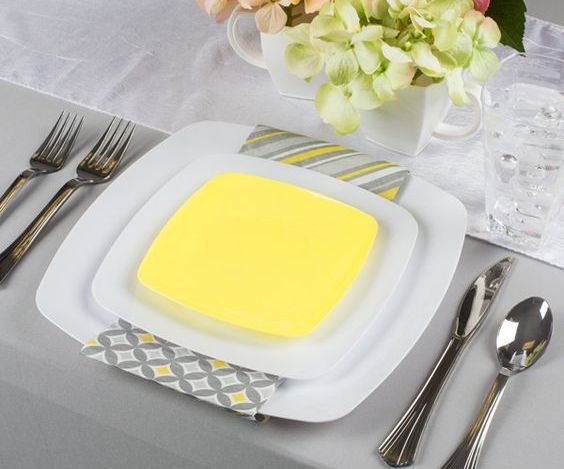 5 Summer Party Theme Ideas that will Leave Your Guests in an Awe
Whenever the idea of a summer party comes into our mind, bright colors and vibrance come along. The best way to enjoy all the warmth is by throwing a fun summer party. Summer parties give you a chance to get creative with the décor, themes, and obviously some good food. An elegant-looking plasticware is what becomes the center of attention at the party. So, it is essential to make the best choice regarding tableware.
With elegant party supplies at SmartyHadAParty.com, you can have a blast. Our colorful plastic dinnerware comes in a variety of color options to match any kind of your preferred theme. In addition, you can choose from our colorful plastic dinnerware for different themes.
Here are a few summer party theme ideas to make your parties extraordinary:
Tropical Theme
Take your guests to a tropical paradise with our colorful plastic dinnerware and disposable party dinnerware set. Nothing competes with a tropical island-inspired party filled with color, vibrant décor, music, and good food. A plasticware that includes natural and organic hues, mostly a nice blend of greens, pinks, light purples, and light blue, is ideal for a tropical theme. For that, we have Tropical Blue Square Beautiful Plastic Plates and a Tropical Coral Square Disposable Plastic Wedding Value Set. 
An All-White Evening Party
Specific colors are associated with particular moods. For example, green represents nature, while white color is the accurate representation of purity and peace. An evening party with a white theme would be perfect for its calming, fresh look. Choose our white plasticware collection to bring purity and calm to the party. Our beautiful white plastic plates with golden edge rims exude grace and beauty in the most valid form.
Afternoon English Tea Party
Providing a nostalgic element, afternoon tea parties are unique for everyone. Throw an afternoon tea party with your intimate peer and include some delicious foods. Choose a collection of pastel colors with charming patterns from our elegant party supplies. Having some flowers alongside would be perfect to greet your guests with the redolence of roses. 
Vibrant Beach Party
The summer beach party colors include mainly 5 colors: Beige, Maximum Blue, Green, Magic Potion, and Jasmine. These colors create an epic look taking the vibe to another level. Have fun in the sun with our elegant party supplies. Preferably, choose our Turquoise Vintage Round Disposable Party Dinnerware Set and White with Gold Marble Square Disposable Paper Elegant Charger Plates for your enjoyable beach party.
Retro Theme
Take a step back in time and celebrate your birthday in a retro theme. The 70s and 80s were all about pop music, dance, and crazy clothing. Turquoise, black, and pink will give a vintage feel to your party. We have the most exquisite Black Vintage Rim Round Disposable Party Dinnerware Set for a perfect vintage-themed party. For the charger plates, choose our Gold Square Edge Beaded Disposable Paper Charger Plates that flawlessly go with the black-colored beautiful plastic plates.
Hawaiian Luau 
Nothing says summertime like sand and surf, and a luau party can make anywhere feel coastal, no matter how far you are from shore. Using our Square Palm Leaf Eco-Friendly Disposable Dinnerware Value Set, you can bring that beachy tropical feel to your luau-themed dinner table, thanks to their wood-like appearance. In addition, their earthy light brown color makes the perfect accompaniment to any floral leis you decorate the party with. 
Night at the Carnival
The smell of carnival food and cotton candy mingling with the lights of games and rides is a fun experience at any fairgrounds. Doing a carnival-themed summer party will introduce all of that flair and liveliness to your own backyard. We offer partyware in vibrant colors of the rainbow, from Burnt Orange Square Plastic Plates Dinnerware Value Set to yellow to Purple Paper Dinner Napkins to Shiny Metallic Red Classic Plastic Cutlery Set. This will let you set your table with the same level of color and personality that you might find at the carnival this summer. 
Backyard Bohemia
Bohemian styles are in, and that goes well beyond clothes and fashion. Throw a stylish summer party with bohemian flair using wicker furniture, cozy rugs, soft throw pillows, and natural-colored partyware. Setting your table with our Square Palm Leaf Eco-Friendly Disposable Dinnerware Value Set adds to the rustic appearance of the overall setting and will tie in nicely with the rest of the cozy decor. 
Fourth of July Celebration
In the heart of summer sits the Fourth of July, one of the liveliest celebrations of the year. This day serves as the perfect opportunity to throw a summer party that centers around the American flag's red, white, and blue colors. Choose from any of our rich blue, vivid red, or new white dinnerware to serve your BBQ meal on. You can mix and match them to create a varied assortment of color and patriotic charms, like our Navy Blue Paper Beverage/Cocktail Napkins, Shiny Metallic Plastic Cutlery Set, and 9.5" White Square Plastic Dinner Plates.
Lemonade Stand Party
Few things are as refreshing on a hot summer's day as a glass of lemonade, and a party centered around the beverage opens many doors for decoration and refreshments. While aiming for yellow decor for the party, you can also take advantage of our yellow dinnerware, such as the Yellow Square Plastic Dinnerware Value Set to serve your finger foods, snacks, and other refreshments while sticking to the zesty theme of the party. 
Summer Camp 
Take yourself and your friends back to the days of summer camp with a party built around its nostalgic features. We offer a collection of dinnerware in natural colors, such as the 10" Square Palm Leaf Eco Friendly Disposable Dinner Plates that gives off a woody feel to bring back those campfire memories. Use our various colorful plates and napkins in the old camp colors of your youth for an even more nostalgic touch.