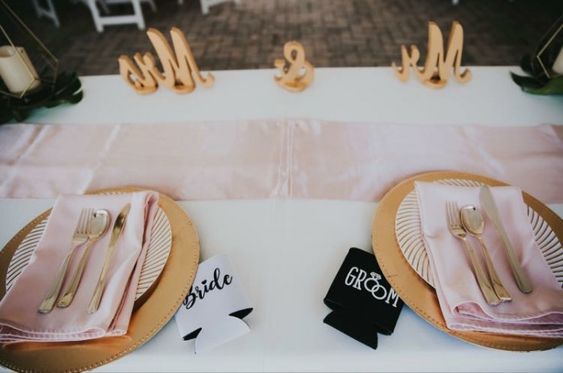 5 Reasons to Use Fancy Disposable Plates on Your Wedding Party
If you plan to throw a wedding party, using disposable plates must have hit your mind. However, you might doubt using them as your ultimate serving ware at your wedding. 
A few years back, disposable plates and cutlery were used only for picnic parties as they were cheap and provided ease to carry. But now disposable plates have taken the place of the best affordable serving ware option in the market. 
There are numerous reasons that you should prefer disposable plates over other serving ware options for your wedding catering needs. We have handpicked the top 5 reasons to let you know why fancy disposable plates work best when you have to serve at a grand event.
Get More by Spending Less
You will definitely rent the plates when you plan to throw a wedding party or reception as the many couples don't have plenty of dishes at home to serve the crowd. 
However, renting plates for a grand event like a wedding will be an expensive investment, as they cost up to $10 per guest, and depending on the city you are living in, it can go even higher. This is where the disposable plates win by providing you with the best and most budget-friendly alternative for all your serving needs. 
Disposable plates are pretty inexpensive compared to the cost of renting the dinnerware. Also, if dishes are broken by your guests or lost at your venue, you will have to pay the price for them to your catering service. 
Disposable plates aren't just cheap but allow you to have a hassle-free event without having a watch on the vessels at your event. They are so inexpensive that you will have to pay 4 times less than other plates like ceramics. 
Are you confused about where to find the most affordable and beautiful party plates? We have a place where you can find all types of elegant party plates at a fraction of the cost. "Smarty had a party" is an online superstore where you can get inexpensive, sleek, disposable wedding plates and everything your guests need at a table.
Clean Up Like a Breeze
One of the convincing features of disposable plastic plates is that they allow you to have hassle-free cleanup. But unfortunately, unless your wedding events occur at a banquet hall, cleanup is something you will need to plan and manage by yourself. 
And, cleanup becomes even more complex and nerve-wracking when you have to serve a long list of guests. Disposable plates are the best option for easy cleanup without even worrying about the number of dirty dishes.
Disposable plastic plates should be discarded after a single use, meaning you can collect them and throw them away in a trash bag without wasting your time, electricity, and water while washing them. 
By using disposable plates as your ultimate serving tool, you won't be just saving your money but also water and electricity. 
They Come in All Designs and Styles
Disposable plates are great when it comes to their elegant profiles. In addition, disposable plates come in as many colors, styles, and designs as possible. 
Compared to the other plates' materials, you will only find plain white dishes, but thanks to the modern technology used in the manufacturing process of plastic plates, you can get various styles and shapes of plates to choose from. 
You can style your tablescape that cooperates with your wedding theme with fancy plastic plates. You can find disposable plastic plates of your choice that match your wedding theme to add aesthetics and romantic vibes to your tablespace, so you can create some beautiful moments to remember for years to come. 
Get trendy elegant disposable plates that match your imagination at Smarty Had A Party. We have a wide variety of sleek disposable party supplies at a cost that fits right in your budget. 
Disposable Plates Are Easy to Carry
When hosting special guests on a particular day, making your guests comfortable would be your top priority. You will undoubtedly go beyond to ensure your guests are getting special treatment. But there's one thing that's usually overlooked; are they easy to carry? 
Think of this, when it's a cocktail hour, your guests would carry something on a plate and roam around the venue to gossip with friends. Your guests would need a plate that doesn't only weigh light but also performs practically. Disposable plates will be a relief for your guests during cocktail hour. 
Also, if you are planning a destination wedding somewhere in the national park, carrying the party supplies won't be an easy task, as there's always a risk of plates getting broken up. However, with disposable plates, taking them with you is a piece of cake. 
Disposable plates are lightweight and not as fragile as other plate materials. You can have many drops with plastic containers, but they won't get a scratch. Moreover, since disposable plates are lightweight, they require less space for storage and transportation.
They Look like a Real Thing
When planning about using disposable plates for your wedding's catering needs, the first and immediate question that would pop up in your mind would be, "Is it tacky to use disposable plates?" 
A straightforward answer is NO, as technology has revolutionized with time, and so have disposable plates. In addition, over time, the manufacturing process has been improved to get the most out of the plastic plates. 
When you think of plastic plates, what's the first thing that comes to your mind? Probably some plain white plates of a cheap quality that might leak after you serve a heavy meal on them. But thanks to the advanced coating technology that makes plastic plates sturdy and heavy-duty. 
In the present time, if you buy our elegant plastic plates, they will look as accurate as other premium quality plates, and your guests wouldn't be able to spot a difference.