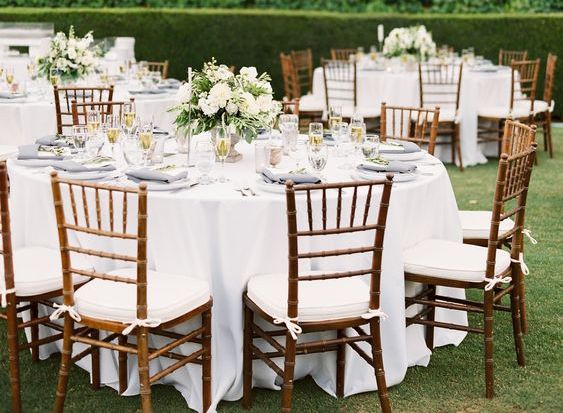 What Supplies Do I Need for a Wedding Reception?
While the emphasis of your wedding ceremony is on letting loose and having a good time, there's a lot more to planning the perfect party.
The things on a wedding reception checklist range from the major (tables, chairs, dancefloors) to the minor (cake serving set, table numbers, tablecloths), but each has a vital function to play in making your celebration run successfully.
We've provided a complete wedding reception checklist that includes everything you might want to go with. We've thought of everything, from popular décor to recommended menu additions and everything in between. You must also keep in mind the comfort of your guests.
Menu-Bringing Joy Of Food!
Anyone who has ever hosted a wedding or organized a party knows that the most important element of any successful reception is an attractive wedding meal.
It's easy to be overwhelmed by meals you've seen a hundred times when it comes to your reception food. Isn't it true that you want to serve anything really special? To get you started, we've compiled a list of wedding menu ideas that are everything except basic.
A piece of advice: communicate with your caterer and check the venue to make sure you're satisfied with your wedding menu choices. After you've figured out what you're up against, you can start getting creative.
Delicious Food Appetizers
Tomato soup paired with a bite-sized grilled cheese

Shrimp Gazpacho

Miniature crab cakes

Brisket with mashed potatoes
Main course
Pulled pork sandwiches

Cheese with dressed lobster mac

Shrimp and grits

Grilled chicken with sweet summer vegetables

Wild rice + Cornish game hen
Mouth-Watering Drinks
Cocktail Paletas

Basil Gimlets

Cold sodas

Sweet tea

Apple cider spiked with cinnamon
You can add flavors of your own choice and ones that your guests love.
Appetizing Desserts
Minimalist and simple wedding cake

Strawberry shortcake

Peach-blueberry cobbler

Ice cream sandwiches
The food network has a huge database of amazing recipes and videos, as well as highlights and episodes from previous food network series that have aired on television.
Tips To Save Money On The Eatables At The Wedding
These sensible ways below might help you reduce wedding costs and save money on food and beverages at a wedding.
Go with simple appetizers

Choose seasonal foods

Pick a not-so-fancy decorated wedding cake

Try not to hire servers

Restrict open bar
Must-Have Serving Supplies For The Wedding Reception
A magnificent wedding celebration requires an equally stunning dining table. The wedding reception should complement the rest of your design. It's simple to match the linens and decorations, but the serving utensils should also be in keeping with the overall theme.
The taste of food is influenced by the color, size, weight, and shape of a dish. According to research, eating with heavier and prettier cutlery improves the taste of the food since it draws the diners' attention to the dish, improving their awareness and appreciation of it.
Here are some suggestions for mandatory serving equipment for a reception:
Dishes
For your reception, you'll need a lot of plasticware products, including plates and bowls — from small plates for hors d'oeuvres during happy hour to salad plates, bread plates, dinner plates, and more for the main meal, and there are so many types to pick from! Your rental company and caterer are both familiar with the process and can tell you exactly what (and how many) plates you'll require.
Flatware
For your reception, you'll probably need a lot of disposable plasticware (salad forks, butter knives, steak knives, soup spoons, and so on)—plus a few extras in case somebody breaks or drops a spoon or two.
You will also need pretty serving trays and utensils.
Glassware
There will be a lot of toasting at your wedding, so have plenty of glassware. The water and wine glasses that will be on your reception table are included in this.
Wedding Cake Stand
A cake stand creates a gorgeous base for your dessert. Your cake baker will most likely offer the stand but double-check with them first.
If you want diners to provide the most flavorful dinner possible, you must pair it with the appropriate plasticware sets for weddings. 
Buy some exquisite plasticware for parties or events to minimize the need for conventional dishes and to upgrade the look of your party tables.
We supply elegant-looking, long-lasting plates, cups, and eating utensils for weddings and other events where elegance is desired.
Decoration - Giving Life To Your Wedding Reception
Weddings are very personal, and your decor, theme, and style allow you to personalize them by incorporating your style into the day. Your wedding day can be calm, formal, quirky, fun, or natural, depending on your taste.
You're bound to discover something here that captivates your curiosity, from dramatic tabletop decorations to spectacular displays and floral arrangements that will have everyone drooling.
Floral Displays
Flowers are always a lovely centerpiece for wedding tables. To make a statement, combine a floral centerpiece with lighting, candles, and table decorations.

Begin with the church or venue where the vows will be performed. Budget-friendly wedding decoration ideas are a great way to save money. This might be done with fake flowers or even less expensive options like ferns and greens, which are now very popular.
Table Decorations
Your guests will be spending a significant amount of time at their tables, so it's essential to consider wedding décor ideas to make them appealing. Clean jam milk bottles and jam jars with modest flowers, as well as decorative bird cages, and tea-light lamps, are always conversation starters.

Whether you choose lush arrangements or a more basic style, centerpieces will bring texture and color to your reception tables. Your florist will also provide vessels for your centerpieces, like jars, vases, bowls, and more.

Table pans, place cards, classy table runners, and a flurry of table confetti will steal the limelight.
Lights To Illuminate Hearts
Lighting does not have to be expensive to create an impact.

Candles are generally less expensive than flowers, and a scattering of various sizes tied together with leaves and branches make a lovely table centerpiece.

Retro lamps and table lights, on the other hand, are a fantastic method to optimize the reception area in a non-obtrusive fashion.