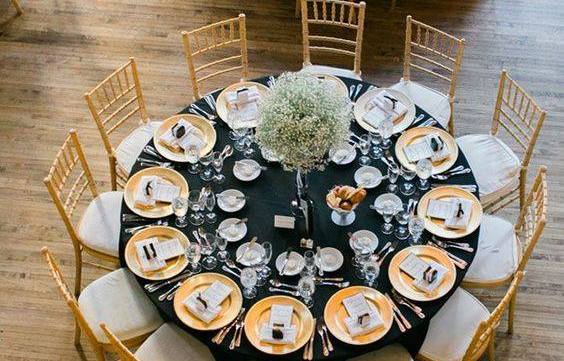 What Decorations Do You Need for a Wedding Party?
The primary focus of weddings these days is being creative and presenting your style to your guests. Honestly, it's not that difficult to do. Simply choose an appropriate theme, unique attire, mouth-watering food, and stunning locations, but the epic décor has the most impact.
Wedding planning can be stressful, particularly if your venue has some lacking in it. In addition, it might be challenging to keep track of all the decor items you need to include, so it's better to have a checklist with you.
Any event takes a lot of research and effort. However, planning a wedding is quite unusual and can sometimes be daunting. 
Speaking of that, it makes sense why some things always get overlooked or ignored. For example, you may forget to put the napkins on the plates or don't remember to offer your guests tissues during the meal. 
Some chic wedding decorations can make your event stunning and your life better. That is only possible if you avoid mistakes in the planning process.
There are no hard and fast rules to stick to, so keep reading for our stunning and budget-friendly wedding decor ideas.
Creating The Best Wedding Reception Décor
If you don't plan out the reception decor, you will only waste your effort, time, and money on it. Preparing the wedding dinner, sweets, some fun activities, and presenting gifts to your guests requires extensive planning and consideration. 
Some main elements that you need to include at a wedding reception are:
Welcome sign board

A delicious wedding cake

Wedding cake stand

Paper lanterns

Tablecloths and table runners

Dance floor

Some 

plastic dinnerware sets for weddings (we suggest disposables as they are easy to get rid of. Take a look at these modish disposable wedding dinnerware sets

)

A pen and a notepad

Photo displays
Show-stopping Table Décor
Your friends and family will spend most of their time at the dinner table. Therefore the seating arrangement must be beautiful and comfortable.
Enhance the table settings with some unique linens, pretty tablecloths, and patterned napkins. 
Serve flavorful dishes on some elegant disposable dinnerware for weddings. You must have elegant dinnerware for your wedding table. There is no other way of serving your meal beautifully. If you want suggestions for perfect dinnerware, Kaya Collections' disposable dinnerware for weddings is the best choice.
Make use of the following table décor checklist for a creative wedding décor:
Dinner menus

Some plastic dinnerware for weddings

Place cards

Fabulous centerpieces

Customized chairs for the couple

Flatware

Napkins
Leave No Stone Unturned With Floral Wedding Décor
Wedding decor is incomplete without flowers. Remember that the flowers don't always need to be fresh. If you have a limited budget, you might want to look for less expensive flowers for the decor. 
People opt for the carpets to use for the wedding aisle. But for unique wedding décor, you can add a floral touch to it. Of course, garlands are not the only option; you can use flowers to create a lovely aisle.
Make floral buckets, florid centerpieces, stoop arrangements, and floral backdrops.
Choose the items that suit you the best and throw away the rest.
Flower crown

Aisle makers

Bridesmaids' bouquets

Floral centerpiece

Altar arrangements

Groomsmen boutonnieres

Bridal bouquet
Creative Aisle Runners
An aisle runner is usually a piece of fabric unrolled just before the bride enters the venue, usually by the ring bearer.
Your aisle runner can be as aesthetic and unique as you like. No matter if you want to cover the floor in lots of fresh flower petals, antique rugs, or a carpeted aisle with flowers.
Wedding Arch and Arbor
Below an arch, the bride and groom exchange vows with each other. Arches are usually rounded, with two columns, and adorned with flowers, plain grass, or flowers. Half-arches and circular arches are the two most common options to pick. 
An arbor and an arch are similar, but an arbor's shape is generally square, creates a canopy, and frequently has four posts instead of two. 
Floral Garlands
Craft a garland using foliage, petals, or sometimes both, and it looks like a floral 'rope.' They can be hung or placed practically anywhere, including on staircases, entrance toppers, and seats.
Jasmine, Lily, Lotus, Ashoka, Hibiscus, and Rose are best suitable for wedding garlands.
Wedding Signage
Want to add some unique touches to your wedding location? It will work if you create wedding signage. Avoid using MS Word to create your signage and instead get creative. For classic weddings, acrylic decorations are still quite popular!
For display, it is better to utilize the materials wisely and keep the design basic.
Everyone would love an acrylic welcome signage at your wedding. 
Fancy Wedding Candles  
The demand for fancy pillar candles is rising these days, and there are so many cute sculpted and pillar alternatives to pick for weddings. Even though they might be costly, they would look ravishing in a highball glass or on a taper holder. 
For a formal look, put some candle bars on the dining table. Make a pretty centerpiece with the candles to set the ambiance. You may use candles of various sizes for this purpose. For covering large areas, use big candles and vice versa.
Things To Consider When Shopping for Wedding Décor Elements
You must look for the following things when buying wedding décor essentials.
Budget of the Items
 Another factor to take into account is your décor budget. Decor items don't need to leave you bankrupt. Always pick budget-friendly items. You may also use some old wedding décor essentials that best suit your theme and style.
Location Matters A lot!
The venue is the first and most crucial factor when browsing for wedding decorations. If you're starting from scratch, consider choosing some minimal items.
If your venue is up-to-date and has all the necessary décor items, you don't need to go out of your way and buy any extra décor items or pay a lot for the lightning.
You should never hesitate to do something because it's out of fashion. Don't forget to entertain your guests by arranging fun activities or competitions.