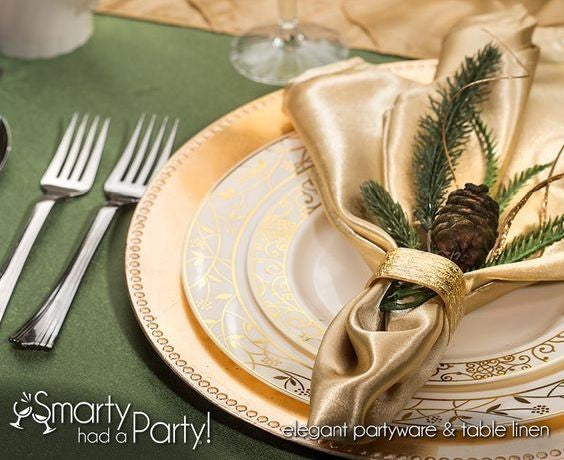 Welcome to the Fall Party
Leaves are falling, and so are our disposable party dinnerware sets prices this year.
Fall is just around the corner, and we can already feel the vibes in the crisp and cold air. This cold environment is a perfect time to welcome the Fall with the ending warmth of the summer. Inviting your loved ones over an epic 'Welcome to the Fall Party' would be a fantastic idea.
The Fall is full of emotions, so why not trigger them and enjoy them with excitement?
We're here to help you arrange a fantastic welcome to the Fall party. Our tips would help you arrange a spectacular Fall party.
Decorating a Fall Theme
Wreaths are one of the most common items to use while decorating your Fall party. Keep in mind the unique vibe of the Fall and think about those emotions. You can choose to place some pumpkins on the table to give that harvesting feel. No, it won't look like Halloween!
Since Fall is more into harvesting season, you can also follow a farmhouse theme. But, again, anything that suits your fantasy will do the job well. All you need to know is what type of theme would give rise to those underlying vibes of Fall.
Choosing a Location
For a Fall party, you can choose to decorate indoors or outdoors. It all depends on your choice and convenience. For an outdoor setting, you can rent a farmhouse or travel to the nearest mountaintop and see those leaves falling. 
Most fall parties are arranged outside because the summer is just saying goodbye, and outdoor party settings will allow you to enjoy the few last moments of the summer. Moreover, a mountaintop would be an excellent idea if your guests are easy with it.
If you want to choose the mountaintop to be your destination, then don't invite too many friends to the party. Some might not get ready, and many won't consider it a fair trade. But believe me, they're going to miss a lot.
You can also go with the vintage party setting for indoor party settings.
Setting the Table
With your theme and overall decoration of the Fall party, it's finally time to focus on setting up your table. We've got your back with our disposable party dinnerware sets to make your party hassle-free. Our high-quality plastic dinnerware set includes disposable plastic plates, tumblers, and cutlery. Our plastic plates aren't the ones with standard designs and sizes, but we offer hundreds of different attractive designs.
For formal parties, we provide white and squared fancy plastic plates. You can choose any designs that suit your fantasy at our store. Our elegant disposable plate set also comes in budget-friendly value sets that would make your formal parties look professional and well-assembled.
Moreover, to make your formal setting more pronounced, we also offer disposable charger plates in different sizes, shapes, colors, and designs. Our designs are unique, and you can also search by color to follow any of your themes.
DIY: Ideas for Autumn Decoration Party
Chestnuts and nuts are now almost everywhere, and you can collect them. Find inspiration in this attachment if you want to decorate your front door with a beautiful autumn wreath. You can make a wreath only from chestnuts or combine them with nuts. Do not forget to include the children in this activity, who will have fun and use the time for creative activity. Take the children to gather chestnuts together. They will have fun while collecting and develop their imagination while working. You can make a variety of animals that children will love. The fun will be guaranteed. You can do it all at no extra cost.
Autumn Decorations for Every Budget
Autumn has begun, and it is time to slowly pack the summer decorations from your home into boxes and prepare for the continuation of autumn. If you are that person who loves autumn and the orange, yellow and brown tones it carries - this text is perfect for you. And the best of all is that these decorations do not require significant investments, and you can make them with family and friends, thus making a great gathering.
Sunflowers and Lilies
The colors of these flowers go perfectly with the colors of autumn, so we suggest you visit a nearby market or flower shop and find lilies or sunflowers. You can put them in any vase, and you can also use an old, larger jar. If the vase is small, even one sunflower will look nice.
Rustic Wreaths
You can make rustic wreaths very quickly. Take a walk in the park and collect branches and leaves. Choose the branches carefully because they must be flexible to be able to shape the wreath beautifully. You can tie the branches with thicker thread or artificial grass. You can save the leaves by smearing them with glue for decoupage and then sticking them to the branches.
You can hang these garlands on the door or in a rustic room in your home where you have planned a party.
Leaves
You can apply decoupage glue to prevent the leaves from breaking and drying out. That way, it will preserve its shape. Finally, you can use these leaves in different ways.
One suggestion is to glue or thread the leaves through thin silk and hang them from chandeliers, ceilings, or high shelves. You will feel like the leaves are falling in your home, creating an authentic autumn atmosphere.
Fall colors such as shades of yellow, orange, and brown can easily blend in with any other decor you have. Try to find or sew decorative pillowcases in these colors for your chairs. You can also get tablecloths for your celebratory table to fit into the autumn atmosphere you want to evoke.