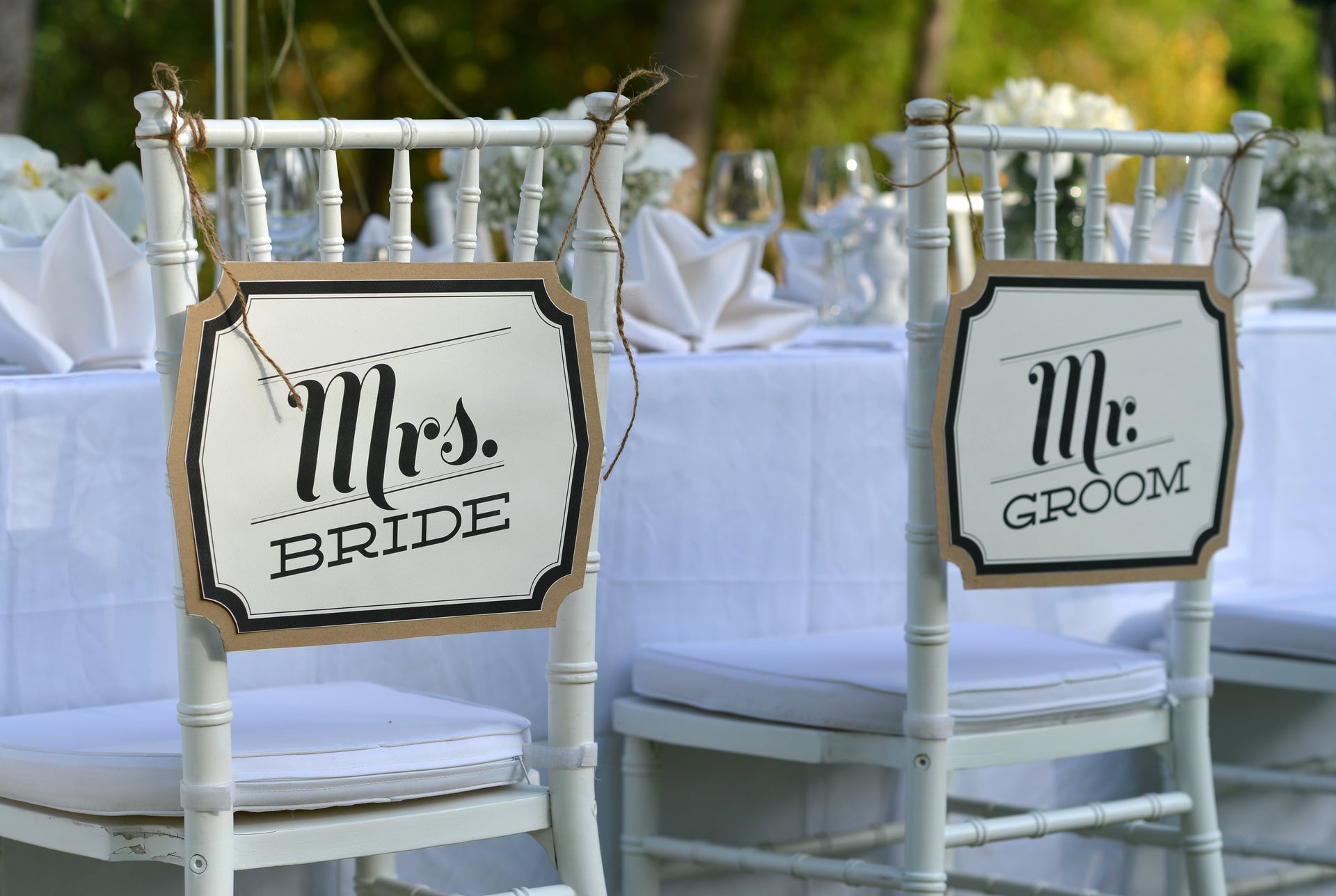 Wedding Chair Decor: Adding a Touch of Elegance to Your Special Day
Your wedding day is a celebration of love and commitment. Every detail, even the chair decor, should reflect your unique style and personality. Adding elegance to your chairs can elevate the atmosphere and leave a lasting impression on your guests. From flowers to fabrics, each element contributes to the overall beauty of your venue.
Elevating the Ambiance with Elegant Chair Decor 
This blog post will explore various ideas and inspirations to help you infuse elegance into your wedding chair decor. Whether you're aiming for a romantic garden theme, a glamorous affair, or a rustic chic celebration, this blog post will offer valuable insights and practical suggestions to help you curate the perfect chair decor for your special day. Let's embark on this journey together and discover how the right chair decor can create an unforgettable wedding experience.
Enhancing with Flowers and Greenery
Choosing the Right Blooms for Chair Decor
Consider your overall theme and color palette when selecting flowers for your wedding chair decor. Choose flowers that hold special meaning or complement your bouquet. Feel free to get creative with options like baby's breath or wildflowers and mix and match to create a visually stunning display.
Floral Arrangements and Creative Placement Ideas
Get creative with your flower arrangements by attaching small bouquets or garlands to the chairs. For a unique touch, weave flowers through the chair backs or hang floral hoops for a modern twist. These arrangements add charm and elegance to your wedding decor.
Incorporating Greenery for a Natural and Romantic Touch
Adding greenery to wedding chairs adds natural beauty and complements floral arrangements. Use foliage like eucalyptus leaves, ivy, or ferns to create cascading greenery. Weave garlands through chair backs or wrap around legs for an organic feel. Incorporate greenery into chair bows, sashes, or wreaths. Balance floral elements with greenery for an elegant display.
Adding a Luxurious Touch with Satin and Tulle
Benefits of Using Satin and Tulle Fabrics
Soft and lustrous: 

Satin fabric has a smooth, glossy texture that exudes elegance. It catches the light beautifully, creating a subtle sheen that enhances the overall visual appeal of the chairs. Conversely, Tulle has a delicate and sheer quality that adds a romantic and ethereal touch.

Versatility: 

Satin and tulle fabrics come in a wide range of colors, allowing you to perfectly match them with your wedding theme and color palette. Whether you want to go for classic white, rich jewel tones, or soft pastels, there is a satin or tulle fabric that will complement your vision.

Drapability: 

These fabrics are known for their drapability, making them ideal for creating cascading chair bows, elegant sashes, or flowing drapes. Their lightweight nature allows them to drape over the chairs effortlessly, adding a graceful and ethereal quality.
Chair Bows, Sashes, and Draping Techniques
Chair bows:

 Add some flair to your chairs with satin or tulle bows tied around the backrests. Experiment with different tying styles for a subtle or dramatic effect.

Sashes: 

Dress up your chairs with satin or tulle sashes. Tie them in knots or bows and weave through the back for a pop of color. Mixing and matching colors is fun!

Draping: 

Drape satin or tulle fabric over chairs for an ethereal look. Let it cascade or gather in swags for an elegant effect. Perfect for the couple's chairs or sweetheart chairs.
Color Coordination and Matching with Wedding Themes
Match or contrast: 

Choose satin or tulle fabrics that complement your wedding theme's colors. Match for a classic look or mix and match for a modern twist.

Play with layers: 

Combine different shades and textures of satin and tulle to create layers of visual interest. For example, you can use a satin sash in one color and layer it with a sheer tulle overlay in a complementary or contrasting shade.

Consider accents:

 Add ribbon or lace to your chair decor for extra texture and detail that complements your wedding design.
Personalizing with Wooden Mr. & Mrs. Signs
Significance of Mr. & Mrs. Signs in Wedding Chair Decor
Personalizing your wedding chair decor adds intimacy and showcases your unique identity as a couple. Wooden Mr. & Mrs. signs are famous for personalization, symbolizing unity and adding charm to the overall decor. These signs act as focal points, drawing attention to the chairs and creating a designated space for the couple. Infusing your personality and love story into the decor makes your special day even more memorable.
Different Styles and Materials Available
Rustic wooden signs: 

These are crafted from natural wood, often featuring a distressed or weathered finish. They have a charming, vintage appeal that adds a rustic touch to your wedding chair decor. The natural wood grains and imperfections add character and warmth to the overall aesthetic.

Elegant laser-cut signs:

 Laser-cut signs offer intricate detailing and precision. They are usually made from high-quality wood and can be customized to feature your name, initials, or wedding date. Laser-cut signs add an elegant and sophisticated touch to the chairs, making them popular for couples seeking a modern or contemporary vibe.

Calligraphy signs: 

If you prefer a more artistic and romantic look, consider wooden signs featuring calligraphy. These signs are beautifully hand-lettered with elegant typography, creating a timeless, whimsical effect. Calligraphy signs can be customized with your names, favorite quotes, or meaningful phrases, adding a personal and sentimental touch to your chair decor.
Placement Ideas and Tips for a Cohesive Look
Hang on the back of the chairs: 

Attach the signs to the backrest of each chair, positioned at eye level. This placement ensures they are easily visible and a sweet reminder of your new status as a married couple.

Tie with ribbons or floral accents: 

Enhance the visual impact of the signs by tying them to the chairs with ribbons or incorporating them into floral arrangements. Choose ribbons or flowers that match your wedding color scheme or complement the overall decor theme for a cohesive look.

Consistent design: 

Select wooden Mr. & Mrs. signs that align with the overall style and aesthetic of your wedding. Whether you opt for rustic, modern, or romantic signs, ensure they harmonize with the other decorative elements and enhance your desired ambiance.

Couple's chairs at the head table: 

Reserve the wooden signs for the couple's chairs at the head table. This focal point creates a designated space for the newlyweds, making them feel even more special and celebrated.
Addressing Practicality with Elegant Disposable Dinnerware
The Rise of Disposable Options for Weddings
Disposable party supplies are no longer just for casual occasions or outdoor picnics. Elegant options are available and designed specifically for weddings. They offer practical benefits and eliminate the risk of damaging delicate china or glassware. Plus, they're easy to clean up after the celebration.
Plastic Dinnerware Sets for Weddings
Plastic sets are a popular and versatile option when considering disposable dinnerware for your wedding. Here are a few reasons why plastic dinnerware sets are worth considering:
Elegance without the risk: 

Plastic dinnerware sets are available in various designs, including delicate patterns, elegant shapes, and metallic finishes. They can closely resemble real china or porcelain, allowing you to achieve a high-end look without the risk of breakage.

Lightweight and practical: 

Plastic dinnerware is lightweight, making it easy to transport and handle during the wedding setup. It also reduces the burden of carrying heavy trays of dishes and minimizes the chances of accidents or mishaps.

Versatility in outdoor settings: 

Plastic dinnerware sets are an excellent choice if you're planning an outdoor wedding or reception. They are less prone to damage from accidental drops or gusts of wind, ensuring a worry-free dining experience for you and your guests.
Tips for Choosing Elegant Disposable Drinkware and Flatware
Drinkware: 

Look for 

disposable drinkware

 options that mimic the appearance of glassware. Clear plastic cups or stemware with elegant shapes and a polished finish can give the illusion of real glass while being durable and convenient. Consider options such as champagne flutes, wine glasses, and highball or lowball glasses, depending on your beverage choices.

Flatware: 

Regarding disposable flatware, consider options with a metallic or silver-like appearance.

 

Disposable plastic flatware sets

 with sleek lines, and a polished finish can closely resemble real silverware. Look for sets with forks, knives, and spoons to cover all dining needs.

Coordination:

 To achieve a cohesive look, ensure that the colors and styles of your disposable dinnerware, drinkware, and flatware are complementary. Harmonize them with your overall wedding theme or color palette, ensuring they blend seamlessly with the other decorative elements.
Your wedding day celebrates love and commitment, and every detail creates a memorable and enchanting experience. As you plan your special day, consider the ideas and suggestions shared in this blog post. Explore the endless possibilities and let your imagination guide you in curating the perfect chair decor that adds a touch of elegance to your wedding. May your wedding day be a magical celebration filled with love, joy, and unforgettable moments.